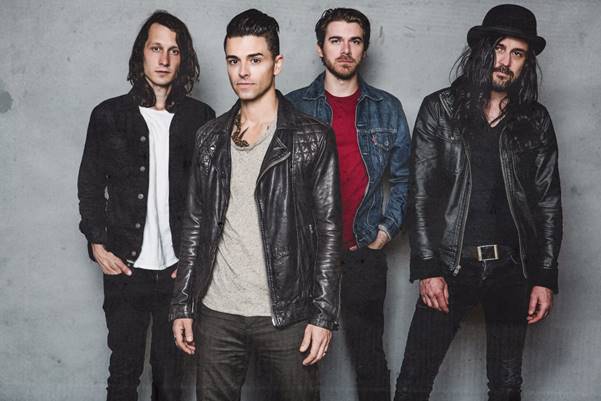 Dashboard Confessional's sophomore release, 'The Places You Have Come to Fear the Most', was the first to feature a fully-fledged band, with a spotlight on 'Screaming Infidelities', the smash hit that went on to earn the MTV2 Award at the MTV Music Video Awards amidst becoming the anthem of a generation. To date, Dashboard Confessional have a RIAA certified platinum album, multiple gold albums and continue to release inspiring records, keeping alive the genre Dashboard Confessional helped to create themselves.  Dashboard Confessional continue to sell out shows the world over, performing with the same high powered drive that earned the world's admiration 17 years on.
Check out their biggest tracks: STOLEN + VINDICATED + DON'T WAIT
"..the band launched into a furious set, blending passionate playing with precise, professional musicianship on songs new and old." – Rolling Stone
 "There is something very compelling about Chris's performance, he has the ability to vocalise thoughts and emotions in a way rarely bettered by others" – Caught in The Crossfire
Dashboard Confessional return down under for the first time in 5 years. These are shows you don't want to miss!
Dashboard Confessional Tour Dates
WEDNESDAY 13th SEPTEMBER – THE FORUM, MELBOURNE
FRIDAY 15th SEPTEMBER – EATONS HILL HOTEL, BRISBANE
SATURDAY 16th SEPTEMBER – METRO THEATRE, SYDNEY
DASHBOARD CONFESSIONAL EARLY BIRD PRE SALE: Friday 4 August 9am
Sign up here to access: http://selecttouring.com.au/tours/dashboard-confessional/
GENERAL PUBLIC TICKETS ON SALE:  TUESDAY 8TH AUGUST – 9AM LOCAL