A roundup of the latest news in the world of classic rock. Updates include Poison, The Eagles & Fleetwood Mac, Rob Halford and more.
Bret Michaels Assures Fans Poison Tour Will Go On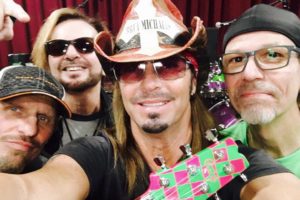 Poison singer Bret Michaels has posted a picture of the band together in the studio, and assured fans that their 2017 reunion tour will go ahead as planned. "Rocking hard, feeling great. Haven't killed each other yet, this tour is happening." posted Bret.
Michaels also announced the release of a solo single titled "Jorja Bleu" on April 7. He described it as an "emotionally charged" song, inspired by a conversation with his youngest daughter, who asked him, "What if I fall?" He replied, "What if you fly?"
"This is a man sharing his trials and tribulations in such a way that he hopes to inspire his daughter to chase her dreams with no apologies, while keeping her feet planted firmly on the ground," Michaels said.
Poison's upcoming U.S. tour with Def Leppard and Tesla starts on April 8 and runs until June 6.
The Classic West & The Classic East – Lineups announced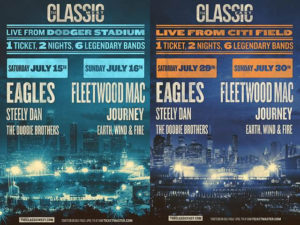 Lineups have been announced for two of the most anticipated classic rock concert events this summer – The Classic West on July 15 – 16 at Dodger Stadium in Los Angeles, and The Classic East on July 29 – 30 at Citi Field in New York.
Both The Classic East and The Classic West will host on their respective dates the Eagles, Steely Dan and The Doobie Brothers on Saturday and Fleetwood Mac, Journey and Earth, Wind & Fire on Sunday.
Rob Halford announces The Complete Albums Collection boxset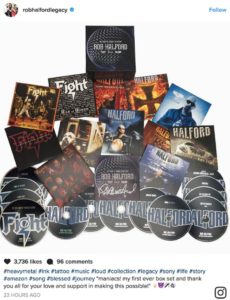 Judas Priest frontman Rob Halford announced the release this week of a comprehensive box set The Complete Albums Collection consisting of his work from eight studio albums and a series of live records.
"Maniacs! My first-ever box set and thank you all for your love and support in making this possible," said Halford in an Instagram post featuring a layout of everything contained within the set. The collection includes Fight's War of Words, Mutations, A Small Deadly Space as well as K5: The War of Words Demos. The industrial metal outfit 2wo, which featured guitarist John 5 was short-lived, only releasing the Trent Reznor-produced Voyeurs in 1998.
The Halford solo material will make up the remainder of the box set with Resurrection, Live Insurrection,
Crucible, Halford III: Winter Songs, Halford IV: Made of Metal, Live in Anaheim and Live at Saitama Super Arena.
Second annual Record Store Crawl kicks off on Record Store Day April 22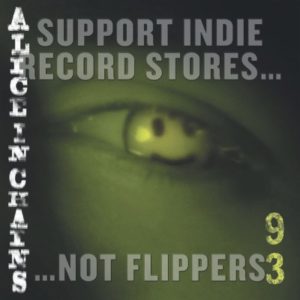 The second annual Record Store Crawl kicks off in New York City on April 22 (Record Store Day) and enables music fans to "hit a number of music retail outlets in select cities by bus while taking in live performances, imbibing food and drink, receiving a gift bag, limited edition items and discounts while enjoying the bonhomie of fellow vinyl enthusiasts."
Additional Crawl 2017 dates follow between June and August in Minneapolis, Phoenix, Chicago, Rochester, Seattle, Los Angeles, Birmingham, Washington DC, Austin, Portland and Nashville. Dates and ticket info can be found at recordstorecrawl.com.
For Record Store Day on April 22, Alice in Chains will release a special 45 RPM double 7″ single with four hard-hitting tracks remastered and available on vinyl for the first time. "What The Hell Have I" and "A Little Bitter," released on the soundtrack to the Arnold Schwarzenegger film Last Action Hero in 1993, were the first to feature new bassist Mike Inez, who'd played with Ozzy Osbourne for five years. "Get Born Again" and "Died," released on the box set Music Bank in 1999, were the band's final recordings with original vocalist Layne Staley.