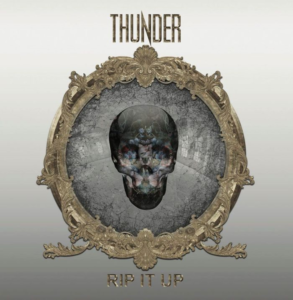 In my humble opinion THUNDER is the UK's greatest Rock band of the 80's and I've been a paid up member of the 'Thunder Channel' ever since I saw them supporting AEROSMITH back on the PUMP tour. Over the years they've produced some huge albums, created some great songs and as a 'Live' band it's hard to think of one that sounds better or delivers more.
TRACKLISTING: 1 No One Gets Out Alive 2 Rip It Up 3 She Likes The Cocaine 4 Right From The Start 5 Shakedown 6 Heartbreak Hurricane 7 In Another Life 8 The Chosen One 9 The Enemy Inside 10 Tumbling Down 11 There's Always A Loser
Forming in 1989 out of the ashes of TERRAPLANE the band made a huge initial splash, getting some great support slots and even stealing the show for many at Donington Monsters of Rock  in 1990. The band went on to pepper the singles and album charts in the UK at regular intervals. Sadly after 5 studio albums they split  in 2000.
Thankfully the split was brief, as they were initially tempted back for a slot at the Download Festival in 2002 (the successor to Monsters of Rock). They managed to last until 2009 producing a further 4 studio albums.
It wasn't until 2011 that 'semi-retirement' beckoned with a one off show at the High Voltage Festival that year, that was swiftly followed in January the next year by a series of 'Danny & Ben from Thunder' shows, that led to another fabled Christmas show (Thunder always played great Christmas shows and made the recordings available to fans). In 2013 they shared an arena bill with Whitesnake and Journey (Thunder were on first and at the three shows we witnessed the crowd actually thinned after they played). Since then there have been other Festivals, headlining tours but just the one new album 2015's WONDER DAYS.
February 2017 sees a second new album in RIP IT UP and after 28 years they finally make it to Australia, not only that Australia gets to hear RIP IT UP live before anyone else!
RIP IT UP of course was preceded by the title track, a chugging rocker in their trademark style, it's a song that has the bluesy taste and swagger you expect from a band like Thunder. What might surprise some is that they can still raise passion to ride along with the maturity of their sound, it's a rare combination but over the years if anything guitarist Luke Morley's song-writing has become something to behold.
After a wonderful return to action 'WONDER DAYS' the follow up album was always going to be interesting – as '…DAYS' took a few chances musically the question really was would THUNDER further experiment or get back to basics and deliver up an album like it was '89 again. The answer really is a bit of both, and it all comes in a great package, indeed this is an album that feels like an album should – all essential and not a hint of 'a few singles and plenty of filler'.
There's always been a certain cockiness about the best of THUNDER and first song here – NO ONE GETS OUT ALIVE has just that – that classic THUNDER feel, sublime groove and huge hook that already makes it feel like a crowd favourite! The title track that follows picks up on that vibe, but ups the groove and just stomps harder!
If you weren't warmed up enough already then the sleazy hard rock of SHE LOVES THE COCAINE, replete with some wonderful backing vocals by Lynne Jackaman should do the trick – a sort of stomping party song with an ironically anti-party too hard lyric. The first ballad hits next and as we all know this is something THUNDER always does so well, and RIGHT FROM THE START won't disappoint anyone  as it builds and flows and ebbs and just plain rocks you gently.
SHAKEDOWN the tune that follows adds a little funk to the blues, sounds vaguely familiar  (I LOVE YOU MORE THAN ROCK N ROLL?) but really puts the foot down to give the chorus a real weight and bite in a song just dripping with real soul.  I ANOTHER LIFE is another slightly off the wall track taking as it does a bluesy groove and inserting and almost Caribbean feel, swollen with keys its one of the tracks you'll find yourself strangely drawn to.
The we're back to classic old school THUNDER for HEARTBREAK HURRICANE a wonderful mix of acoustic and electric bluesy rock which rises and falls like some of their best, its another I'll lay a wager on them playing live and it finding its spot in the set for some time. THE CHOSEN ONE sees Matthew's piano star in a fine barroom stomp; whilst  THE ENEMY INSIDE rides Harry's drums to battle on a song that again seems to recapture the cockiness of the early days albeit with a mature almost 'pop' edge and sheen. It's another great song.
Already well worth the purchase price the album closes arguably just as strongly as it began: TUMBLING DOWN will get the arena on their feet and dancing, it's as simple as that, and is probably my current favourite exemplifying all that was and is so cool about Great British Hard Rock.
Final track THERE IS ALWAYS A LOSER is the perfect way to close it's a perfectly crafted song that plays to the bands strengths, lyrically emotive, musically stunning its everything you love about this fine band.
Like all the best artists THUNDER has stretched themselves, delivered an album of solid class and at times sheer sonic joy.  This is real Rock N Roll of the highest order. Almost certainly album of the year, in February…