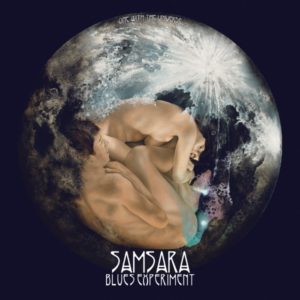 German blues-infused psychedelic rockers Samsara Blues Experiment are ready to release their fourth record "One With The Universe" on May 12th and it's everything that you expect from the heavy psych outfit who have a mesmerizing sound backed by all the colors of the world.
"One With The Universe" continues the musical landscape that Samsara Blues Experiment have been carving out over the last 10 years, it's rich in layered sounds but with great guitar riffs and melodies that hint at blues references but remain deeply embedded in more 60s and 70s psychedelic rock. The light intro in "Vipassana" eases things into motion as the album begins an epic journey through a diverse range of beautiful sounds and nuances.
With only 5 tracks on offer it would be easy to forgive people into thinking it's a short record but the length of the songs, averaging well over 7 minutes with some clocking at 10 to 15 minutes more than makes up for a short tracklist. And epic songs like the instrumental " Sad Guru Returns" and the lengthy title track with it's many twists and turns and a Hendrix style guitar play which together have enough juices flowing through it's adventurous trek,  make you forget about the tracklist anyway.
"Glorious Daze" has a slight nod to The Doors with it's keyboard work but works out much heavier and contrastingly more mellow too. The album rounds out with the closing laid back "Eastern Sun & Western Moon", a super chilled and laid back song which features a fairly heavy guitar sound to bounce off. It's these dynamics that work so well for Samsara Blues Experiment that the musical landscape the songs draw out for you really do take the listener on a dream like trip across the universe. Hence why the album title works so well.
If you have not heard these guys yet, "One With The Universe" is a great way to start off with but do yourselves a favor and check out their back catalogue as while this album is cool on it's own, there's plenty of guitar driven stuff sitting in their back catalogue that might grab your attention even more.
TRACKLIST
Vipassana
Sad Guru Returns
Glorious Daze
One with the Universe
Eastern Sun & Western Moon