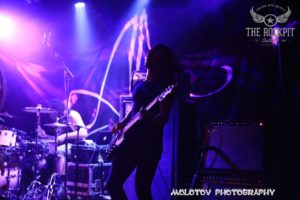 French alternative black metallers Alcest returned to Perth for the fist time in six years
to tear up the stage for their Australian and New Zealand tour, wrapping up the
final leg of their tour at Badlands bar on Saturday night.
Opening up for the night were Fremantle black/doom band Bolt Gun with their unique sound and even bringing a gong to the stage! warming up the crowd with only two songs they were a good match to start the evening.
Bringing the enthusiasm to the stage and getting the crowd pumped up for the main event were Perth melodic black metal masters Illyria, song after song they didn't fail to impress the audience, straight off the bat they were thrashing around the stage drawing the crowd in more and more with each passing song even better then the first preparing us for the marvel that we were about to bear witness to. With no
shortage of Illyria shirts floating around the black sea of fans they were definitely a crowd favorite. Also treating us all to hear their new release "Swan Song" about the front mans beloved grandmother, only being released 9 days prior to the event, it was definitely amazing to hear them belt it out for their final
performance of the night.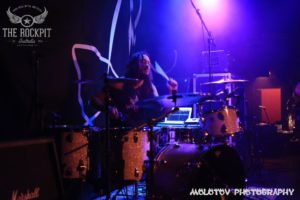 Finally we reach our main event of the night with Alcest bringing the sweetheaviness of their unique masterpieces to blow the minds of the local crowd, in which they were very successful. After having waited so long to reach our shores again, the performance was well worth the wait. With their infectious headbanging riffs, slow beautiful melodic interludes and the rawness of their black metal style vocals, these French masters of the art of heavy music were sure to get the fans moving, with a crowd that would please any touring musician, this show was not to be missed.
Beginning their set with the title track from their September release 'Kodama', these guys killed it from start to finish ending their set with 'Percées de Lumière' before leaving the stage and the crowd begging for more, so in good form they gave us what we wanted with a brilliant encore with the song '"Là où Naissent les Couleurs Nouvelles'. Hopefully they don't leave it so long to serenade us again.
Review by Xavier Slaughter
PHOTO GALLERY
Photos by Tammie Molotov – Molotov Enterprises & Photography