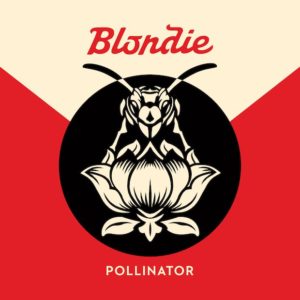 As a long time Blondie fan I always get rather apprehensive when they release and album especially over the last decade when releases have ranged from the sublime 'Panic of Girls' to the awful 'Ghosts of Download' – the latter album only saved by a deluxe packaging of their Greatest Hits which only served to shine a brighter light on its shortcomings. The big question is which Blondie will appear in 2017? – the band who swamped us in synths and forgot the hooks on 'Ghosts…' or the band that inspired so many back in the late 70's and early 80's?
'Pollinator' – Blondie's 11th album and 5th since their first reformation album in 1999 is certainly nothing like the band in their pomp, but it's not half as bad as their last outing. The most noticeable change from 'Ghosts…' is the song construction and demeanor – there's less stifling synth (though it is of course still prominent), less derivative dance beats, less arty posturing and there's more grit, more drums (excellently executed as ever by Mr. Burke) , more attitude, and at times even, dare we venture a little New Wave/Punky snarl. Sadly the one thing that you could always count on the Blondie of old for  – the huge chorus is still illusive – either too obvious, too lazy (repetition is OK but only to an extent) or just willingly a little off kilter.
Having said all that, I'm pretty impressed. This might not overall be the best of their post-millennium output, but it has restored my faith in the band and it still has its highlights. Opening track 'Doom or Destiny' for example bursts out of the speakers with a real 'vintage Blondie' attitude and a great melodic thrust – more drums, less synth, more vocals, les 'air' – it's only slightly let down by a chorus that doesn't exactly push any boundaries but it's a song up there with the best in the last 18 years.  Oddly it's NOT one of the five songs from 'Pollinator' being played 'live' by the band on their latest tour.
'Long Time' the Dev Hynes-penned tune that follows has a gentle burst of disco flavour (that borrows from Parallel Lines) and it's not half bad either, though again it lacks that real killer hook, even at times sounding like a drifting U2 take on pop. 'Already Naked' is lower key, languid, almost 'Pulp-like' ditty that's pretty cool; while 'Fun' is throwaway disco and only just a little too cool to imagine bothering the charts, but a little like 'Best Day Ever' it just sort of falls short of being anything more than 'nice'.
Live on recent dates Blondie play a core of 'Long Time'; 'My Monster'; 'Fragments'; 'Gravity' and 'Too Much' – all tracks from the latter half of the album, with the exception of the single 'Long Time'. The first track of these 'My Monster' could be an outtake from 'Eat to the Beat' it's that sort of vintage, has a nice beat and while I'm not gushing I'm certainly adding it to the playlist. 'Gravity' has a nice 'fizz' and again a nice tempo and more 'old school' Blondie aspect but it's a Charli XCX-written number that just misses; whilst 'Too Much' is a nice disco song, and just too light to really make a mark. The last of the live selections 'Fragments' has plenty of drive and is by far the most complex song here, you could almost go as far as calling it a rock song, but what it says alone closing an album like this is anyone's guess especially as it's a cover of a 2010 Adam Johnston track. It is however certainly one of the songs that bears repeated listens.
That leaves us with only the leftovers – the hidden track 'Tonight' at the end of 'Fragments' featuring Laurie Anderson is kind of Avant-garde and rather pleasing, which is rather more than you can say for the completely out of place Country ballad 'When I Gave Up On You' which I have no idea why it's here. The other odd-man-out 'Love Level'  manages to go pretty much nowhere via electronica and 'Island of Lost Souls' horns and that pairing mark a bit of a low point.
In truth there are too many guest writers here to make a cohesive album, but there are a few gems, the best of which is the opening track 'Doom or Destiny' by some distance, and aside from remarkably not taking that out on the road 'live' the band otherwise seem to be backing the best of the rest. Where does 'Pollinator' fit into the band's legacy? You decide, for me the best thing about Pollinator is the drums.