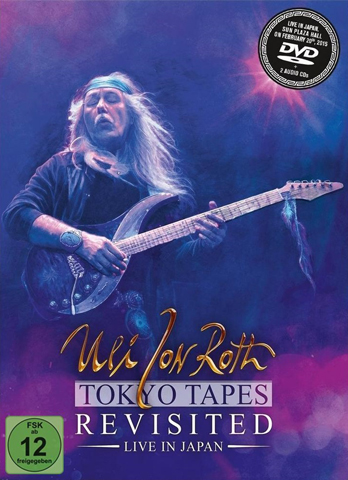 There are surely only so many times you can reach back into your own history and light the spark again hoping it catches? Uli Jon Roth is a master  guitarist make no mistake, but his work with Scorpions ended in 1978 prior to the band's commercial success  and before the release of the double live album 'The Tokyo Tapes' that this release honours.
Roth's tenure in Scorpions lasted 5 years and 4 albums before he quit to form 'Electric Sun' and saw his former band mates careers really take off whilst he worked on more satisfying projects fuelled by a love of Hendrix and infused with Neo-classical and Symphonic influences.
In 2015 he revisited his Scorpions career with 'Scorpions Revisited' a studio album that looked back on the highlights from those albums, and which contains most of the live tracks here, save the Hendrix encores of 'All Along the Watchtower' and 'Little Wing'. It's more than fitting then that this DVD from a concert at the Nakano Sun Plaza Hall on December 16th 2015 marks not only Roth's time in Scorpions but also that bands 50th Anniversary. Waiting a year to release it though somehow sees to diminish the impact slightly.
All that being said, 'Tokyo Tapes Revisited' is a killer show if you're either a vintage Scorpions fan or even just a guitar fan you'll love it. It's also nice that the show was filmed in the same venue as the Tokyo Tapes themselves back in 1978. Throughout Roth is simply stunning, really turning up the heat on these songs he must know backwards and filling them with life and passion. Nathan James on vocals (Inglorious) also does a great job and if like me you've never been a big Klaus Meine fan the you're in for a real treat.
With so many highlights it's hard to pick a favourite but it would be between 'All Night Long', 'Virgin Killer', 'We'll Burn the Sky', 'In Trance'  and 'Catch Your Train' any of which really capture what Scorpions was in those early years.
This is a great history lesson for anyone who loves hard rock and wants to hear some truly inspirational music that influenced so many.