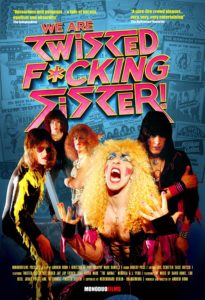 The new Twisted Sister documentary is essentially nothing new cinematically, a fairly stock series of talking heads and live shots, with no real vintage footage off stage of the band in their early days. It certainly misses a trick or two. Thankfully it makes up for its failings with the depth and detail of the narrative surrounding the early years of the band. Fans will love the tales of the early days, though if like us you got on the SMF bandwagon on or around the release of that rather cool first album you'll find very little you'll be familiar with here. 'We are Twisted F*cking Sister!' you see screams sequel – with two hours of pre-'Under the Blade' material and what only seems like seconds of Twisted Sister after that album and certainly nothing more than a sniff of their MTV years, god forbid anything from the last 30!
If you were expecting a full history of the band this is not the documentary you are looking for…
Saying that it is a damned good watch and a nice riff on nostalgia for a club circuit long gone and a time when it was either the movies or a live band for the night's entertainment.
My granddad told me never trust a man with a beard or a man who doesn't like a pint and whilst neither Jay Jay French nor Dee Snider have a hint of chin fluff neither partake of alcohol. One thing is for certain though – without either we would never have heard of the band.
French is clearly the driving force of the documentary from the off, and whilst his early musings that 'The (New York) Dolls looked great, if only they could play" sort of completely misses the point if like me it was the attitude and the songs that made the Dolls so essential, he otherwise comes across as focused and sincere. If a documentary about a bands early days needs an extra dab of color though it's just a shame that we don't get a glimpse of the early lives of the players and what led them to music in the first place.
So from a Bowie, Lou Reed and Mott cover band came Twisted Sister onto a massive New York cub circuit that spilled out into the State and New Jersey – as Jay Jay French underlines – all you could do was the movies or a band, there were loads of venues and everyone played covers. In that world gas was cheap, hotels were cheap, trucks were cheap and you could make money…oh and there were lots of chicks…
Early days of course the band line up was rather liquid, but as far as the band we know is concerned Jay Jay created it, then Ojeida came, then Dee, then Mendoza, then Pero and in-between there were many others and many ups and downs. There's the Long Island bars playing 'Suffragette City' Jay Jay managing and acting as agent, then Dee joins and hates the original material – does he have anything better? No but when the gauntlet is thrown down it becomes his mission to blow away Jay Jay's material especially after his first effort is brushed off – what more do you need for a motivation to write?
There's the usual Bar Band tales we all know – like no playing when the World Series on TV! With that of course comes the desire to be more than just background music and it's then that the Twisted Sister eye for self-promotion kicks in – from 'drink till you puke' to the rather successful 'Disco Sucks' campaign with the sledgehammering of disco records and the trial of Barry White, that comes to an abrupt halt after the reaction of a certain club owner…
After the promotion comes Dee's ridiculous clothes courtesy of his girlfriend (now wife) Suzette which the band take up – there's a huge will to win shot through the band despite all the setbacks: from the early desire to blow the acts they are supporting away to wanting to fill the biggest clubs culminating in the big one- The Palladium. But there's still no record deal and at every stage everything seems to be conspiring against them from Ojeida's grand mal seizure on the eve of the big 3200 capacity sold-out gig to the lunchtime show for the head of Epic Records leading to nothing, through Eddie Kramer demos that can't land a deal. It all goes wrong…
But you still see the progression – Dee's famous rants start, they play 'Adventure Land' still unsigned to 23,000 people, they put out self-made singles that sell out and then 'SMF' rears its head. By 1981 they are headlining the biggest rooms and making so much money locally it's "Get out or die". Then the morons in charge of the US (Stand up Ronnie) pass the  National Minimum Drinking Age Act which requires States to raise their ages for purchase and public possession to 21 or lose 10% of their federal highway funds: it kills the club scene alienates 3 years of kids and makes the US the laughing stock of the world.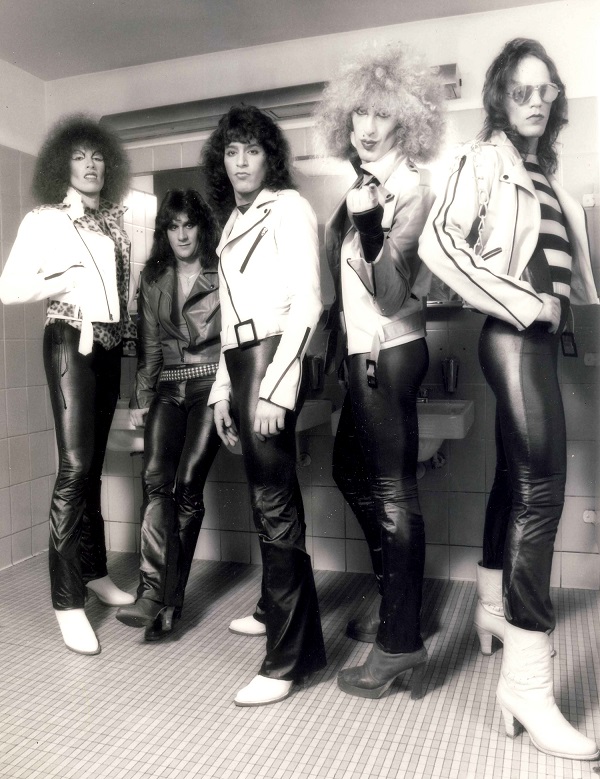 It's ironic that despite doing all they had to get that record deal, it was fan-sent singles posted to the UK that changed it all. Music paper 'Sounds' (what a great weekly read) listened and sent Gary Bushell to view the 'Dockers in drag' live in the US: it was the start of the snowball. Of course without giving it all away there was plenty more bad luck before the album recording and the first date outside the US at the Wrexham Festival with Motörhead gave Twisted a big boost.
From then it grew – there was Reading '82 winning over 40,000 UK fans before (of course) their label 'Secret' went bust just as they hit the UK album charts, but they rose again on live UK TV with a spot on 'The Tube' again assisted by Motörhead that came just weeks after I bought that first album.
The rest, or rather the success, is largely glossed over – they are signed by Atlantic, they tour the US, the hits come, MTV loves them but how did the fans fee about that – it's one of the most interesting questions posed here – how does anyone feel when I band they have loved since the small clubs goes global?  That of course is another story entirely…