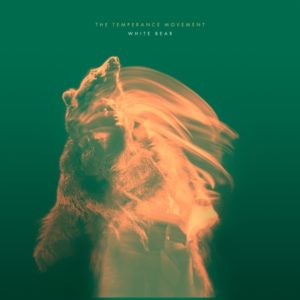 One of the very best Rock debut albums in a long, long time came in 2013 from The Temperance Movement and so it's no surprise that January's release of 'The White Bear' is one of the most eagerly anticipated releases of 2016 amongst the Rock crowd.
Featuring 10 tracks produced by Sam Miller in London, 'White Bear' sees the band open up and expand upon their Blues Rock core that has seen them well so far, don't be scared though it's not some ungodly huge jump just a few new windows opened to let in new air.
Opening track and first single 'Three Bulleits' has a rolling groove and a big loud catchy crash of a chorus that makes it an obvious choice to introduce the new set, it's followed by a mellower shot of Southern harmony in 'Get Yourself Free' which is all that band does best, taking the energy of the earlier albums by bands like Black Crowes and adding an urgency even they rarely managed.
There's a low key military drum pattern and almost folky psychedelic twist to the opening of 'A Pleasant Peace I Fell'  followed by a quirky guitar line that sounds ominously like The Monkees before thankfully the song bursts into life and builds into a bona fide epic. Juxtaposed with the short swift dirty Blues of 'Modern Massacre' it shows in stark relief the two great assets Temperance Movement has at its disposal – the ability to beguile, draw you in and lead you on, and the essential immediacy they are capable of.
'Battle Lines' that follows has a Blackfoot vibe and some great guitar by Paul Sayer; whilst title track 'White Bear' (check out the acoustic video that's out there now) is certainly one of our favourite tracks here: laid back, stripped bare and it's sparse orchestration set against the primal scream of a chorus – it works in a way the copybook fast-slow/light-heavy of the grunge movement never got. This is heady stuff, and that guitar tone…. Wow.
It doesn't let up either – the swirling bluesy stomp and road trip summer sun of 'Oh Lorraine' is the most uplifting song here and Phil Campbell does his best Steven Tyler impression, before the blues party rock outpouring of the wonderful 'Magnify' kicks in and gets underlined with just the right amount of guitar and some great vocals.
The album closes with two great tracks: 'The Sun and the Moon Roll Around Too Soon' sees another great vocal (Phil really reminds me of Vince from 'White Flame') and only disappoints in that it seems to end just as it has completely won you over. Album closer 'I Hope I'm Not Losing My Mind' like sister song 'A Pleasant Peace I Fell' is the other real expansive track here, it's an assured ballad that you feel could be jammed till the sun comes down. Like the album it ends too soon.
This is the album that underlines that The Temperance Movement isn't going to fall at the 'difficult second album' hurdle so many others do. Taking the time to make this record has more than paid off; these guys have what so few bands in the last twenty years have even caught a splinter of – real soul…
Track Listing
1. Three Bulleits
2. Get Yourself Free
3. A Pleasant Peace I Feel
4. Modern Massacre
5. Battle Lines
6. White Bear
7. Oh Lorraine
8. Magnify
9. The Sun and Moon Roll Around Too Soon
10. I Hope I'm Not Losing My Mind