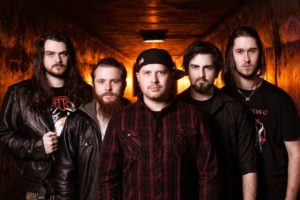 Victorian metallers Toxicon are about to release their debut album "Purge" on August 1st with a series of shows that kicked off in Adelaide on Saturday night and continuing into September around Australia. The band only began in 2014 but already shows signs of a promising career with their take on modern metal so we spoke to singer Wayne Clarris about their debut release, the formation of Toxicon and the possibility of making the drive from Melbourne to Perth in what is affectionally known as a box of farts!
Andrew: So tell me a little bit about the band, how you guys formed and what kind of music you do.
Wayne: We all sort of draw from different areas of music, we kind of pay homage to some of the older stuff but we like to put in a new spin it. It's very groove based old-meets-new. You've got your very riffy stuff there but definitely with my vocal style and singing it, it really throws it off and changes it up a little bit. We're still obviously developing our own sound at the moment but we're definitely pushing for something a little bit different. I guess we just make what we like and we put a few different styles that we draw from into a big blender and this is what's coming out and it's a lot of fun learning it and creating something out of it.
Andrew: Where do you draw your influences from? What kind of bands are we talking about?
Wayne: So we're talking about Lamb Of God, Pantera and Metallica, a lot of the old school thrashy stuff. But also a lot of Mastodon, a little bit of Tool. I'm a big fan of the nu-metal stuff from the late 90's like Korn and Limp Bizkit and all that sort of stuff, I know it's a dirty word in a lot of circles but I'm not ashamed of it, I dig it. I have a sort of hip hop background, not that I put any of that sort of stuff in any of the songs but it gives it a different spin to have all that point of view I guess. So we sort of draw from all over the place but I like to see it as other bands and seeing it all accumulated into one idea that we want to push forward which is something a little bit different.
Andrew: You mentioned bands like Mastodon and Tool, I do hear a bit of prog element in your music which is cool. I guess a lot of bands have become hybrid bands at this stage because there are so much different genres out there.
Wayne: Definitely, I agree and what I'm finding is that we're not really trying to push in any sort of direction like, 'Hey we want to sound proggy'. We just throw stuff in there and make a bit of a storyline, we love our riffs but we also love that difference in trying in experimenting. I know prog can be another dirty word that a lot of people say and think about but we just let everything happen and see how it turns out but we're not afraid to try something new.
Andrew: Speaking of the whole nu-metal thing, will you be catching Drowning Pool who are playing this week?
Wayne: In Melbourne?
Andrew: Yeah.
Wayne: I didn't even know so I'll probably have a look so definitely something to look at!
Andrew: [laughs] Yeah they were one of those bands that were quite big in the late 90's to early 2000's I guess. And you guys are doing a bunch of shows on tour, you did a show last night I believe?
Wayne: Yeah we played at Enigma Bar in Adelaide. It was the first time we had been to Adelaide, we played with a bunch of Adelaide bands and it went really well! Really good response and really got everybody on board, it was a lot of fun. It was quite surprising, we got a really good welcoming reception from those guys in Adelaide which you can't predict these things. This was our first trip away out of state this way and sometimes it can be a hit and miss but we put a bit of promo into it and also the Alkira boys threw a fair bit of promo into it. We had a really good response and a really good start to the tour, we are really excited and it's really pumped us up for everything else.
Andrew: Yes and I do want to touch on the Melbourne show on the 9th of September because looking at that lineup along with our band over in Perth, Nucleust who are going to be there as well, it seems like this is going to be a really big show.
Wayne: It's a solid lineup, it's a ridiculous lineup at this point! We're very excited for that Reverence show, the lineup alone…it's just going to be solid from start to finish so if we weren't playing, I would of been there regardless. Everything about it is going to be solid, probably going to be one of our highlights on the tour so far lineup wise. But we've got fairly solid lineups for everything so we're really excited, it's been really good and we've had a lot of support from a lot of the other bands so it's been really fun.
Andrew: And the new album (Purge), this is your first release? There's no singles or Ep's or anything like that?
Wayne: Yeah this is the first thing that we've put out, we were starting to look into the EP route but it kind of created itself to what it was. We started going down the track of having a concept album and the more we started getting into the concept stuff, the more we realized that if you're going to do a concept, you really have to commit to it. You can't just say, 'Yeah it's a concept', and then sort of half arse it. You really gotta put in. So we had the songs down and said, 'Well we kind of got to release everything', so we had to put in a lot of extra time, a lot of extra coin but we're really happy with the end result. And all the artwork and everything ties in so it was definitely a much bigger chore, I don't think we want to do concepts for every album obviously but it was quite a full on thing to take on for our first release. I'm really happy with how it all worked out in the end and I'm pretty excited but once we start writing again, we'll probably just do a standard album. We will probably touch back on this one as the story isn't really finished yet so somewhere down the track later one we'll probably do something else but we'll let it sit for a while and stew up.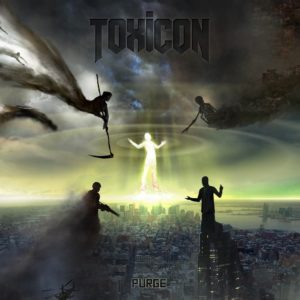 Andrew: What is the concept of the album?
Wayne: So the concept is it's quite sci-fi in that it's sort of a little bit of our take on The Four Horsemen but with a fifth horsemen being the reality and the push against the other guys which he has to battle and fight them, it's pretty cool. But the whole album is from the perspective of somebody else getting hidden messages and warnings that impending doom is coming. The major storyline is all that stuff but really the album is sort of a lot of warnings and things, it's really probably more our view on what's happening in the world at the moment. Everything seems very chaotic and quite messy at the moment and it's really our look at that and how we interpret it but instead of being really serious about it, we thought we would put a little bit of a spin to it and do the whole storyline thing. But it really happened organically, it really started with one song and then it blew out into the next song and it just created itself. It turned into a bit of a monster where we started having all these songs and into the birth of maybe think about doing a concept, we all sat down and had a think about it and it was organic enough. We didn't want to force anything but it got to a point where , 'OK let's do this but let's do it right'.
Andrew: Yeah and like you say, it sounds like a reflection of what's going on in society which is quite interesting and a bit horrifying at times as well. Was there any direct thing that inspired you to take on the concept of this?
Wayne: Not overly directly. The way we wrote the lyrics and the story is more open to interpretation and it's just a more wide overview of everything that is chaotic. If I went into too much detail, it starts to become a bit too narrative even though it seems, from explaining and talking about it, that it seems a little narrative but it really is a lot simpler than that. I've left everything quite open and all the songs are sort of stand alone but if you listen to them all in a row, it kind of makes sense. There was nothing majorly, it's just the state of everything at the moment. You can't have an opinion these days because everything you read or see, you have to check and read into, you just don't know anymore. The internet is so full of sensational rubbish that you just don't even know who's biased or what's real or what's made up, on both sides of the spectrum. It's really just come to a point where people just turn away from it completely and they just don't want to deal with it anymore, I think if there's anything, it's kind of that in a sort of way where they look back and see what's happening and make up your own mind.
Andrew: I was reading your bio as well and I noticed there was a lot of humour in there so I guess you guys are a bit of a larrikin kind of band and don't take things too seriously I suppose?
Wayne: No, serious music but we're all dickheads [laughs].
Andrew: [laughs].
Wayne: It's a lot of fun, we don't take ourselves seriously at all. We're very serious when it comes to what we do and doing it right but as far as taking ourselves too seriously, I think that sucks the fun out of it. So we're definitely very light hearted and that's the fun of it, have as much fun as possible because that's why we're all here to begin with.
Andrew: Yeah and I do find in the metal community that everyone just wants to have fun and that's the end game I suppose.
Wayne: Yeah definitely and that's the thing, the more you have fun with it and you don't take yourself too seriously and not worry too much, you open yourself up to more audiences. There's all these walls and they are not really big walls but there's genre walls everywhere, this crews and that crews and hardcore scenes and thrash scenes and this and that scenes. But you find that a lot of those walls are teared down and people are people and if you're running amuck and having fun and you don't take yourself too seriously, everybody gets involved and they're really open. So I really like the metal community as a whole because there's a lot of people ready to really help and it's overwhelming sometimes because a lot of people will help you a lot. A lot of bands that are well established will go out of their way to give you a hand or a boost up or to do something when they see that you're working hard and they see that and will really give you a hand, it's really cool.
Andrew: Yeah I found that out first hand when setting up shows in Melbourne and Sydney for Nucleust and everyone was just willing to do their best to make it work and was one of the reasons they got onto your show in Melbourne. So as I said before, I think it's going to be a very cool show and looking forward to it.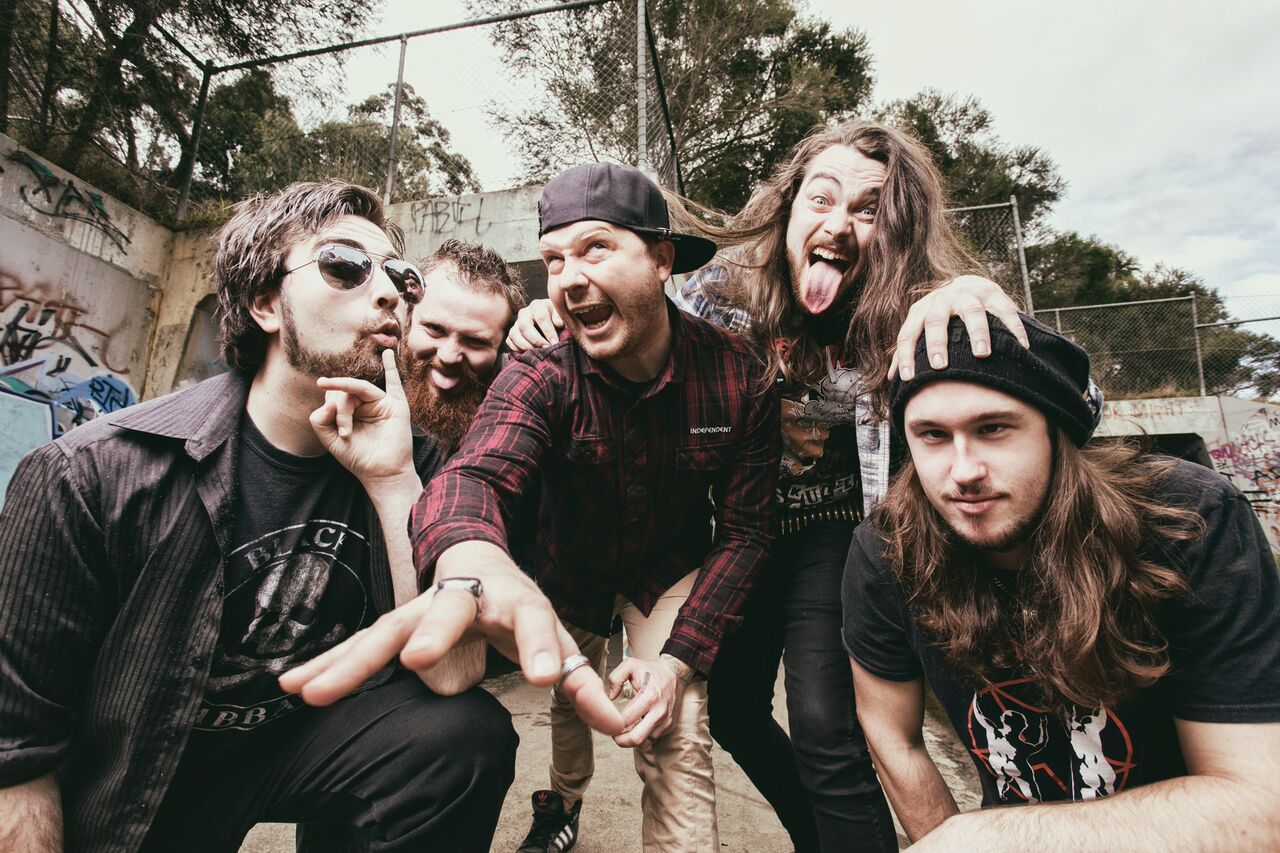 Wayne: Oh it definitely is and we're already starting to look at coming over to Perth so we will definitely be chatting to the boys at that show about organising something because we're really keen to get out and about. We all get very itchy feet, we don't like sitting around in the same place for too long. We were talking today about driving over to Perth, it will be a long drive!
Andrew: That is a long drive!
Wayne: It is across the Nullabor man, it will be brutal [laughs]. We gotta make a service on each side I think with a couple of jerrycans [laughs].
Andrew: [laughs] Yeah I've never done the drive myself but I hear it's definitely a long one but at the same time, a very cool drive as there's interesting stuff along the way.
Wayne: Yeah I grew up in Alice Springs and I've driven from Alice Springs to Adelaide quite a bit and up to Darwin so I'm used to really long drives on straight roads with desert on each side. It is always good, it's an experience and something that we might look at doing. Then again we might get over it and just book flights [laughs].
Andrew: [laughs] That's the easiest way.
Wayne: Yeah it might just be easier in the end!
Andrew: Well we can definitely help you out in booking shows here in Perth and some of the regional places in W.A. Just a question on some of the interstate shows like in Canberra and Sydney, do you do the drive for those ones or do you take flights for them?
Wayne: Na we drive everywhere at this point. It's quite cramped, you can probably describe the car as a box of farts, it's a lot of fun [laughs].
Andrew: [laughs]
Wayne: With egg and lettuce sandwiches and all [laughs]. The boys genuinely love egg and lettuce sandwiches and yeah…[laughs]
Andrew: [laughs] Wouldn't go down well!
Wayne: But you know what? What's the alternative, KFC? And that creates some pretty stank as well [laughs].
Andrew: I'm sure it does!
Wayne: Yeah it does! It's pretty funny, we just stopped over now because obviously we're on our way back to Melbourne and we stopped at Kaniva – how cool is that for a name, Kaniva? We're at a place called the Windmill Cafe and we just cruised in to grab a ginger beer or something and they got a band wall where dudes have been signing it, like heaps of Melbourne bands all up there and the guys in the cafe are loving us. They just bought an album off us and all, it's been really cool that we just pulled over randomly and found this little cool spot. That's why we love being on the road, you never know what's happening and what you're about to pop into. With a flight it's a lot easier but you miss that middle bit, sometimes that's part of the fun I think.
Andrew: Yeah the journey is part of being on the road and on tour and not just being at the show itself.
Wayne: Yeah!
Andrew: Well we look forward to seeing you in Melbourne and I hope you have a lot of fun at the rest of your shows on the tour. Thanks for your time today, it's really appreciated!
Wayne: Thanks mate, cheers heaps!
TOXICON AUSTRALIAN TOUR 2016:
July 23 – Adelaide – Enigma Bar
July 29 – Ballarat – Karova Lounge
August 12 – Warrnambool – The Loft
August 20 – Bendigo – MusicMan Megastore Bendigo
September 2 – Canberra – The Basement
September 3 – Sydney – The Bald Faced Stag
September 9 – Melbourne – Reverence Hotel
September 10 – Geelong – The Barwon Club Hotel
More info on Toxicon and the tour can be found on their official Facebook Page or check out our Toxicon artist page here.