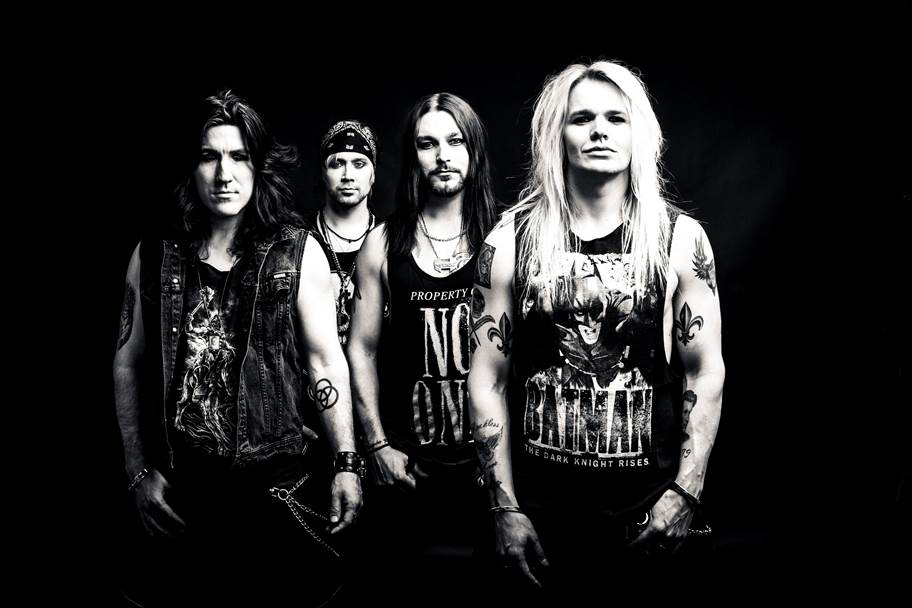 Reckless Love is a band that you simply can't ignore. Larger than life, full of fun and energy; their live shows could just be the best party you've ever had. This month the band releases their furth album – 'InVader' its and album full of Sleaze, Hard Rock and Roll and a hefty share of dance influences too. It's music like you've never heard, it may well be a genre of it's own, but we don't care for labels to us it's just good old Rock 'n' Roll. We caught up with Olli to check out what's gong on in the world of Reckless Love…
The Rockpit – The new album InVader is out on March 16th, what is the feeling in the band leading up to a new release?
Olli – we are very excited about it. It's been two and a half years since the release of our last album Spirit. We are more than ready to get back on the road. InVader has also got plenty of new kinds of sounds and influences. We are very eager to hear what people think about the new stuff.
The Rockpit – You coined the phrase 'Merry Metallers' very early on, what does that mean to you and has the meaning changed over the years?
Olli – It was actually coined by a British journalist who wrote it first in his article for Powerplay Magazine about us. We just felt like it's a perfect depiction of what kind of people we are and what Reckless Love is all about, a good time that is. That's the reason why we started the band in the first place. The four of us just got together to jam our favourite rock songs, to drink a beer, or twenty and to have a laugh.
The Rockpit – Last time we spoke to you, you said that you still had so far to go and were heading for "the party of a lifetime", what's the soundtrack to that party and what are we drinking?
Olli – Well naturally, the playlist has got plenty of Reckless Love on it, Van Halen, Kiss, Def Leppard, Ratt, Motley, Poison… all the good old stuff. The list could go on for about as long as there are 80's hair metal bands that recorded any music. The choice of poison is up to the drinker in question. Anything goes, even better if it's got alcohol in it.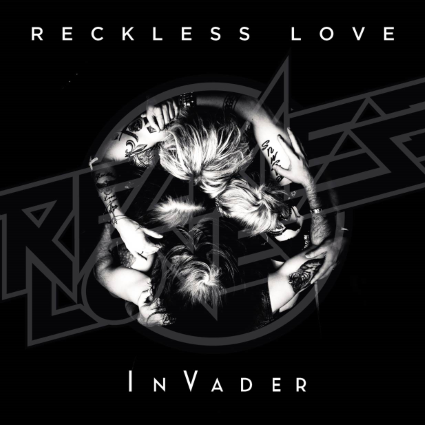 The Rockpit – Reckless Love started out as a Guns 'N' Roses cover band but on InVader the sound of the majority of the album is a long way from that – what do your crowds look like nowadays?
Olli – First of all, we really did not start as a GNR cover band, even though we did play a few of their tunes. We also played a lot of Van Halen, Aerosmith and other basics of classic heavy metal/hard rock of the 80's. Second, I don't think our sound has evolved that far. There are songs like Bullettime, We Are The Weekend, Hands and Let's Get Cracking on InVader that still have quite a lot of resemblance to the sound of GNR or VH. Even Child of The Sun and Scandinavian Girls have plenty of VH and David Lee Roth. However, I do see the point because we've mixed in a lot of fresh modern influences as well. In all of the songs, but especially in songs like Pretty Boy Swagger. That being said, the natural outcome is that our crowds are very diverse, and we love that. There's quite a lot of young people in there, but also plenty of slightly more experienced people too. It's not that often when you can daughters and fathers in the same club having the time of their lives.
The Rockpit – InVader takes the 'dance' element of the band to a new level that some fans of the first album especially might be a little uncomfortable with – what would you say to them?
Olli – The "dance element" had always been a part of Reckless Love. Even on the first album there's Back To Paradise, for example, which has a real strong dance feel to it. Our second album released a year later had a song called Dance and Dirty Dreams which both are very much from the same streak of songwriting. Spirit has Edge of Our Dreams. To those people, I probably wouldn't say anything. I'll let the music do the talking. People feel differently about the same songs and that's the way it should be. Great art always raises feelings and thoughts while it entertains. I feel like we've written the strongest material we've ever done for InVader and the songs really stick to one's head like glue. They also divide opinions. Reckless Love has a lot more to give than just the same kind of rock that was written more than 30 years ago.
The Rockpit – Tell us about the inspiration behind the song 'Monster'?
Olli – Monster came about almost a year ago. We were at Pepe's place and he started fooling around with this idea that to me sounded kinda like Backstreet Boys, Nirvana and Alice Cooper. Immediately I was inspired cause the song gave me a strong vibe from the start. I somehow came to think about plastic surgery and all the freaky stuff that people do to themselves nowadays to look like the beauty image they've got and I realized it would make a great set of shock-rock lyrics with a glam flavour if I'd just list the graphic images as verbal expressions. The word monster came to me as I thought of how much people are shaming the ones who openly admit having had something done, or even if they have not. Unfortunately the internet is still full of mean people who will start calling anyone who's getting any public attention, a monster. Stop the hating, start loving.
The Rockpit – You throw more than a few curve-balls on the album, there's Glam, Sleaze, even a certain punkiness on tracks like 'Bullettime' but overall the feeling is Euro-pop, Dance, Disco is it a case of something for everyone or are you testing the fans to see what the reaction will be.
Olli – the first reactions have been very positive and we've had tons of great feedback from our fans. We didn't set out to test them. We set out to test ourselves. We wanted to incorporate more modern flavours to our music than we've ever done before. We really felt like the 80's influences, the feel good vibe and slick guitar licks and fun loving attitude can be mixed with more current sounds to create something completely new and original. I'm not agreeing with your opinion about the overall feeling of the album, even though there are some EDM beats we messed around with in Pretty Boy Swagger and Keep It Up All Night. Maybe even in Monster, however songs like Child of The Sun and Scandinavian Girls are more influenced by Queen's Radio Ga Ga, Van Halen's Jump and David Lee Roth's Skyscraper album than anything else. Overall there's very little disco stuff on this record. In fact, we consciously stayed away from all that and brought in lots of influences from hip-hop instead. These can be heard on We Are The Weekend's beats and Rock It's rap verses, funnily enough, Rock It is a very basic hard rock song otherwise. Lots of riffs and big steady rock beats.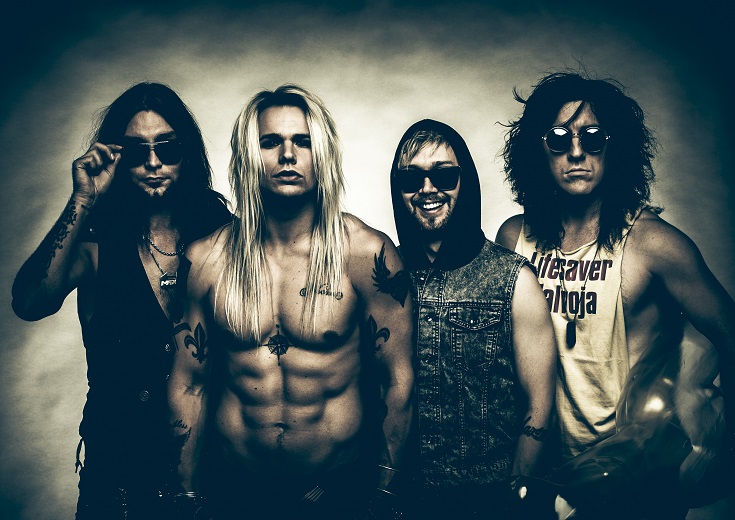 The Rockpit – Tell us about 'Child of the Sun' and 'Scandinavian Girls' two fun tracks but very far from the Reckless Love of the first album – will you treat the songs to a bit more guitar live?
Olli – Again I think you are slightly off with your view on how the first record sounds compared to InVader. I think Scandinavian Girls is like Beautiful Bomb 2.0!! Those two songs really share the same fun vibe and in their over the top ridiculousness they seem alike to my personal view. On what comes to Child of The Sun, we really set out to push the envelope a little bit. We wanted to write our Radio Ga Ga and I think we succeeded in that, bang on. The first demo of the song was performed with more guitars but it just didn't feel right for the song. That's also the answer to your question. Naturally we reach for the best possible of arrangements for the song as we lay down the track for the record, why change that for live situations into something that doesn't work as well?
The Rockpit – You are just about to embark on another UK Tour – a place where the crowds love you – how is it going so far and where to next?
Olli – We are actually on the road as we speak and it feels so good to be back in UK. This time the tour actually spreads all over mainland Europe as well and we'll finish it off in Moscow Russia in the beginning of April. After that we'll fly back home to Finland where we have an extensive tour booked for the following 6 weeks. Summer festivals kickoff right after that, so we'll have our hands full until the autumn. There's plenty of more touring in our plans for later but we'll see how it all goes down. We also mean to put out a new single before the summer begins.
The Rockpit – We had so many telling us to ask you – when are you planning to finally visit the US?
Olli – there has been a lot of talk about coming over there to tour. So far, it all has been just plans but now we do have an album out in the US so it makes perfect sense to come over to promote it.
The Rockpit – What makes it to the live set from InVader?
Olli – we have rehearsed every song on the record, so we'll be able to change our setlist as the tour goes on. Of course, some of the new songs require bringing in synthesizers on stage and for logistic reasons we cannot bring them everywhere. On those cases, we'll arrange our setlist accordingly.
The Rockpit – 'We Are the Weekend' is a huge song – do you just know when you write a song like that you've found something very special?
Olli – thank you. Yeah, sometimes you're able to tell it from the first couple of bars that you're into something very special and that's exactly how it went with this one. A very strong option for the next single. The same goes for Child of The Sun.
The Rockpit – What most inspires the band these days and has it changed over the years?
Olli – Pretty much the same stuff. We've always been a bunch of fun lovin' dudes inspired by good times, girls and the decadent life on tour.
The Rockpit – You've played some big Festivals, shared the stage with some great bands – who has made the most impact on you so far and why?
Olli – last summer, we played the same festival called South Park Festival in Tampere, Finland with our boyhood idols Def Leppard. We also got the chance to meet them. Such gentlemen and the show was sheer brilliance.
The Rockpit – If you could have been involved in the creation of any one album, just to see how it all slotted together – and how the magic was made what would that album have been for you?
Olli – this might sound very selfish, but I prefer the things the way they are. First, because I feel privileged to have been a part of InVaders recording process. I feel like we succeeded in taking Reckless Love to the next level and that's exactly what we set out to do. Second, a big part of the magic on some records like Def Leppard's Hysteria or 1984 by Van Halen comes out of not knowing how it was done. I prefer to keep it that way.
The Rockpit What is the meaning of life?
Olli – Bananas