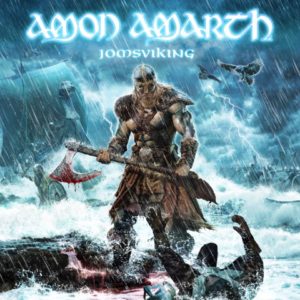 Amon Amarth return with another brilliant album in "Jomsviking", a concept album which is a first for the viking metal legends. It's a somewhat revenge story but also a love story at the same time but it still has all the trademarks of what we come to expect from Amon Amarth. With an epic storyline, a guest vocalist, a new drummer and a new year, it seems it's a whole new everything on this album.
"First Kill" leads the way with a short intro that then gets straight into business, the signature sound of Amon Amarth rumbles with epic, melodic riffs and double kicks. This is all you expect from the Swedish metal masters and nothing less. "Wanderer" is more mid-tempo stuff with a memorable riff and a swaggering bass line that thunders along rhythmically with the verses while "On A Sea Of Blood" kicks it into overdrive with a more uptempo beat and an almost thrashy riff driving the song. While all these songs are singalongs in one form or another as it always is with Amon Amarth music, "Raise Your Horns" is the classic singalong that is sure to be a live hit on the tour circuit. Originally intended as a bonus track only, this one will be a highlight for many fans who dig the more jovial side of the band's material.
"Jomsviking" is also the first album without former drummer Fredrik Andersson who parted ways last year and while he will be sorely missed, filling in for the news songs is Vomitory drummer Tobias Gustafsson who does a fantastic job behind the kit. "One Against All" is a highlight for Tobias and showcases his talent with this track, the rhythm is perfect alongside the melodic riffs that power the band's sound. Other songs keep delivering the goods, "At Dawn's First Light" chuggs along with a mean riff while "One Thousand Burning Arrows" goes the opposite way and slows things down with a more melancholy vibe. Fret not however as there's still enough heavy here to satisfy even the diehards.
"A Dream That Cannot Be" features none other than legendary singer Doro Pesch who's hard rock vocal style somehow fits nicely with Johan Hegg's more harsher vocals. The two voices go back and forth giving you the feeling of a conversation or a monologue of thoughts as it plays into the story of a man and woman in a world full of war, hate and love. It's a different take on the usual Amon Amarth music but one that I think is used effectively that's maybe not alien to the more symphonic metal hybrids of Nightwish and Epica. If you want something more old school metal though, look no further than "Vengeance Is My name" which bleeds that vintage sound. "Jomsviking" has it all and Amon Amarth seemed to have delivered one of their best work to date yet again.
TRACKLIST
First Kill
Wanderer
On A Sea Of Blood
One Against All
Raise Your Horns
The Way Of Vikings
At Dawn's First Light
One Thousand Burning Arrows
Vengeance Is My Name
A Dream That Cannot Be
Back On Northern Shores
Read our interview with Johan Hegg HERE