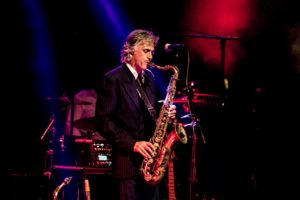 Due to popular demand from Australian fans and following a hugely successful concert tour of UK & Europe the world's greatest Dire Straits show returns to Australia in October 2016 to perform the incredible catalogue of hit songs. Saxophone player and original member from 1985 to 1995 Chris White talks to us about the legacy of Dire Straits, working with the legendary Mark Knopfler and what fans can expect on the Australian tour.
For many people who were around during the 1980's, Dire Straits were the quintessential rock group that released some of the biggest songs that remain embedded in music culture still to this day. When "Money For Nothing" came out on the epic "Brothers In Arms" album in 1985, you couldn't get away from hearing the song blasted on radio and on TV, ironically the subject at hand the very essence of what MTV was about in 1985. The album was groundbreaking for many reasons and the list goes on – It's one of the biggest selling albums of all time at over 30 million copies sold, it was one of the first albums ever recorded with the new Dolby Digital sound which in essence pioneered the CD format as we know it, the video for "Money For Nothing" used early computer animation that was ahead of it's time – seriously, it just goes on.
Before this album though Dire Straits put out brilliant albums that many say are their best work pre-Brothers In Arms. "Love Over Gold" was signature Dire Straits and tracks like "Telegraph Road" and "Industrial Disease" are staple favorites, while their debut self titled released in 1978 (the year I was born!) contained one of the greatest tracks ever released by the band – "Sultans of Swing". So it was only natural that by 1985, Dire Straits would become one of the biggest bands on the planet.
I discovered Dire Straits upon the release of "Brothers In Arms" in 1985, I still remember seeing that magnificent guitar plastered on TV during ad breaks promoting the album. Up to that point I had heard bits and pieces here and there, I vaguely remember hearing "Sultans Of Swing" on the radio in the early 80's but being I was literally coming out of diapers at that time, my memory is a bit fuzzy but that guitar tone always struck me as peculiar and interesting but I didn't know it was a guitar! So fast forward to 1985, "Brothers In Arms" is released, I hear "Walk Of Life" and "Money For Nothing" on the radio and that was it. That was literally my entrance into rock music, it was all kid stuff up to that point and like many people in the world, music was just a casual affair, something sitting in the background swarming into your ears but never really hooking you to the point that nothing in the world matters. It's interesting to hear from Chris White himself who joined the band at the height of the band's career that their music had impacted and stayed with so many people still to this day.
Chris: It's humbling to be out there doing that now, to know that people still want to come and hear that stuff and see it played live. It's pretty phenomenal and I'm pleased to say that the band we are bringing out to Australia just feels great on stage so I'm very happy to come out with it and play these songs in Australia.
For me it went beyond just being a fan of their music and have it stay with me for 30 years and counting, as I mention to Chris that it led me to a path into the music industry but even beyond that, it's a journey of self discovery as well and how much music has meant to me over the years. Probably more so now than ever before too. It's interesting to reflect back on where I started in my musical journey beginning with Dire Straits and how my choices in what I like and discover has evolved so much over time that it's barely recognisable. From bands such as Dire Straits and Queen and Status Quo to acts like AC/DC, Guns N' Roses, Motley Crue to Metallica, Slayer and Pantera to modern groups like Between The Buried And Me and Meshuggah, and to think it all started with one band that is vastly different to what I listen to now. But you know what? It may surprise many of you that know me that while I listen to some of the most heaviest music on the planet, I can still throw in my original cassette tape of any Dire Straits album and enjoy it. Not just because Mark Knopfler is a brilliant guitar player but because I never lose sight of where I came from and what real, good music to my ears is truly about.
Chris: (On Mark Knopfler) Very creative guy, he's a signature style guitar player. People recognise his style and has a great voice and for my money, has written some really truly classic songs. So incredibly creative bloke and it was always great working with Mark because when I first started working with him and subsequently, if you had an idea for something we could put it forward and quite often it would go in.
Talking to Chris White was an absolute dream of mine, it's hard to not become a fanboy when the band he was a part of has had such a huge impact on me so I was super grateful for the experience and it inspired me to write up my experience with Dire Straits in the hopes that maybe anyone reading this can be inspired and find that one thing in their life that changes and leads them into a path of a super positive journey.
Listen to the entire interview below:

THE DIRE STRAITS EXPERIENCE AUSTRALIAN TOUR 2016:
Wednesday, October 5: State Theatre, Sydney
Tuesday, October 11: QPAC Concert Hall, Brisbane
Wednesday, October 12: Palais, Melbourne
Thursday, October 13: Concert Hall, Perth
Friday, October 14: Her Majesty's Theatre, Adelaide
Tickets and tour details can be found at www.direstraitsexperience.com.