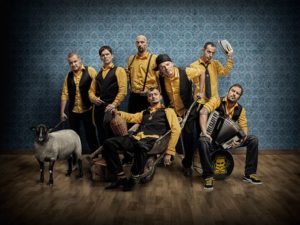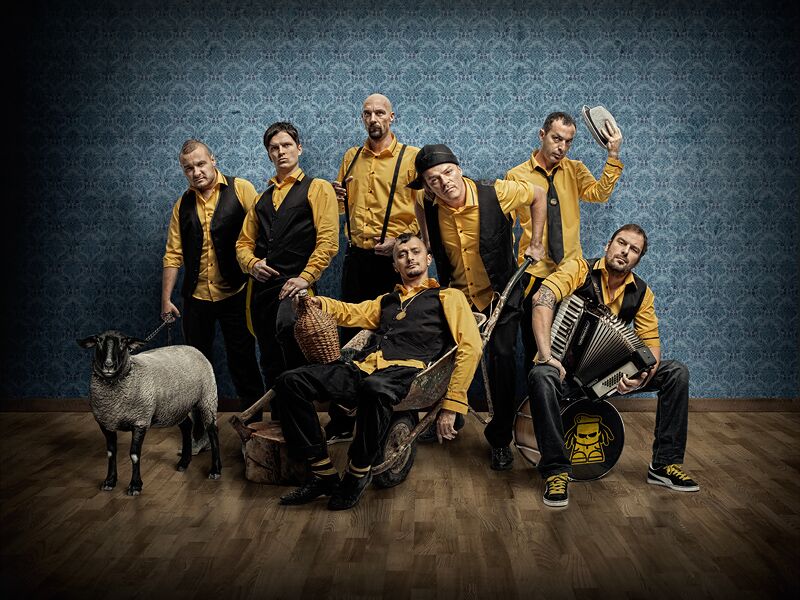 They're non-conformist and a little rebellious. Their music is exuberant and their lyrics tell it exactly how they see it. They are known for their "kick ass" live shows. Oh, and they give their music away – for free. Australia – meet Dubioza Kolektiv.
Born in 2003 in Bosnia and Herzegovina and melding influences of ska, punk, reggae, electronic, hip-hop with traditional Balkan flavours, and presenting traditionally no-go topics in politically incorrect fashion, Dubioza Kolektiv (Doobie-Oza Collective) are a band quite like no other. December 2016 sees them headed to Australia for the very first time, with headline performances in Melbourne, Adelaide, Sydney and Brisbane and appearances at Woodford Folk Festival.
The Rockpit: The band come to Australia for the first time ever! What can we expect?
DK: We will do our best trying to force everyone to jump, dance, crowd surf and stage dive until they are soaking wet from sweat. This is our standard tactical maneuver with aim of increasing sales of dry t-shirts from our merchandise stand strategically positioned at the exit of the venue.
The Rockpit: What are you looking forward to seeing or doing the most in Australia?
DK: We are coming from mid December winter in Europe and temperatures well bellow 0°C so we are really looking forward to take photos of our feet in flip-flops on the beach and annoy freezing relatives back home by posting them on Instagram.
The Rockpit: Can we expect a different set every night or do you prefer to keep the same set?
DK: Approximately 70 percent of set will be same at each Australian show. The remaining 30 percent depends on the mood of the audience and amount of refreshing alcoholic beverages that we will consume prior to show. If energy levels and alcoholic content in musicians blood is high enough we prefer to finish our show at the venue's bar with convenient set of acoustic covers of our favourite songs while bartenders are loudly protesting that we are diminishing their chances to make profit selling drinks during that part of the concert.
The Rockpit: Which songs get the biggest responses from the crowd at live shows?
DK: It depends on the geographical location but in last year we get great reactions to "Free.mp3 (The Pirate Bay Song)" anywhere we play. People recognise the tune from the first moments and react with loud cheers and shouts. This probably means that they approve general idea of song's lyrics about free downloads and widespread pornography consumption. Or maybe they just like our attractive music video for this song that features naked Miley Cyrus and exploding Kim Kardashian's ass.
The Rockpit: You are touring off the latest album "Happy Machine", how has the reception been from the fans on the new songs so far?
DK: We are including brand new songs in our set to test them before they are officially released. This is why some of the songs from "Happy Machine" were in our repertoire long before album was out. It is important for us that every song generate some reaction from the audience regardless of whether they've heard it before. We perform at places (i.e. festivals) where people see us for the first time and we are used to playing to "unprepared" audience. We also like to play on the street and we believe that your music is good only if you can attract and keep attention of passer-bys that probably have better an more important business then wasting their time listening to you.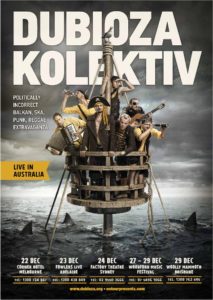 The Rockpit: The album is largely inspired by a lot of recent events. Which has been the one that means the most to you?
DK: Songs for this album were created during the last 2 years and a lot of things happened during this period. We've seen some of these events in the news or from people who witnessed them and others were inspired by our first-hand experiences. For example, our DJ was on vacation in Istanbul when big Gezi Park protests started and song "Riot Fire" was written as a result of this event.
The Rockpit: Travelling around the world and seeing first hand a lot of what you write about, how has your perception of the world changed if at all since you started touring?
DK: We have realised that no matter how far you go from home you always recognise same patterns of behaviour and same problems that bother people. The more we travel – the more we realise that "one world – one struggle" motto is very true.
The Rockpit: What has been the most interesting or craziest thing you have seen on the road or at one of your shows?
DK: Probably everyone witnessed or experienced crowd-surfing at least once in their lifetime, but probably only few had a chance to see crowd-surfing in real-life heavy steel bathtub. This happened in Watts A Bar Festival in France this year and we have photo evidence to support this story. You will not be able to read about falling from the stage, taking a leak in the plastic cup during the concert, stage and PA system collapse during the storm, venue floor destroyed by excessive audience jumping and other interesting stories because we will never write an autobiography.
The Rockpit: What inspires you the most in writing music?
DK: Beside legal and illegal substances (ab)use, our biggest and inexhaustible source of inspiration is daily consumption of news stories and political analysis from all available media outlets. We also spend considerable amount of time trying to steal other people's hit songs without getting caught.
The Rockpit: What is the music scene like in Bosnia and Herzegovina and is it much different to the rest of Europe?
DK: Bosnian music scene is alive and kicking but music industry, club and festival scene does not keep pace. This is why bands are doing most of the things completely DIY which produces interesting results and cultivate very stubborn and resilient crop of musicians.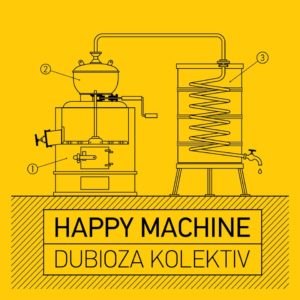 The Rockpit: How difficult was it to break out and become a successful band in the beginning?
DK: It was not easy nor difficult for us. We don't have right tools to measure this process. Simply, we've decided that we want to do this and we started without any calculations. We've worked and still work a lot but we never complain. It is really disgusting to hear standardised rock and roll laments about "difficult life in show-biz". We strongly believe that it is much easier to play guitar then to work in the coal mine.
The Rockpit: Has it surprised you how successful the band has been and the kinds of reactions you have been getting?
DK: We would be lying if we say that we expected that everything will go the way it went. We are still pleasantly surprised to get invited to play shows in countries that we've never dreamed touring. We started this year with US tour and finishing in Australia. 2017 will start with tour in India and we don't have a clue where it will end.
The Rockpit: Which band inspires you the most? What made you decide to get into a band in the first place?
DK: You would probably get completely different answers from each of us and then you would be even more confused about how we got together initially. On the other hand, this would probably partly explain why music we create can be positioned somewhere between Rihanna and Nirvana and between rock and Kazachok.
The Rockpit: If you could be a fly on the wall for the recording of any album in history, what would it be?
DK: It would be very interesting to be a fly on the wall for the recording of "Fly on the Wall" album by AC/DC. In that case, our sense of self-worth and importance for the development of Australian hard rock would grow bigger then in any other fly in the history of flies on the recording studio walls.
The Rockpit: For you what is the meaning of life?
DK: "Meaning of Life" is our favourite Monty Python's movie of all time. All answers are there.
DUBIOZA KOLEKTIV AUSTRALIAN TOUR 2016:
Thursday December 22 – The Corner Hotel, Melbourne VIC
Friday December 23 – Fowlers Live, Adelaide SA
Saturday December 24 – Factory Theatre, Sydney NSW
Thursday 28 & Friday 29 December – Woodford Folk Festival, QLD
Friday 29 December – Woolly Mammoth, Brisbane QLD
Tickets and tour details can be found HERE.