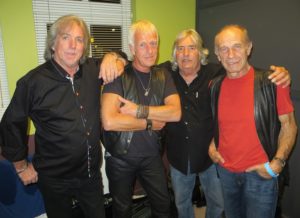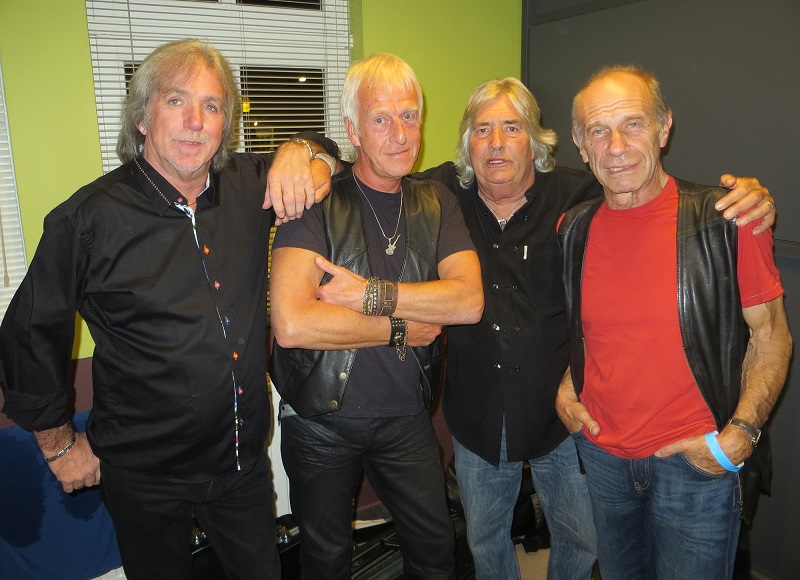 I've long believed that the real direct spark for Hard Rock came from two songs – The Kinks' 'You Really Got Me' and The Troggs 'Wild Thing'. This year 'Wild Thing' is 50 years old – two years younger than The Kinks song. It's impossible to dispute it's influence on every genre from Garage to Punk and Hard Rock. This year The Troggs are 'down under' for the first time without Reg Presley who sadly passed away in 2013 to celebrate the 50 years of 'Wild Thing'. We caught up with founding member, guitarist Chris Britton to talk about the anniversary and find out what it was really like back in the 60's…
Mark: Thank you for talking to The Rockpit Chris, how are you?
Chris: I'm well thank you!
Mark: First of all let me thank you, my parents met at a Troggs gig! So it's all thanks to your music!
Chris: Well I never!
Mark: I talked to Dave Davis last year about the riff to 'You Really Got Me' which to me along with 'Wild Thing' were the songs that really started Hard Rock – but The Troggs have been called everything from the Godfathers of Punk to the Uncles of Garage Rock. How do you see your influence filtering down over the years?
Chris: Well it hasn't been intentional and a lot of people have tried to put us in different bags, and we fit quite a few of them actually as I suppose there is a bit of early punk because of the aggressive attitude and I see the heavy rock, but on the other hand 'Love is all Around' is a pretty love song so it doesn't really fit in! We therefore cross many different paths of music and we've enjoyed doing it.
Mark: It's all wonderful music, and it's wonderful music that's lasted and this year you're in Australia for the 50th Anniversary of the song 'Wild Thing' – does it seem like it was that long ago?
Chris: No it seems a lot closer than that, but it's amazing how quickly 50 years goes by and you'll find that yourself one day (laughs). It starts speeding up! Funny stuff time is!
Mark: The Troggs were around for an amazing time for music and musical creativity and I think everyone really looks back to the 60's and 70's as the 'golden age' for popular music. Did it feel like that at the time? That you were part of this great huge scene that was going to be looked back on with such affection 50 years later? Was it inspiring to be a musician in those days?
Chris: At the time obviously we didn't really realise any of that we were just doing our thing, but I think that we were very lucky as everyone was in the right place at the right time. There was a real sense of hope, it was really just a few years after a serious world war and things were only just starting to come out of austerity and we were beginning to have a good time. Musically of course it happened here a few years after America where Rock and Roll was born, and it was a good few years till English Rock and Roll kicked in and what we did was take the American stuff, mixed it up, turned it around, made it a bit more aggressive and sent it back! But the whole thing happened because of the timing and the right situation, and of course the younger generation thing having their rebellion. But as time goes on it becomes more difficult for each new generation to rebel and have their own music, but fortunately they always find a way and if the generation before ever approves of the younger generations music then they're not quite doing it right!
Mark: (laughs).
Chris: It will always carry on. There is quite a lot of new music that old farts from my generation will always disapprove of which is right and proper and that's just how it should be!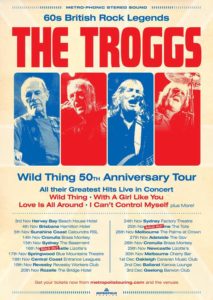 Mark: But is there any modern music you do approve of
Chris: Oh whatever's going through I listen to on the radio, I can't say I particularly understand it, I mean a lot of the rap stuff leaves me a little confused, but I'm sure at the right place, in the right time with the right people even that works perfectly well! Which is why they do it and why they enjoy it!
Mark: I must admit I find it quite hard to get past the 90's myself!
Chris: (laughs)
Mark: 'Wild Thing' is obviously the song that you are most known for but there were plenty of other great songs too! Which song has the most meaning and the best memories for you?
Chris: Well I guess all of them half their own little niche in our time but I think 'Wild Thing' because it was that completely breakthrough, weren't expecting it to happen and it really changed our lives overnight, well a few weeks! And we were very lucky that it happened for us. But we also got a big buzz from the version of 'Love is All Around' that Wet Wet Wet did. And some of the gigs we did we're quite fun to be at… in fact quite a lot of them were fun to be at or we'd be doing it wrong!
Mark: One of the things I never understood and I don't think I've ever read it in an interview, is that to me at the time The Troggs were up there with The Beatles, The Stones, The Kinks and all those other great names and yet as they all went to the States and grew huge, The Troggs didn't make that trip till 1968 and seemed to have been left behind. Is that something you had any control of? Do you regret not making it out there sooner?
Chris: Yes in a way we do regret it, in retrospect I think that it would have been better for us if we had gone out there earlier. But it was one of those decisions that had been made by the Management and I think it was a combination of things: they were looking for the right deal and the right niche to put us in over there; but they were also intent on trying to get the next record out and promoting it. So I guess it would have been better for our career to get over there and play to people and widen our audience but to them they wanted to get records out and get royalties in which was where they made their money. So I guess it was a bit of a conflict of interest – the agencies and the band would have been better served getting out on the road, and the record company and the management wanted the records pumping out. Unfortunately it meant that we didn't get out there till the late 60's but when we did we thoroughly enjoyed it and did a 3 month tour with The Who which was an experience in itself.

Mark: I know everyone has these visions of the 60's when they look at all the big bills for concerts and imagine that all the bands were great friends and spent a lot of time together, was that the case, did you make lasting friendships or as I think someone once said it was it more like 'ships passing in the night'.
Chris: You got it. We did make lasting friendships but not really close ones. What happened back in the 60's was that the only times we'd ever meet would be at the TV studios for programs like 'Top Of the Pops' or 'Ready Steady Go' or we'd bump into each other at motorway service stations – one band would be travelling to somewhere like Birmingham to play the next night, and the other band would be travelling in the other direction. We'd see each other and say 'Hello' at four in the morning over a plate of fried eggs! (laughs). But we didn't really start meeting up until much later when they decided to put package shows together with two or three bands on the bill rather than a main act and a support. So it was a bit odd but it never happened that we travelled about as a big circus, but we did bump into each other occasionally!
Mark: And talking of touring you've got quite an extensive tour of the East Coast of Australia coming up at the start of November till the end of the month. There's a lot of back to back dates in there too! What's it like touring these days?
Chris: (laughs) Well it looks like it's going to be a bit hectic! We'll find out when we get there. Normally over here we just do single dates, but the distances are a lot further in Australia aren't they so we didn't want to come for just a couple of shows, after all we're not just half an hour up the road! Of course over here we'll play a gig on a Saturday then have the week off or if we play a show in Germany we'll fly out do a gig then fly back, but in Australia it wasn't worth coming to play Friday and Saturday then fly home then come back again the next week, we'd be absolutely exhausted!
Mark: Your last album 'Athens Andover' came out in 1992, and there was talk of a follow up sometime soon – is there a potential new release on the cards?
Chris: (laughs) We haven't got round to it yet! Maybe we'll get our act together and do something. We did have a bit of a setback obviously three years ago when Reg died and we got a new singer in – Chris Allen, and that took a bit of working out, but it's going very well now. And because of that we hadn't thought of doing anything new, it would be a bit of a challenge actually as we'd be getting in the way of all the new talent trying to get out there, it might be a bit self-indulgent to try and get ourselves out there again, so maybe we should stick with the nostalgia trip?
Mark: You'd sound a lot better than most these days Chris! And just a quick question to close with if we can: If you could have been a fly on the wall in the studio for the recording of any great album, just to see how the magic happened, what would it have been for you and why?
Chris: Oh, 'Are You Experienced' by Jimi Hendrix of course, then 'Sargent Pepper' by The Beatles and Led Zeppelin III!
Mark: Three heavy hitters there, with no explanation required! And finally the really easy question we ask all our interviewees: What is the meaning of life?
Chris: Ah, I think it was 42 wasn't it?
Mark: A hitchhiker's man like myself I see! Thank you so much for talking to us today Chris, have a safe flight over and a great tour!
Chris: A pleasure to talk to you, we'll have a beer!
THE TROGGS AUSTRALIAN TOUR 2016
Thursday 3rd November HERVEY BAY Beach House Hotel
Friday 4th November BRISBANE Hamilton Hotel
Saturday 5th November SUNSHINE COAST Caloundra RSL
Monday 14th November CRONULLA Brass Monkey
Tuesday 15th November SYDNEY The Basement
Wednesday 16th November NEWCASTLE Lizotte's
Thursday 17th November SPRINGWOOD Blue Mountains Theatre
Friday 18th November CENTRAL COAST Entrance Leagues Club
Saturday 19th November REVESBY Revesby Workers Club
Sunday 20th November ROZELLE The Bridge Hotel
Tuesday 22nd November ADELAIDE The Gov
Thursday 24th November SYDNEY Factory Theatre
Saturday 26th November MELBOURNE The Palms at Crown
Monday 28th November – Cronulla – Brass Monkey
Tuesday 29th November – Newcastle – Lizotte's
Wednesday 30th November – Melbourne – Cherry Bar
Thursday 1st December – Oakleigh – Caravan Music Club
Friday 2nd December – Ballarat – Karova Lounge
Saturday 3rd December – Geelong – Barwon Club
Tickets available from Metropolis Touring