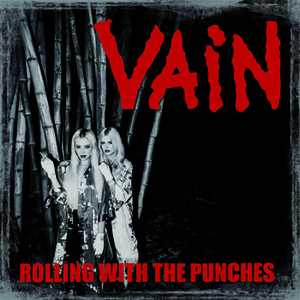 On January 27th 2016 San Francisco's 80's Glam Rockers Vain announced that their next album 'Rolling with the Punches' would be funded via Pledge Music. The album would be out in May 2016.
Vain, the band that in 1989 had produced one of the high points in 80's rock with the hugely influential 'No Respect' had a career of ups and downs, dropped by Island Records in 1991 prior to the release of their second album 'All Those Strangers' it would take years before that release saw the light of day in 2009.
Vain morphed into Road Crew with the loss of drummer Tommy Rickard and guitarist Danny West and gain of Steven Adler (Ex-Guns and Roses on drums) recording an album that never saw the light of day due to Adler's drug problems.
From then on things were patchy: Vain managed two more releases: 'Move on It' and 'Fade' followed in '93 and '95 and it wouldn't be until 2005 that a new album 'On the Line' surfaced. Then in 2009 'All Those Strangers' finally saw the light of day before 2011's 'Enough Rope' surfaced – an album that even included some old Road Crew material.
Five years passed and Vain saw a resurgence in popularity in both the UK and US before announcing their all new record 'Rolling with the Punches' with most of the original line up for May 2016. It seemed incredible for a band that had released just six albums in 5 years was going to put out their new album in a few short months!
In March Pledgers were informed of the first delay… "Hello. Two members of the band have been sick for a longer period of time and therefor been unable to get their parts for the album down. We have extended the dates mainly because we are concerned about the quality of the record because of limited time…  We sincerely apologize for any inconvenience and thank you all for your understanding."
All was cool a couple more months for a new Vain album was nothing, then in April 2016 there was a further update… we were now looking at August 9th with an added note that: " Every record we have ever recorded has been done to stand up to the level we feel that you expect from us, the highest standard. We always worked really hard to make great albums and our intention is to do the same on Rolling with the Punches, even if it takes some extra time."
The relief came with the note that: "We set this date as the very latest date everyone will receive the digital download of the new record."  The band added that "We sincerely apologize and from the bottom of our hearts for any inconvenience and thank you all for your understanding."
OK, fair enough, a few more months, these things do take time. But as the July date passed even I had to ask and we got our answer… dates were put back to November….
"Vain's new album – Rolling with the punches, is coming out on November 11th 2016 and you can be part of it! Come along for the ride with some exclusive items and stuff you can only get here on Pledge Music during a limited time."
September came, then October and fans were getting excited – no updates meant that surely the album was just around the corner! The wait was almost over…
Then on November 6th we got told that due to things not quite being ready we were now looking at February 2017 for the release – a crazy 13 months after the campaign was launched and 9 months after the original release date. There was a sweetener though – there would now be ten tracks rather than nine (the first time we'd had details of the length of the album) AND patient pledgers would get a special bonus track in the NEXT COUPLE OF WEEKS! That would be before Christmas!
"Hey all you guys in pledge land. I'm sorry to inform everyone that the albums is delayed, again… I apologize. The Albums release date is now in February. I know as far as pledge it keeps getting delayed but to me its just never been done… The album, was originally going to have 9 tracks but now it will have 10 tracks, and since everyone that supports Vain on pledge has had to wait so long while I've been going crazy to make it as great as I can, I'm mixing a bonus track myself you will all get in the next couple of weeks to hold you over, no one will get this but you guys on pledge it will not be on the final album. so everyone on here will get 11 songs total. Thanks to all our fans on pledge for there extreme patience!". If you have any other questions you can write me on here and Ill try and get back to you .Davy"
A couple of weeks came and went, then a month, then Christmas, no updates, no bonus track… not even for Christmas. By the end of December 2016 there was nothing, then on January 3rd 2017 Davy got back to say he was finishing up the bonus track mix NEXT WEEK! That meant we'd have it by  14th January at the very latest – a great teaser for the February album and less than a year after the campaign was launched…
The date came and went and, umm, nothing happened. By the 16th February people were starting to speculate again – there was no promo, no updates, no word at all…
Then a year and 23 days after the launch of the Pledge campaign on February 20th an email hit pledgers  inboxes stating that the album would be here on 22nd February 2017… And on February 22nd it arrived.
Was it worth the wait? You bethcha! All good things come to those who wait. It's been a long and torturous process for pledgers and presumably even more fraught for the band, but in these days of social media where everything is laid bare it shines a spotlight on everything. The album itself is the classic we were promised and to be honest I was happy to wait, the only real disappointment being that the one specific promise of a bonus track on two occasions prior to release never eventuated.
It does of course raise questions about the whole pledge process. Would pledgers have shelled out to finance the project if they'd known they would have been waiting over a year rather than a few months? Money is tight for people these days and with so many campaigns on the go there are a lot of places to put your dollars – I myself pledged on four further campaigns after Vain's and all came in on time, one even delivered a whole bonus album and each cost less than I paid for my Vain CD.
To me though only one question is important: would I pledge again for the next Vain album? The answer is easy – of course I would – if we want to hear the music we love we need to get behind the artists who make it, and in this world of 'I want it now' consumerism its actually refreshing to wait on an artist who wants to give you the best possible product. It reminds you what is really important doesn't it?
The only thing that hurts slightly is that the promise about the bonus track "no one will get this but you guys on pledge it will not be on the final album". The track is of course on the vinyl release of the album out in March…