A roundup of the latest news from Relapse Records including updates on Arcadea, Expulsion and Integrity.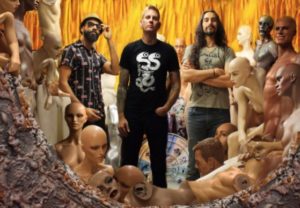 Cosmic synth/psych collective Arcadea is calling on fans to join their galactic battle in a new video game launched today by the band at their site
www.arcadearocks.com
In the game fans can play as their favourite space warrior Mastodon Zruda Withered and jump past the cosmic green hands as they save the universe from impending doom.
Test your skills now at
www.relapse.com/arcadea/game/index.html
Featuring Brann Dailor (Mastodon), Core Atoms (Zruda) and Raheem Amlani (Withered), Arcadea is a trio of galactic space heroes, whose prophetic songs tell the stories of space travel and celestial battles 5 billion years in the future where galaxies have collided, leaving catastrophic disorder in its wake as war is waged among gods and planets.
Watch the videos for Gas Giant & Army of Electrons
Arcadea's self-titled album was recently released to mass critical acclaim and is available for purchase and stream from Relapse Records.
Purchase/Stream Arcadea:

In Australia via
www.nervegas.com.au/arcadea-arcadea-cd
www.nervegas.com.au/arcadea-arcadea-lp-lp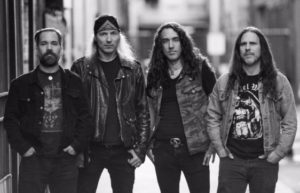 Extreme metal act EXPULSION featuring members of Repulsion Exhumed Phobia Intronaut Gruesome and numerous others has shared a new track off the band's debut album Nightmare Future due out July 14th via Relapse Records.
Hear the closing track "Comatose" here
www.invisibleoranges.com/expulsion-comatosesong-premiere
Nightmare Future was produced by Matt Olivo, mixed by Toxic Holocaust's Joel Grind and mastered by Maor Appelbaum (Mayhem, Faith No More, Halford).
Spawned from the cerebral mind of grind legend Matt Olivo (Repulsion), EXPULSION combines grind, punk and crust into a caustic musical vomit guaranteed to stack the corpses high. Olivo's partner-in-grind, Matt Harvey (Exhumed, Gruesome) was recruited over beers in a sweaty LA apartment to bring his classic brand of oratory assault. The additions of veterans Danny Walker (Drums; Intronaut, Exhumed, Phobia) and bassist Menno Verbaten (Lightning Swords of Death) complete the fit-to-burn outfit. Expect nothing but the best of throat-shredding vocals, relentless blast beats, buzzsaw riffs and raw bass tones. EXPULSION will leave you horrified with their vile brand of classic, 80's sickness!
www.relapse.com/expulsion-nightmare-future
www.nervegas.com.au/expulsion-nightmare-future-cd
www.nervegas.com.au/expulsion-nightmare-future-vinyl-lp
Apocalyptic heavy music icons INTEGRITY will release their highly anticipated 12th studio album Howling, For The Nightmare Shall Consume July 14th via Relapse Records.
Today, the band shares a short film accompanying the song "7 Reece Mews." The film was directed by Jimmy Hubbard (Baroness, Mastodon, The Obsessed), Jeremy Danger and Travis Shinn. Watch "7 Reece Mews"
Vocalist Dwid Hellion comments on the film: "Director, Jimmy Hubbard has woven together a biblical horror tale. Religious orgies, inverted scriptures all captured onto grainy silent film telecine. Eroding like time itself. "7 Reece Mews" is one of my favourite tracks from the new album and Jimmy's short film perfectly conveys an aesthetic blasphemy. His vision has brought a new depth to our song. Many pleasant nightmares!"
Watch INTEGRITY's video for Hymn for the Children of the Black Flame & I Am The Spell
Howling, For The Nightmare Shall Consume was recorded and mixed at Developing Nations Studio in Baltimore with mastering handled by Brad Boatright (Obituary, Toxic Holocaust, Full Of Hell).
The album will see its release on CD/2xLP/Deluxe 3xLP/CS/Digital via Relapse Records on July 14th.
Pre-orders available via
www.relapse.com/integrity-howling-for-the-nightmare-shall-consume/
www.nervegas.com.au/integrity-howling-for-the-nightmare-shall-consume