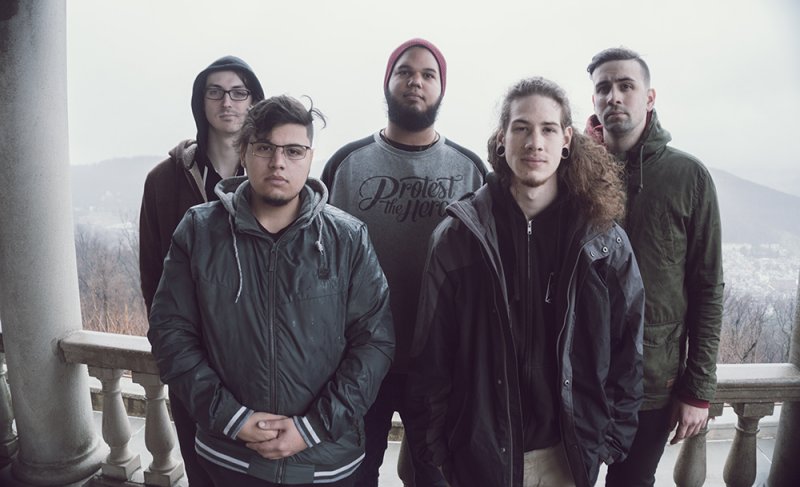 Stargazer is here to release "Skinwalker", the brand new single off of their upcoming full length, "Tui La" out this August. The premiere is brought to you by New Noise Magazine.
The band is here to bring their A-game with their last single before the album comes: dark and aggressive, "Skinwalker" showcases a side of Stargazer we haven't recently seen with their first two singles. The band can easily bring into their music a whole different vibe with every new song they craft: from beautifully melodic, to aggressive and passionate, fans cannot run into any kind of boredom when giving a spin to the tracks. And there's definitely enough to entice the most picky of listeners: whether you like mellow, The Contortionist-esque vibes with beautiful clean vocals, or a more sharp, powerful track with harsh screaming and groovy musicianship a la Devin Townsend, chances are, you will not be left hanging, but only wanting more.
Matt Copp (vocals) had a couple of things to add about the track: A feel in 7 that's just plain old fun, "Skinwalker" is aggressive as hell with Townsend-inspired passages and sensual expression. Dark, dry staccato juxtaposed with haunting legato and a controlled panic drive the song towards a punishing climax, followed by the calm between storms. Listen for the explosive drums and bathe in the rhythmic unity.
Stargazer has begun to infect the east coast with their brand of out-of-the-box, free-thinking metal, winning over fans from multiple facets of the metal scene and uniting them under the banner of brotherhood and camaraderie. With a handful of tours under their belt, they have only become hungrier and more driven to see the sweet fruits of their labor, to travel and behold the diverse beauty of the world we live in, to increase their musical skill and sphere of influence, and to connect with every person they meet on a genuine, meaningful level. The five members of Stargazer have a need to learn and to grow, and in their travels hope to further their own human experience as they continuously blossom into their future selves.
As the years have passed, so too have the members and influences of the band, until finally arriving at the current apex of dedication, motivation, and discipline in regards to their craft as musicians, entrepreneurs, and best friends. No longer concerned with trendiness or "fitting in" adrift a vast musical sea of copycats and lookalikes, they strive to communicate a message of beginning to accept one's self for who one is, and reflect that mantra in their music. Unapologetically nerdy and a little out of left field, each member injects his own unique musical inspiration into every song, resulting in music with solid foundation that can live and breathe all on its own.
Forged in the steel city of Bethlehem, Pennsylvania, the progressive metal outfit known as Stargazer has been trying to push the boundaries of music and of self for half a decade. Through the central themes of self-actualization, introspection, and personal growth, the 5-piece band aims to paint a diverse lanscape of musical emotion, from quick and aggressive melodic lines and odd time signatures to slow and lumbering grooves laced with haunting vocal drones and harmonies. Lyrical topics on the effects of different states of mental health, creation and destruction, and a fascination with the exploration of the human psyche add a not-so-standard twist to the progressive genre and provide an avenue for band and fans to connect more wholly within the complete musical package.