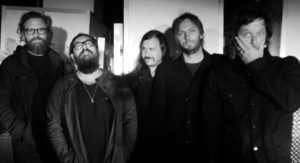 The last time we heard from BATS they laid on us the neo-psychedelic riffs of the single Tarantula which was embraced @ alt radio in Australia + scored some spins in San Francisco. You've got to dig a counter culture city.
Tarantula was taken from the debut EP in 2016. BATS have ventured back into the studio to start work on a LP. 24 hrs is the first single – an anxiety filled track about others less fortunate than ourselves.
BATS trademark vibe of being soulful yet crushingly tight is evident throughout the track with the addition of emotive undertones and vocal discontentment of our current state of governing play.  Should this be a sign of the rest of the album it will surely turn some heads.
BATS are what arose from the ashes of The Scotch Of Saint James – one of Perth's most potent, most beautifully anomalous rock bands. Transcendent of era, Bats could be well placed in any decade of rock, but would stand out nonetheless with their swirling vortex of neo-psychedelic riffs and vocal melodies that glide around the mix like apparitions.
What began as a solo project is now a roll call of esteemed Perth musicians: Michael Paver (TSOSJ, The Slim Pickins), Jozef Grech (The Infidels, Project Mayhem), Pete Acklin (The Volcanics) and Tim Stacey (High Horse, Ruby Boots.
BATS debut LP released later in 2017
Check out the new single here
facebook.com/BATSalwaysturningleft