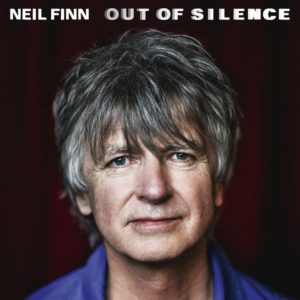 All things considered – the live worldwide stream, the tight deadline – you would expect Neil Finn to be the most anxious person present at the recording of his fourth solo album OUT OF SILENCE. However, if you take a minute to survey the throng surrounding him in his Auckland studio, a different picture emerges. Aware that more anything in excess of three takes of any one song is likely to set the schedule back, the orchestra's bonhomie is laced by a mixture of black coffee, adrenalin and intense focus. When the time comes to record their parts, the players in the house band occasionally look up to take their cues from the man whose songs they're here to enhance. For the album's arranger Victoria Kelly, this is the moment when months of meticulous scoring burst into life. But on the sleeve of the resulting record, it's only Neil Finn's name you'll see. That's a weight only he bears. And yet, seated at the upright piano on which many of these songs came to life, he is, by some distance, the most relaxed person in the room.
"For a long time, I've wanted to do a record in one crack and get it out in a week. So that's what we're doing. Then I thought, 'Well if we're going to do that, let's not make it a little acoustic thing that's easy to record in one session. Let's make it the most sophisticated record I've ever made."
This much will also have been apparent to any of the 20,000+ fans who followed the album's progress on the four weekly live streams throughout August, culminating in the incredible four hour session on August 25th that concluded the process. It was, by whichever metric you choose to measure it, an ambitious undertaking. Not least because the songs that comprise OUT OF SILENCE demand ambitious settings. However, as the sessions progressed, it slowly became apparent that we were privy to the creation of something truly exceptional. Completed on the very first day of the sessions, More Than One Of You seemed to establish the emotional temperature for what followed. Given wings to fly by an illustrious choir featuring well-loved New Zealand recording artists Tiny Ruins, Lawrence Arabia and Don McGlashan, the song explores a favourite Finn theme, the ineffable interconnectedness of the eternal and the ephemeral, to hair-raising effect. Unveiled on the second of the four live streams, Alone saw Neil's brother Tim step forward to share the vocal duties after the pair warmed up with renditions of a couple of old Finn Brothers songs. The finished result was a somnambulant slide-show of half-memories that seem to date back to Neil's first visit to London with his brother, as a newly-instated member of Split Enz.
Anyone who has been watching the album sessions unfold will know just how crucial Victoria Kelly, already feted for her work with director Peter Jackson on The Hobbit and The Lovely Bones, has been to the process. Prior to OUT OF SILENCE, Neil and Victoria had worked together on 2014's acclaimed Dizzy Heights album and a string of ensuing live shows. Both relished the challenge of recording OUT OF SILENCE in this way. As Neil puts it, "The thing about it is that if you've only got, at best, two or three chances to get it right, you don't dick around in the studio. You prepare as best as you can. You make sure the songs are bolted together right."
Be it the records he has made with Crowded House, or with Tim or by himself, it wouldn't be a Neil Finn album if it didn't contain a handful of autumnal ruminations that strike a perfect equilibrium between sadness and succour. This time around, however, Neil appears to have written an album full of them. On Chameleon Days, a plaintive unadorned piano phrase is undercut by ominous strings before – revisiting the falsetto he used to such effect on 2016's Dizzy Heights – he seems to address the very muses every songwriter is fated to try and tame to their own ends: "That must be how the music is meant to be played/A rush of blood/Then it's gone as fast as it came."
Inasmuch as it seems to urge forbearance in the face of adversity (and there's no shortage of the latter right now) Independence Day is nothing if not timely, a dew-dappled gem in the tradition of Love This Life (from Temple of Low Men), Faster Than Light (from Try Whistling This) and, of course, Don't Dream It's Over (Crowded House). But if Independence Day could have been written at any time in the past sixty or seventy years, Terrorise Me is rooted in the tragic events that befell the Bataclan in November 2015, a memorial to every person forced to surrender their life to those who murdered them in their twisted pursuit of martyrdom. "In my distant home," sings Neil, navigating the album's most achingly elegiac arrangement, "I will write a melody/That I will sing for you when I return/It may not change a lot/But I'll give it everything I've got/It will come to life because of you."
Elsewhere on the record, old habits die hard. An unexpected chord change here or an extended bar there might conspire to leave you feeling like the emotional ground is constantly shifting beneath your feet. You may not consciously notice that stuff, but you invariably feel its effect – be it on the insidiously catchy Second Nature ("inspired by a couple I saw on a Vespa in Athens, looking like mythological Gods") or Love Is Emotional, a secular psalm to our powerlessness in the face of what love has in store for us. Listen also to the careworn confidences imparted on I Know Different, somehow both deeply personal yet utterly universal. It isn't easy to make it look this easy.
The same, of course, could be said for the manner in which the recording sessions proceeded. It beggars belief that the majority of OUT OF SILENCE was recorded in a single four hour burst. But perhaps the greatest mark of its success is that, were you not watching it happen in real time, you would never be able to guess. A mere week later, OUT OF SILENCE will be available to download and stream, with CD and vinyl releases to follow soon after. For Neil Finn, it's the culmination of a life-long ambition. "Sometimes making music and making records don't always feel like the same thing. But I always felt there had to be a way to merge them. And for me, this was the way to do it. I finally worked it out!" If nothing else, that explains why Neil Finn was the most relaxed person in the room.
OUT OF SILENCE is released digitally on Friday September 1 and on CD on Sep 15. Vinyl is released late October.