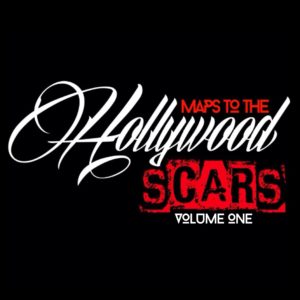 Guitarist Alex Grossi has been with iconic rock band Quiet Riot for over ten years now, and during that time he's seen 6 vocalists depart so its interesting that his partner in crime on the 'Maps to the Hollywood Scars' project has now become Quiet Riot's seventh frontman.
This 5 song EP is an intriguing release. I've long been a fan of Grossi when he's come across my path in bands like Bang Tango, Beautiful Creatures, Adler's Appetite and his sadly underexposed Hotel Diablo project from a few years back, and always liked what he did on stage with that guitar. So teaming up with American Idol runner up James Durbin was always going to be interesting especially given the underlying theme of exploring "the darker side of Hollywood and the music industry as experienced by 2 people that have taken 2 different paths, yet ultimately found many common themes throughout their respective journeys".
What you get sonically is a great combination of the 80's Sunset Strip sound brought up to date. Add to that some memorable guitar, cool and keen vocals and great production and by the end of it you're already wanting to hear Volume 2!
There's an nice punky opening snarl to Durbin's vocal on opener 'Roads' and a great chorus that has a feel of 70's UK Glam about it , it's a great song and opens proceedings with a bang. The only surprise is that there then comes an immediate change of pace which kills momentum completely. As beautifully constructed as 'Till Death' is , and honestly this is a huge sounding ballad, with some beautiful orchestration that could be massive were it ever to grace the arena stage, I still think it would have been the perfect closing track.
The problem you see is that you're still mouthing "Wow!" by the time the mid-tempo 'Lost Boys' kicks in, right up until the time you start marvelling at that track too. Man this is a classy song, a little understated, which I like, but beautifully constructed with a great sing-along  refrain. This is some serious music already and we have only two more tracks to go!
'Abomination' immediately takes on the melodies of the opener, but again keeps the foot off the floor, cruising along to really make the lyric stand out before the heavier guitars hook in and the song explodes. The searing solo might just be my favourite part!  Sadly 'Never Ending Ride' is the last track, a song replete with the same sort of soaring chorus as opener 'Roads' but there's a more modern thrust to this song, more latent aggression tempered only by the chorus which sticks like an ear-worm.
This is seriously good music, modern rock that looks back with affection and borrows all the best bits without once sounding derivative or uninspired. This is music to cherish and to remember that despite the scars we all bear it's damned good to be alive.
"VOLUME ONE" track listing:
01. Roads
02. Till Death
03. Lost Boys
04. Abomination  
05. Never Ending Ride