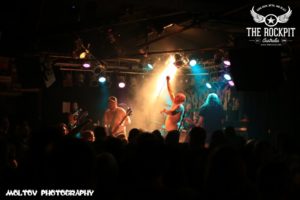 The Thrash, Blast and Grind Festival rolled into Perth on a hot Saturday night bringing with it a ton of bands worthy of any metalheads attention. With King Parrot headlining and a bunch of touring bands including Tassie's own Psycroptic and American hybrid thrashers Revocation on the bill, the night was set to be a crazy one!
Opening the night were a slew of local acts from Perth's death metal brutalists Depravity to Sydney's Black Rheno who are enjoying some great success at the moment ahead of an upcoming slot at this year's SXSW Festival in the US. Black Rheno were first timers to Perth and showed a fairly varied range of musical styles from funk metal to straight up groove stompers. Sanzu stepped up to the plate soon after and displayed a heavier performance that was on point and in your face. Not surprising that many were here to see them put on a show as the venue filled to near capacity by this stage.
US metallers Revocation was truly a highlight and one of the main bands I was looking forward to checking out again tonight. Last coming through in 2014 opening for Thy Art Is Murder, it was great to see them back in Australia again and on the back of their brilliant album "Great Is Our Sin". Frontman Dave Davidson displayed his technical prowess as he put on a show all on his own as many of the punters in the audience were checking them out for the first time in awe. It was a short but stunningly tight set as they focused more on the later material,  "Communion" and "Madness Opus" absolute highlights of the night, the latter off the brutally heavy "Deathless" album one of the most epic tracks to date. This band needs to come back and do a full set and hopefully judging by the crowds reaction, a fanbase has been started in the tough west market.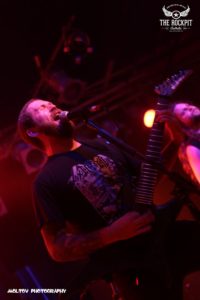 Tasmania's premiere metal band Psycroptic made a welcome return to Perth, also last seen at the same shows in 2014 with Thy Art Is Murder and Revocation. The band were much like Revocation, stunningly on point and cutting every element into the crowd like a finely sharped saw. The technicalities of their music seemed to really come alive tonight and made me realize again just how good these guys are in a live situation.
The craziness didn't stop there and to be honest, only got elevated to another level as Melbourne's King Parrot rocked up and proceeded to literally blast the audience with some truly horrific insanity! To be fair it is business as usual for King Parrot but if you had never seen them before, you could be forgiven for thinking their live show tonight was beyond crazy. All the usual stage diving, crowd banters, sacrcastic comments and some human bodily fluids tossed around the stage and into the crowd plus a few drinks poured straight into the mouths of the by now well and truly drunk crowd – yeah this was a typical King Parrot show but you still get blown away by the intensity and nuttiness of the whole thing regardless. The now classic "Shit On The Liver" is still a highlight to see as the the most Aussie band in the world (even coming out to the music of the classic VB music) dominated the stage and proved why they are still a must see band on the metal circuit.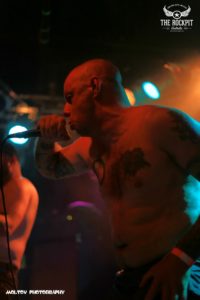 PHOTO GALLERY
Photos by Molotov Enterprises & Photography