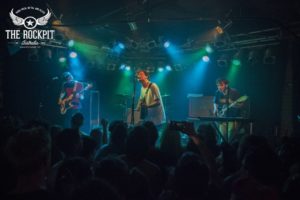 If you wanted a slice of some delicious post-punk goodness then the Perth leg of The Front Bottoms Australian tour was certainly a show for the fans of the genre. Kicking off with the Australian punk antics of Alex the Kid, with the cheeky Australian twang entwined in the vocals, the group played out to be an energetic support act, warming up the crowd into an eased out mosh.
Adelaide rock duo The Hard Aches got the ground moving with their melodic form of punk rock. The crowd started to go crazy to their music, with one or two girls jumping on their shoulders to catch a close up glimpse of the duo killing it on stage.
Packing an emotional punch, the rough vocals of helped pulverise the crowd with a heady, loud and brash form of punk rock. Finishing up on Glad That You're Gone, the band was a giant unstoppable mosh-train that failed to relent, with loud melodic chords continuing to roll over with BD's frank vocals.
With the crowd cheering on, The Hard Aches threw the ground into a decent rhythm and ready to receive the sweet music goodness that was to be The Front Bottoms.
Containing all there is to love about an American punk outfit, with lead singer Brian Sella armed with an acoustic guitar – bassist Tom Warren occasionally whipping out the trumpet – the set was kept fiery, spicy and interesting.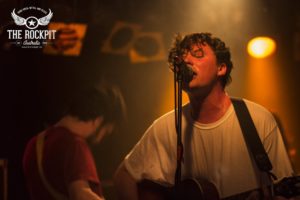 The felt transient as it was crazy, with punters coming and going – whether it was milling around getting to the bar or heading to the toilet, it felt like a microcosmic Woodstock.
Crowd surfers being tossed around throughout, with many holding out for one song and others falling on the tragedy of their own beer soaked bellies, it was certainly a sight to behold.
One of the greatest aspects of the bands performance was the simple humbleness coming from the members. With Sella  (albeit rather cheekily) telling the amplifier crowd that the band were going to perform a second show the next day, as they had enjoyed Perth that much – sadly though it was just a joke and he received from boos from it.
A far cry from the imaginably cold streets of New Jersey where the band hail from, they made the most of their time in Western Australia by giving it their all, capping an otherwise smooth set with a punkish fervour.
PHOTO GALLERY
Photos By Joseph Wilson