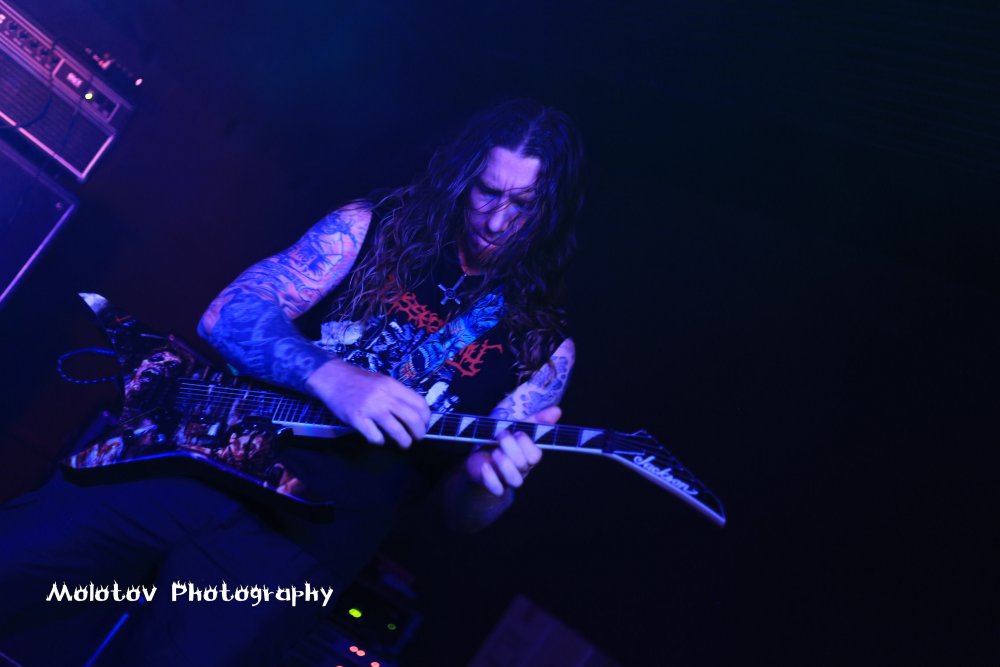 It was time to head to Bunbury again to watch some metal acts in the fourth installment of the Global Metal Machine, a mini fest who is supporting victims of domestic violence or violence in general but I knew this night was going to be violent in a nice way. Or maybe not as most of the band in the bill were ready to unleash an arsenal of weapons and us the punters didn't know what to expect, the only thing I could expect was a lesson in violence in musical terms.
So the first band to cut the wound was Cartwheels In The Dark, a southwest product who has been around for some ungodly time, "the best kept secret" and they didn't disappoint as their brand of music can't be classified as metal but still the punk and rock influences were there to delight the few punters who were there early. It was entertainment set to my surprise as one of the guitar players was blind, I only realised when he was walking around the place with someone guiding him. I guess life gave him music and he grabbed it with both hands! Next to jump the stage was 2ndgraderenegade and holy smokes these guys were ready to bring havoc. From the first guitar riffs you could feel how scorching this was, thrash and more thrash. Some of the songs were epic in length and brutality, never losing the beat the intensity kept building to reach anti-climax. First time I saw these guys and they totally blew me away. Skavengers Daughter was a band that I was not aware of and to be honest with that name I was expecting a brutal assault but in a way they gave us a lesson. Sonically was different, the distorted guitars with those weird noises blowing the amps was just something unique, to play this kind of style you gotta have balls and guts to do this as not many people will just listen for more than 5 minutes but these guys were not afraid to show us their art.
The atmosphere changed a little bit more, people came when this band hit the stage. Volatus, a young band that played some hard rock cover songs from Velvet Revolver, Gunners and others, looks like these guys have a little following as some people were rocking while they played. I have to say yes they are talented guys who can play these songs but I haven't seen a cover band in like 20 years haha, so that was different but it kept the momentum going for Sheol Of Abbadon. Now that was a dose of total brutality and metal!! Those riffs were so powerful and this band has that unique vibe, the musicianship is excellent as it is consisted of guys who play in other bands as well and it was very consistent and tight!! I can see these guys getting better and better, I hope I'm not wrong. Next up was Rabid Abott and damn!! They totally rip the stage apart with their unique brand of grind-punk-crust style playing songs from their new demo album and it sounded so mean and disgusting!! It went on and on but the punters got entertained by the mosh banana and co, scorching riffs and pummelling drums that sounded like a firing squad. They even threw a classic Sepultura song at the end, my ears were ringing after this set.
Thirty3victims was a band that I was not aware of and it was entertaining to see how much fun the lads were having on stage, even a couple of people got into them and were doing some jumps. Their brand of crossover and nu-metal was really interesting, just the guitars were a bit down in sound but still they soldiered on and kept the crowd going with their dose of dynamics, very interesting indeed. Now the heavyweights were about to enter the stage and the first one was Nucleust. I really was looking forward to seeing this band and man they didn't disappoint, these guys are in another league. Their playing is so tight and the sound was just crystal clear, the guitars were buzzing and the bass lines were so heavy, the drums so groovy and the vocals!! Holy smokes it was perfect, songs from their new album sounded so much better than the record. Bunbury was grateful to have this band as I believe they are ready to conquer other parts of the planet. I hope they do and make us proud. Suffer In Rot is a band were you know what you are gonna get when you see them play live.No frills and no muck around, death metal to blow up your senses. When you hear songs from the recent EP and from the first album, it's just powerful stuff that will leave your ears bleeding for days!!! Stripped down to the core death malefic metal and 666 like always being the frontman he is, he knows how to get the crowd involved (sorry you spilled your beer) haha.
The last two bands of the night didn't disappoint either, let's start with Facegrinder. Ok let's picture this, you are behind a Boeing 747 and you are waiting for the engines to turn on and when it does you get thrown away or let's say you disintegrate because the ferocity of the flames just totally melted you. Well that was how this band sounded that night, they just totally destroyed the stage, it was madness. It was like a power trip to some place and you don't know where you were but it was totally scorching, this set  was so violent and everyone got involved we all wanted more. I was numb and broken but I wanted more, this was totally intense!! And the night came to a close as Among The Dead Things played their souls out even if their singer went AWOL but still those blackened riffs sounded so dark and sinister, those doom passages gave me chills. Who says black metal can be violent if it is played with precision and having the right vibe it will sound like a thousand wicked souls and this was exactly how it sounded.
There you are metalheads, another mini fest! Let's hope next year this minifest become a destination for people as the south west is trying to support the scene, please don't let it go away we need this. Now is the time for us, the punters to come and show the support.
PHOTO GALLERY
Photos by Tammie Molotov – Molotov Enterprises & Photography