The Rockpit has been traveling to the Rocklahoma Festival since it's inception in 2007 and over the years though music has changed musically you could argue that this year the balance is just right between the old and the new and the rock and the metal. This year along with the solid line ups the festival was made particularly memorable for a number of other reasons – namely the weather which recalled the 2009 edition of the Festival; and also great sadness concerning the loss of one of rock's great voices.
Just like Rock on the Range this year's Rocklahoma Festival was tinged with sadness after the passing of Chris Cornell of scheduled headliners Soundgarden and our thoughts and prayers go out to his family and friends. ROK and music of course can endure any tragedy and tragic events like the death of Chris Cornell touch us all and make us stronger.
May as we know is the 'World's loudest month' due to the proliferation of US Festivals during the month and AEG's Rocklahoma was one of the first Festivals to path the way for our kind of Rock and Roll. Memorial Day weekend is also a special time where us rockers can get together to salute our  service men and women through the best medium we have – music. This years ROK's stages are packed with the best local, national and international artists and headliners Def Leppard, Soundgarden and Offspring pretty much tells the tale of the last thirty years of popular Rock music.
There are always of course a whole host of bands lower on the bill that could headline in their own rights. This year we got three days of great music, diverse enough to cater for the many and with enough big names to cater for anyone whether your tastes were entrenched in the 80's, the 90's or beyond.
Heck this year we had the first ever US tour by NWOBHM legends 'Diamond Head'; an almost fully formed 'Ratt' and rare appearances by the likes of Slaughter and Suicidal Tendencies and along with that the big guns like Def Leppard all delivered.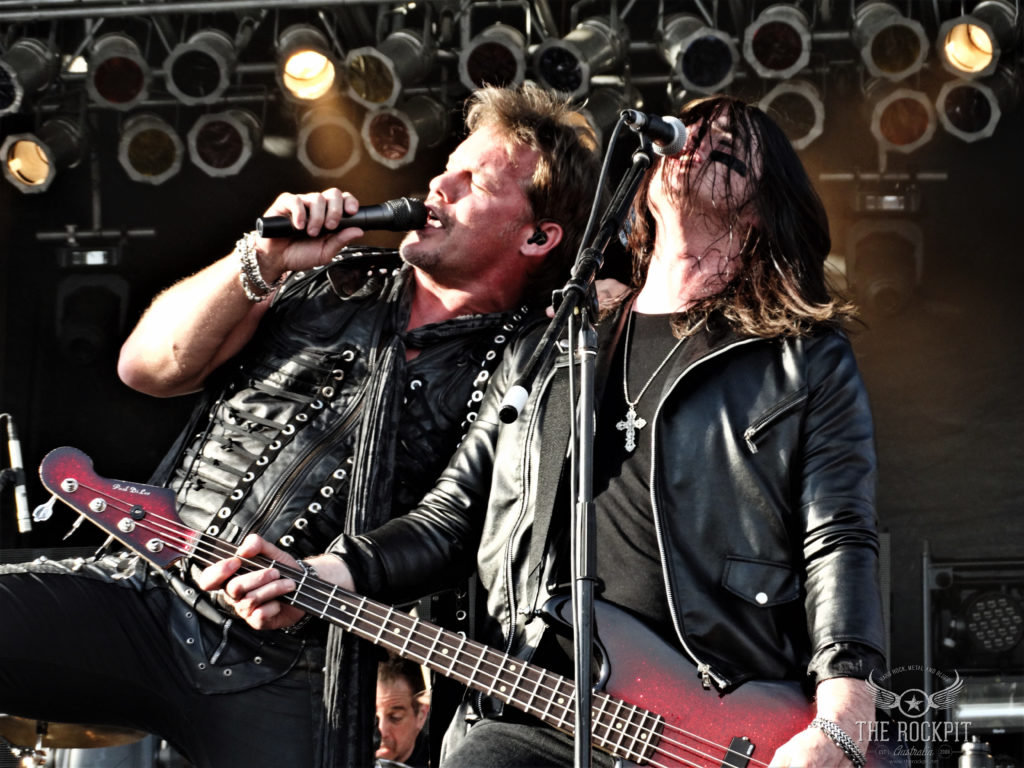 FRIDAY
Friday was the perfect start – so many great bands on all three stages, great weather and a great chance to catch up with friends old and new. We caught some blistering sets – with 'T.R.O.Y.' and 'Coda Cutlass' impressing on the Retrospect stage and The River Spirit stage pretty much unmissable all day starting with  Less Than Human and Goodbye June all the way through to Fozzy, In Flames and headliner Pierce the Veil – it was a Metalhead's paradise.
The main stage too was something else! If you're a fan of old school rock by a band that is very much here and now then Rival Sons, who we last saw down-under supporting veterans Black Sabbath  are a band you'll love. They write some great tunes and sound like a band out of time taking the spirit and the belief and creativity of the 70's and creating some amazing music. Next up 80's rockers Slaughter did more than enough to remind us of what a fine band they were back in the day and how they can still kick it with the best of them! It will be interesting to hear Mark Slaughter's upcoming solo album, and if he manages to capture even a portion of the energy on stage here we're in for a fine listen.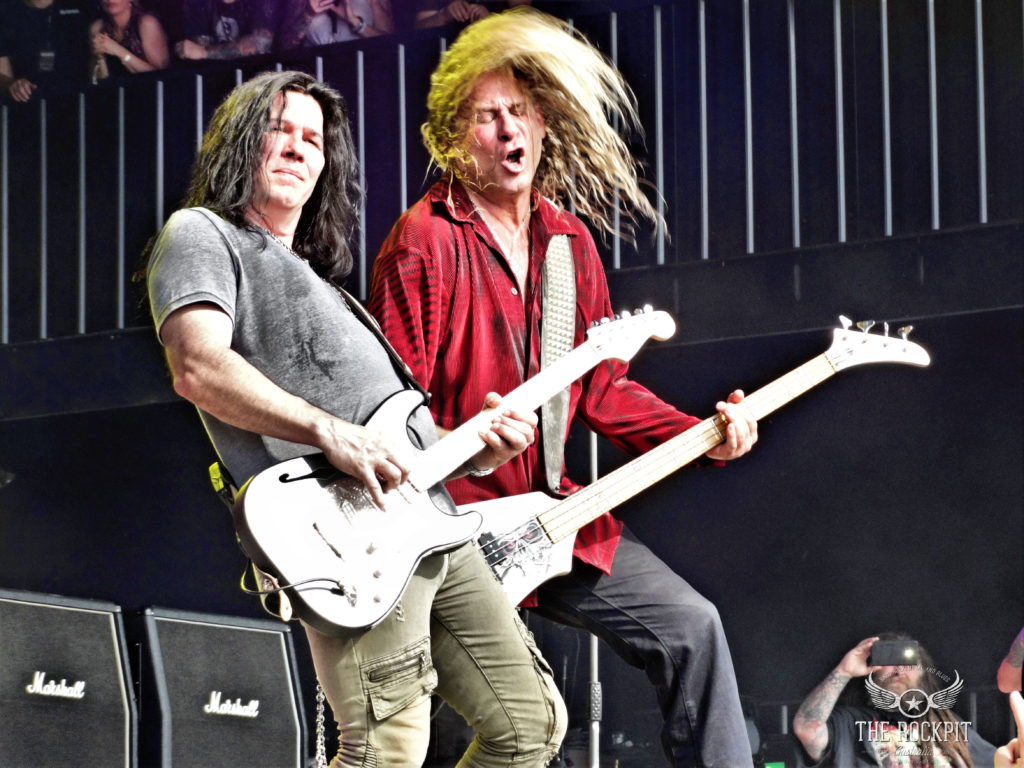 Later on Memphis' Skillet – a band who just released a fine album last year called 'Unleashed' absolutely sizzle, they're a band we've seen at ROK before and clearly a local favorite and well they deserve to be. Three Days Grace that follow them on the big stage have the unenviable task of Skillet being a hard act to follow and next up Def Leppard being one of rock's elite. I'm happy to say they acquitted themselves beautifully and made a helluva noise and played to a hugely appreciative crowd.
Def Leppard of course needs no introduction – its hard to believe that these guys have been playing since the seventies and 2017 is in fact their 40th anniversary! The 90 minute set they played was one of the best I've seen by the band and i find myself saying that each year they come back to the US. Though the set-list hasn't changed too much over the years it's easy to forgive a band who has songs like 'Bringing on the Heartbreak' and 'Photograph' at their disposal. The set of course relies heavily on the 'Hysteria' album but there's plenty from the classic 'Pyromania' and even newer material that all has that trademark sound. Def Leppard owned Friday but they must have felt the breath of many of the younger bands here hot on the back of their necks.
Check out our Friday ROCKLAHOMA GALLERY 2017 here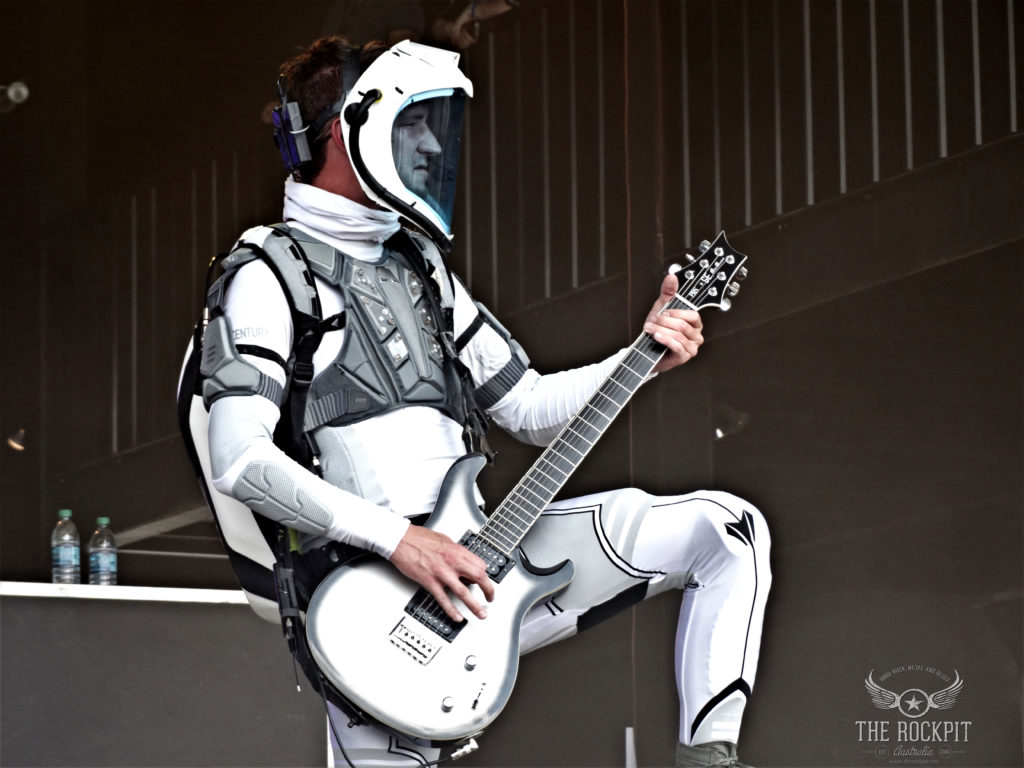 SATURDAY
Few of us expected Saturday to turn out like it did. In all the years of ROK we've had some interesting weather at times – most notably the tornado back in 2009 but this Saturday that threatened to be the best day of the Festival didn't exactly go as hoped. On paper it had it all – the power of Soundgarden and Stone Sour, the intrigue of Zakk Sabbath and the real treats of Diamond Head's first time in the US after over 40 years.
Sadly two weeks before the Festival Chris Cornell the singer with Saturday headliners Soundgarden took his own life, and while everyone's thoughts and prayers were of course with Chris friends and family Saturday was the day we showed our love. As far as line-ups go  90's rockers Live stepped in for Soundgarden at the last minute.
Saturday started with beautiful weather and clear blue skies before the clouds crept in: it soon got worse, but not before impressive openings from DED and Dinosaur Pile Up on the River Spirit stage and wonderful   sets from Starset and Fuel on the main. By the time Zakk Sabbath took the stage though, things were looking decidedly dodgy weather-wise.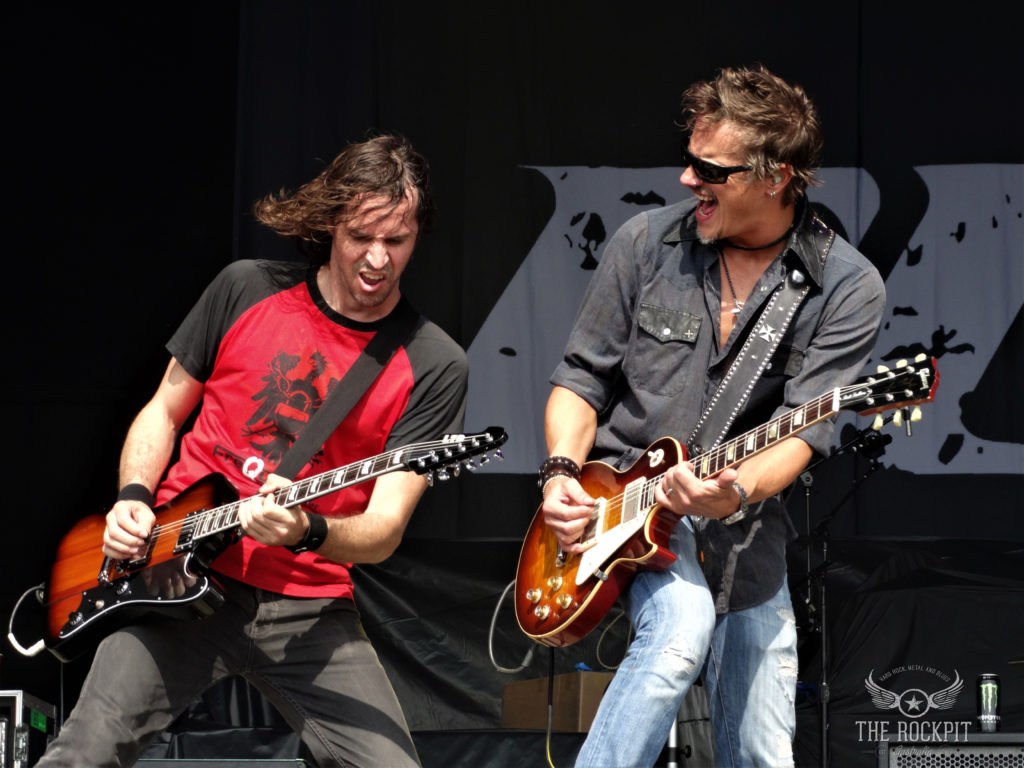 By 4.30 Zakk was 30 minutes into his set and smashing 'Fairies Wear Boots' when the warning came to evacuate the grounds whilst a 'small' storm passed. The 'small' storm turned into being a rather large one and that in turn turned into one worthy of a movie – everything after that point was cancelled. It was a rather wet and sad way to end what had promised to be a great day.
We did manage to see an excellent main stage debut by Starset before the storm hit but with no chance to reschedule we missed  other main stage acts The Cult, Stone Sour and Soundgarden stand-ins 'Live'. It was almost as if the sky was crying for the passing of Chris Cornell.
Check out our Saturday ROCKLAHOMA GALLERY 2017 here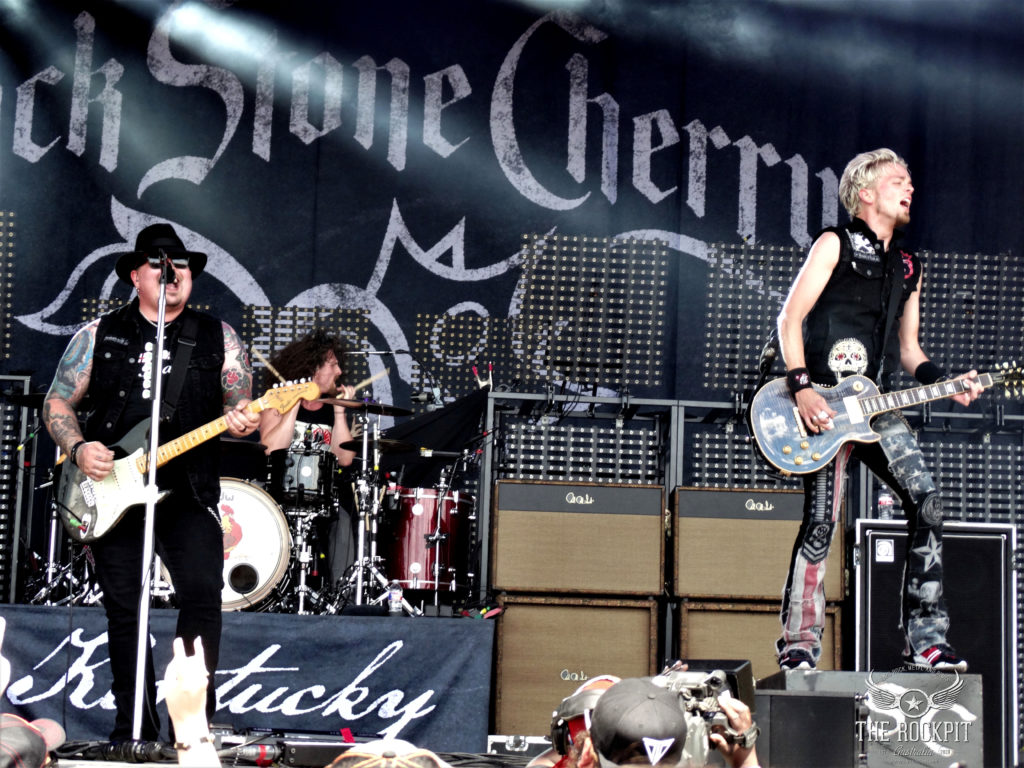 SUNDAY
Sunday brought with it the same clear blue skies but this time none of the clouds. It also brought about a healthy dose of Rock Star conflict as Seether battled Jackyl over set times, but more on that to come.
The day started perfectly with The Rockpit's good friends Black Stone Cherry opening the main stage in front of a healthy crowd especially after the weather the day before. Though a relatively short six song set, and only included a single track from their latest and best opus 'Kentucky' – 'Cheaper to Drink Alone' it kicked considerable ass.  Such a powerful set only adds to me general bemusement that a band of this sheer class can open up a stage like this when they would be headlining the same day over in the UK.
There was plenty to love out on the Retrospect Stage too with Rockpit favorites London's Dungeon the pick of a great line-up that also saw great sets from Black Tora, Coda Cutlass and Diamond Lane.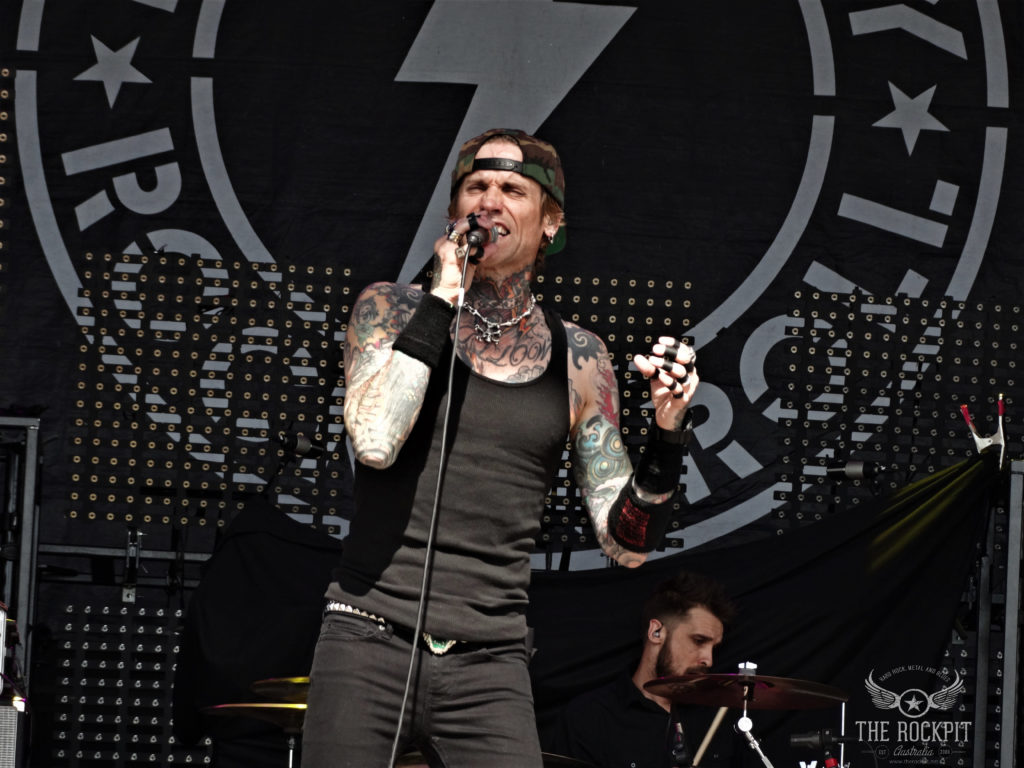 Back on the Main Buckcherry (now without Keith Nelson)  put on a fine and defiant show – it's always great to see them 'live', though I much prefer them at night and headlining! It was towards the end of their set that a power outage to the Festival grounds brought a halt to their set. As a result the remaining bands for the day had their sets cut short and pushed back. Whilst everyone else managed to do the right thing Jackyl decided that they were far too important to cut their set short and simply decided to completely disrespect not only Seether and The Offspring who followed them, but also mess with the paying pubic who might have wanted to catch some side stage action.
Before the fireworks that followed Jackyl Ratt played a blistering set themselves, showing that there's plenty more life in the old dog yet and rekindling hopes that a new album might be on the way.
Jackyl did what Jackyl do and that is what has made them so beloved of the Oklahoma crowd. It might be old and anachronistic to some but you have to face the facts that Jackyl are always greeted with open arms at Pryor Creek. That's no excuse though for playing your entire set when you know bands are following you and you've been told to cut it short. It shows an astonishing amount of disrespect to your fellow musicians, especially when they are higher on the bill than you!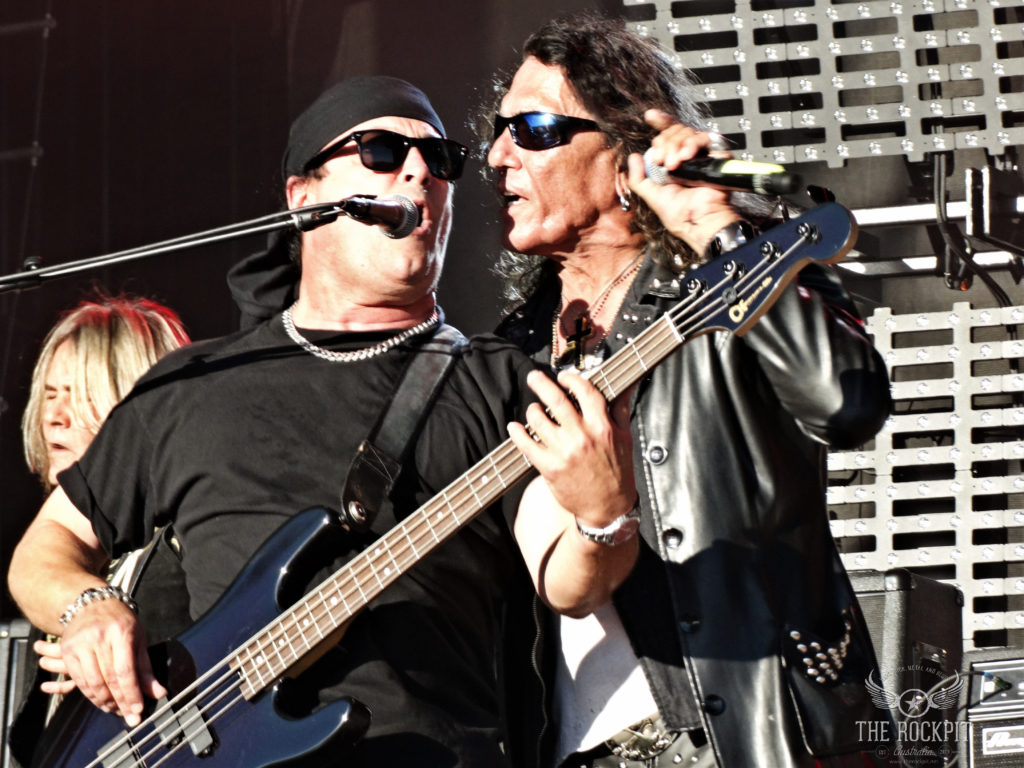 The upshot of it all was that the normally rather quiet and reserved Shaun Morgan of Seether came to the stage with "Night Two brought to you by the fuck Jackyl committee." and he didn't leave it there either, simply 'seething' throughout the set, every chance he got he berated Jackyl and Jesse James DuPree, and all that whilst pulling off a fiery and intense set. It almost made you think they were deliberately 'upping the ante' to show what DuPree had cut short.
Headliners, The Offspring, were just happy to get out there and get the job done with minimum of fuss. They did what The Offspring do – pull out the hits and leave the crowd happy for the ride or the walk back to the camping grounds.
The Festival may have been tinged with sadness and Saturday may have been hammered by mother nature but ROK 2017 showed that you can't stop Rock N Roll and you never will.
Check out our Sunday ROCKLAHOMA GALLERY 2017 here 
words by Leslii Phillips and images by Jessica O'Connell Yarbrough