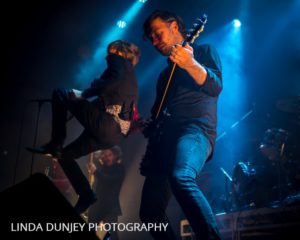 A stellar lineup of high energy metal, hardcore and post-punk featuring Refused, Sick Of It All and High Tension made for a brilliant night of heavy music on the final show of the Australian tour on a hot Thursday night on Australia Day.
Melbourne heavy hitters High Tension were the opening act for all shows on the tour bringing their blend of post-punk and stoner sludge metal to the stage, a small and intimate crowd witnessing some seriously high energy stuff with front woman Karina Utomo jumping off stage and spending most of the show on the floor and getting in the faces of the surprised punters who weren't sure what to do in the situation. That Karina shows confidence in doing some thing like that to make the show that much more impressive was a highlight in and of itself and it was easy to see despite their somewhat musical difference why they were brought onboard this tour.
New York hardcore veterans Sick Of It All rolled onto the stage next and 30 years into the business and nothing seemed to faze them as they exploded with a furious punk rock show that even the tame crowd who were excruciatingly slow in filling the venue could hardly contain themselves after a while. Frontman Lou Koller did his utmost best to rile the crowd up as much as he can and his efforts were finally met with a mutual agreement during and after their set that Sick Of It All are truly a class act who know how to put on a tight show. Moving from vicious thrashy moments to Black Sabbath inspired doomy heaviness and some seriously catchy grooves and vocal lines, the band were even more impressive than the last and set the bar extremely high for the final act.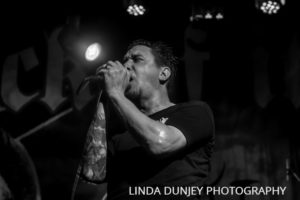 Swedish powerhouse outfit Refused returned to Australia after having their last scheduled tour for Soundwave last year unfortunately cancelled which frontman Dennis Lyxzen noted to the crowd but showed in a gleeful way how appreciative they were to be able to make up for it tonight. The band were all over the place tonight, going from punk and hardcore elements to prog styles and classic rock. Refused are a band who fit their name perfectly, they simply refuse to be pigeonholed into one genre and while sometimes it was a hit and miss, the crowd who by this stage filled up the venue nicely were enthusiastic at every note that poured through the PA. The addition of a second guitar really added to their sound to give a fist pumping huge wall of sound that vibrated all through the floors and walls, at times the band backed off and threw some lighter touches but it was mostly heavy stuff, even adding the famous Raining Blood riff from Slayer midway through a song.
"Rather Be Dead" was proceeded by some enlightening commentary from Dennis who vented his frustration at the overly privileged members of the world which almost became a theme of the night including his take on the male ego and the battles that women have to go through in a man made world. "Thought Is Blood" was another highlight and showed the multi-layers of Refused sound which has evolved from the early punk rock days to the more progressive and rock infused sound. All in all if you weren't a fan before after this then you probably were now and that is the whole point of a live show, to show you what the power of music can do when it's just the bare bones laid out on stage in front of you. What a great ender to the tour!
PHOTO GALLERY
Photos by Linda Dunjey Photography