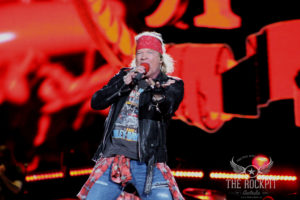 It was a reunion that people always wanted but never thought it would happen. The legacy of Guns N' Roses has always been remembered as the original lineup from the "Appetite For Destruction" era, whether it be based purely on the music that was created among the 5 members or the fact that each individual was a character all of their own. While Izzy Stradlin' remained fairly quiet and Steve Adler hid behind the drum kit, the trio of Axl Rose, Slash and Duff McKagan were intoxicating in both their stage presence, writing prowess and their personalities. Individually they brought something special to the table but collectively there was something magical about their unity in creating and performing music that would go on to become legendary. While Izzy is still sorely missed in more ways than one and having even Matt Sorum would of been at least partly nostalgic, we still got to witness a reunion that none of us thought would happen. But it did and it came to Perth on the final show of the "Not In This Life Time" Australian tour.
Special mention should go to the openers for the night, Wolfmother who were the one and only support act for the night with an absent Rose Tattoo only making the east coast run. Wolfmother are of course a great live band on their own but after witnessing their show on the big stage at Domain Stadium compared to their previous stint in Perth a couple of years ago at the more intimate Capitol Theatre, I have to say Wolfmother are more of a club band. That's not to say their show tonight wasn't good because it was, but the energy isn't quite there on the massive football stadium but they still managed to warm the crowd up a little before the colder weather came through.
Of course the Gunners were the main act that everyone came to see but more importantly, to see Axl Rose reunite with Slash and Duff one more time. Man was it good to see these guys together again! Sure there's that warm good feeling of nostalgia that coarses through your blood as they bust out classics like the opening "It's So Easy" or "Sweet Child O' Mine" but there was also the power of the songs played by the guys who wrote and recorded the songs the way they were meant to be played. Sure Slash and Duff may not be the most technically gifted musicians on the planet but noone plays their music better than they do and that's a fact.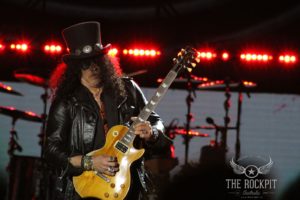 The proof lay in the performances tonight and it was a massive setlist that pushed the 3 hour mark easily. I won't bother going through all the songs but it was great to see the slightly rarer tracks being busted out like the rocking "My Michelle" and the epic opus that is "Coma". Even the "newer" songs off  "Chinese Democracy" like the title track and "Better" managed to sound a little better than usual, Axl Rose particularly sounding on point and stronger than ever when performing those songs and only really struggling on older hits like "You Could Be Mine" and the more difficult ending to "Coma". Kudos still to W.A.R. himself, never has he sounded better in a long time and whether his stint with AC/DC or the reunion thing has helped jolt some new found energy in his voice, noone was complaining as he hit those high notes like he was 20 something again.
Many tracks were also collectively played flawlessly, "November Rain" and "Civil War" in particular sounded brilliant and spot on to the point where you honestly thought you were listening to the album tracks themselves. To hear the band play songs like that 25 plus years later is nothing short of amazing and a testament to the experience and musicianship these guys have kept. Slash is and always will be one of the greatest guitar heroes in the world, his bluesy tone on that golden colored Gibson is like an orgasm to the ears and no matter what band he is in, he always has that signature sound right there.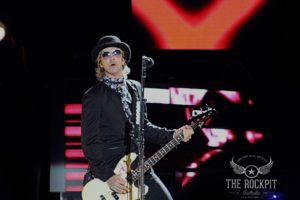 Everyone in the band were on top of their game, from the 2 keyboardists in Dizzy Reed and Melissa Reese as well as drummer Frank Ferrer keeping the backbeat seamlessly, this was about as good as it gets for Guns N' Roses in the last 20 years. Duff of course was great and made even more so sweeter to see him back with his cut of the punk classic "Attitude" which they covered back in 1993 on the now infamous "The Spaghatti Incident" album. Even guitarist Richard Fortus who I never really paid that much attention to individually as a guitar player, was on fire tonight trading solos back and forth with Slash and really coming out guns blazing with some truly blistering solos that was on par with the top-hatted man himself.
After a huge set that could of easily been the show and then some, the Gunners could not leave without at least playing "Paradise City" which is always the show closer but not before a beautiful rendition of  "Don't Cry" (the original version) and a cover of The Who's "The Seeker" making it's way into the encore first. With pyro and confetti to end the show, it was a fitting way to see one more time, if not at least part of, the original lineup of Guns N' Roses and boy did they show us why they are still one of the greatest rock bands of all time.
SETLIST
It's So Easy
Mr. Brownstone
Chinese Democracy
Welcome to the Jungle
Double Talkin' Jive
Better
Estranged
Live and Let Die
Rocket Queen
You Could Be Mine
Attitude
This I Love
Civil War
Coma
Sweet Child O' Mine
My Michelle
Yesterday
Used to Love Her
November Rain
Knockin' on Heaven's Door
Nightrain
Encore
Don't Cry
The Seeker
Paradise City
PHOTO GALLERY
Photos by The Rockpit