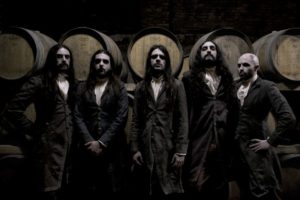 "Thanks for the infinite support and… Get ready to be blown away!"
That's what The Italian masters of dark musical extremity, Fleshgod Apocalypse have told us ahead of their long awaited return to Australia & New Zealand this June. Since forming a decade ago in 2007, Fleshgod Apocalypse have grabbed the metal world by the throat and not let go, releasing four albums, relentlessly touring the globe, and amassing a legion of loyal followers. Their most recent album 'King' is being hailed as one of the essential metal albums of the last decade which vocalist/guitarist Tommaso Riccardi tells us he is pretty happy with the response since it's release last year.

"Wow! We were confident when King came out but honestly we couldn't expect anything like this. We are happy to see what's happening and we just want to keep on rolling!"
Fleshgod Apocalypse made their debut in Australia in 2014 alongside Septicflesh which turned out successful enough for the band to come back and do another run of shows but the frontman leads us to believe that the band will put on much the same kind of intensity and energy as last time.
"Well, whatever you guys expect from us I can only say this: we are set to destroy! Our first Australian experience left amazing memories. Great shows, amazing landscapes and new friends. Oh, and a crazy party with our friends in Lagerstein!!! Hi guys! Tommaso goes on to say how the Aussie fans compare to fans closer to his home in Europe too which we are happy to hear is on par with the Europeans. "Well, Europe has crazy moshing crowds as well as crowds that enjoy listening the most", he says. "Australia is definitely on the crazy/moshing/freaking out side and honestly, I LOVE that!"
With a new album 'King" having been out for some time, there's bound to be some of the new material on the setlists which Tommaso confirms will be the case and goes on to say that the new songs fit in very well alongside the older stuff.
We usually try to understand which songs work the most on a live set and of course we conceive some of the songs specifically to be live songs",  he explains when asked about the setlists. "The good thing about 'King' is that the songs have aspects that make all of them perfect for a live performance."
'King' is the fourth album from the Italian maestros and took almost a year to conceive and lay down the structures before hitting the studio to record it. Conceptually, King focuses on the stories of a collapsing world, an old world slowing coming to an end but Tommaso had also previously said that there is a personal touch to the concept stating that the album represents the brave part of ourselves: the one we should cultivate to become strong and rise again from this Dark Age. Ultimately he and the band are proud of the end result that they wanted to achieve as Tommaso explains.
"We wanted to find a balance between all the elements in our music and, first of all, write memorable songs. It was an enormous effort but we feel we did a good job. I have to say that in this process the collaboration with Jens Bogren and Marco Mastrobuono in terms of production has been extremely important; a clear and powerful sound is very important to bring to the audience what you have in mind."
Fleshgod Apocalypse formed 10 years ago in Italy and released their debut album "Oracles" two years later. Combining classical music and extreme metal, the band have forged their own path and gained a solid following worldwide which eventually led to a signing with Nuclear Blast. The band create a unique sound that has developed into a signature that is instantly recognisable which is born out of a need to be creative in their work.
"Creativity is everything", Tommaso states. "I thing this is not only for music but for everything in life, we all need to dream and being curious to be satisfied". The band have also managed to retain a fairly solid lineup which is almost rare these days which as Tommaso points out, comes down to band chemistry. "Chemestry is the most important thing especially when playing live shows. Even in a music genre in which there is not much space for improvisation, the feeling between the band members and the possibility to count on each other are the only things that actually make the difference in terms of energy, which means, in my opinion, making the difference between a bad and a kick-ass show".
Speaking of creativity and chemistry, members of Fleshgod Apocalypse are also known to be food aficionados. In particular wine and pasta which they have created and shared with fans and foodies alike. "We consider food and wine two of the most important forms of art in our country", Tommaso states. "Italy is world wide famous for it's cuisine and we thought it could be really interesting to spread this idea even with our merchandise, adding something special like our own brand!"
So with that being said, what does Tommaso Riccardi consider to be the perfect meal?
"Ahahhahaha…there's so many options that I can't chose only one! If I have to pick one maybe I would say an extremely simple "penne rigate con sugo al basilico", which is one of the basic first courses of mediterranean cousin."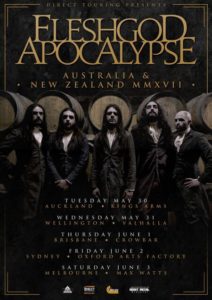 During their previous tour in Australia, it would be safe to assume they sampled some of Australia's own cuisine so we had to ask what they thought of it as overseas visitors have mentioned in passing over the years the few interesting and unique types of food found in the country, meat pies being one of them!
"Ahahahahhh personally I didn't have many chances to go deeper into typical food", Tommaso replies but does mention the meat pies. "I remember we had very good beef pies, but I turned vegetarian two years ago so I won't get any of that this time [laughs] but I'm pretty sure the guys will enjoy that again!"
Getting back to music, we mentioned earlier about creativity and about the band progressing and moving forward with each album. When you listen to Fleshgod Apocalypse you can't help but hear the many influences that the band have incorporated into their sound but it's not just inspired by extreme metal.
"On the heavy side, our roots are set in the American old school death metal, for sure", says Tommaso. "We all are fans of bands like Morbid Angel, Deicide, Cannibal Corpse, Suffocation…then of course there is also a lot of Europe if we think about the big names like Dimmu Borgir, Behemoth, Vader and many others". Tommaso then goes on to talk about the classical side of the band. "On the classical side it is really various. We take inspiration from different composers of the classical, pre-romantic and romantic period as well as baroque (think about the main riff in "The Fool" for example)."
The diverse influences makes for an interesting take on the heavier aspects of music and Fleshgod Apocalypse's take on it is all their own. Tommaso tells us how it all started for him and how a particular band led him into music in the first place.
"Personally I got close to the idea of playing music when I first approached Queen. A friend of mine gave me one of their CD's as a birthday present and I clearly remember I was literally blown away! Then of course I got sucked into the metal music and that changed many things from that moment on."
The singer/guitarist goes on to talk about the idea of Fleshgod Apocalypse and what the band want to achieve in the future. "Well, I guess there's no limits in dreaming", says Tommaso. "It would be cool to play a concert with a full symphonic orchestra and push the theatrical aspect of the show to unexplored levels. Everything takes time and it's always a matter of patience and perseverance. We'll see where our fate will bring us!"
When asked what band he would love to tour with, he pauses and thinks of both bands in the past and current acts still touring. "Wow. It depends. If I have to think about impossible things I would probably say The Beatles [laughs]. But if I had to choose one metal band that exists nowadays I would certainly say Rammstein."
Rammstein and Fleshgod Apocalypse would be surreal to say the least, any promoters out there take heed! We wrap things up with a few thoughts on heavy metal itself and where it might lead to in the future. Given the extreme nature of Fleshgod Apocalypse, it was interesting to get Tommaso's thoughts on how the music has evolved over the years but he does admit he doesn't know where it can go from here.
"It looks like there has been a moment in which this music was going more and more complex, more orchestrations, more everything. It is still like that in a way, but like every cycle it is destined to turn the other way around… So my prevision is: Back to the roots! (And I can't wait)".
Neither can we! Fleshgod Apocalypse tour Australia and New Zealand in June, complete info & tickets are below.
TOUR DATES

Thursday, June 1: Crowbar, Brisbane
Friday, June 2: Oxford Arts Factory, Sydney
Saturday, June 3: Max Watts, Melbourne
Tickets are now on sale now and include general admission, and deluxe ticket bundle packages.
directtouring.oztix.com.au