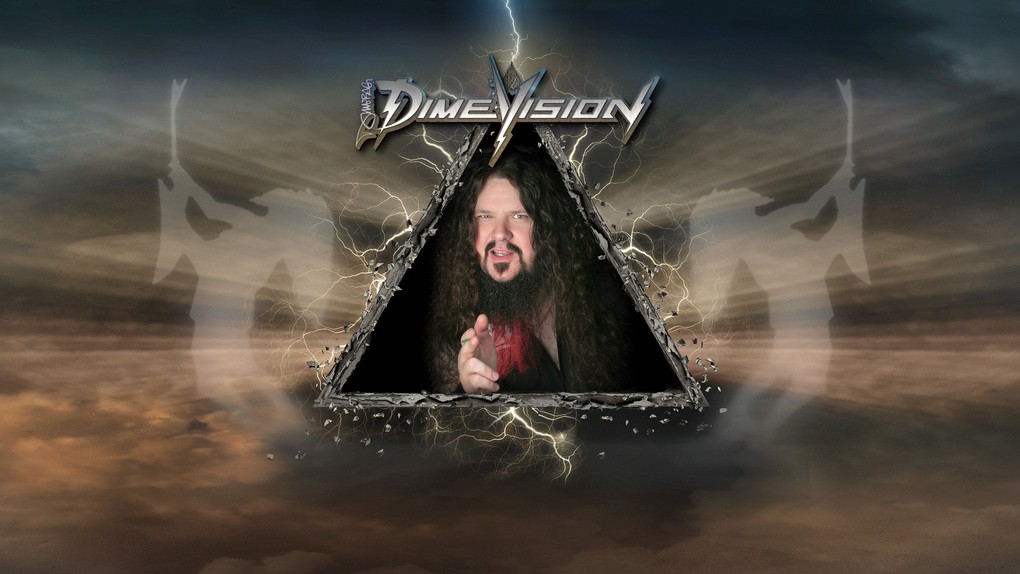 Dimebag Darrell was more than just the guitar player in Pantera and Damageplan, so much more. He was larger than life and in many ways, he was the life. At any party, at any gig, at any social gathering, media appearance, you name it. Aside from having one hell of a gift in creating and playing some of the most creative and enjoyable music that still to this day sounds as fresh as ever, his personality and attitude on life was captivating and influential. Everyone wanted to either be like him or be close to him and there's good reason to, he was also known to be one of the most friendliest and most down to earth person imaginable. His death on December 8th 2004 shook some of us right down to the core, a huge loss that noone imagined was possible. Simply irreplaceable and never to come across someone like him ever again.
November 24th finally sees the release of the much anticipated follow up to the first Dimevision video release titled "Dimevision Vol 2: Roll With It Or Get Rolled Over" which continues the series with even more of Dimebag's infamous home video footage, some rare archives from the early Pantera days and some moving tributes from after his death. I was lucky enough to talk to Dimebag's longtime girlfriend and collaborator on Dimevision 2, Rita Haney to discuss the new release and share some of the stories from Dimebag's life.
Andrew: I had a preview of the new video and I'm such a big fan of Dimebag so to witness more footage of him again is such an honour to see some really cool stuff. Tell me how this time around you wanted to put this all together and some of the things you wanted to achieve with it this time.
Rita: At the beginning the whole goal to start with was to put one out every year and then all of a sudden 10 years have gone by and it's like, 'Where did that time go?' I mean Bobby Tongs was busy being out on the road touring with Marilyn Manson and Slipknot and then at that time he wasn't sure if he would play music again. He was doing the kind of industry side of things with his label and thank goodness he let me be his salvation and believe in that talent, he would of been just wasted over there in the industry side. So of course trying to put that together and touring and going out and doing all the festivals here in the States and all of a sudden time just got away from us. But a lot of the footage had been pulled previously from back in 2007-2008 and through the years we just kind of added a little bit more as we watched them and stuff, Bobby spent a lot of time pulling different clips and cataloguing. Anyway the time just finally came around for all of us, 'Hey man let's get this done!' and here we are! I think everybody is in a lot better place as far as mindset and focus because we really took this one back to the old recipe Dime style like the Pantera home videos where it's real uplifting and moves quick and lots of shots and fireworks. I think people will really dig this one and I know it's not really our intention but just because everybody's frame of mind on the first volume was very melancholy and was more of a tribute but I think we're back to that old recipe and I hope everybody digs the tracks that we picked for it. But yeah it just kind of came about finally!
Andrew: Yeah obviously a lot of fans were trying to get their hands on this one for a long time but I guess it's one of those things where you didn't want to rush and wanted to just get it right and not get it out there just for the sake of getting it out there.
Rita: Exactly, that was the one thing that Darrell was very adamant about. One was his integrity and two was not about making a buck or slapping your name on whatever, it had to be quality and it had to be right and this project couldn't be done without Bobby Tong, myself, Vinnie Paul, we all have to be present so yeah we can't rush it.
Andrew: What was it like for you personally to go through some of the footage again and see some of the old archives?
Rita: Oh it really has been a whole magical experience, I mean I would not trade it for the world. Of course you get sad for a quick moment and you start feeling suffocated as that lump rises in your neck but then he'll do something so funny that you usually start laughing with tears rolling down your cheek. The other cool thing too is the stuff Bobby shot that I wasn't present for and stuff that I would shoot that he didn't see so we get to see stuff that neither of us has seen so it's new, it's fresh, it's fun and it's like he's here with us in that moment. Like he's never left our side so yeah it's a wonderful and amazing experience.
Andrew: Watching the previews of the footage here, it's interesting how the first half was the usual moments that Dimebag would do but then the second half felt more as a tribute to him with a lot of footage of Dimebash and things like that. Like the live footage of Phil Anselmo and Dave Grohl where there's a lot of stuff that people may not have known was out there.
Rita: Right, that was the reason that we wanted to add a little bit of that segment of the present day, was to help bring awareness to the non-profit organisation because Ride For Dime and Dimebash is a 501 (C)(3) charitable event that we do and I wanted people to be aware of them because we would like to do a lot more, even in more places. They're pretty magical, the people that come out and want to do this, all the artists are completely unselfish about it. They donate their time and anything else that they can and not one person pops up and needs coin for it or anything, they do it for the love and respect of Darrell. Plus the fact that we know how to throw a good party, I had the best teachers so it's a good time! So hopefully more people will be aware that we do these events.
Andrew: Yeah it's such a great idea and I love the fact that it's keeping this guy who is quite unique and such a character, alive. With each generation that comes they might not know exactly who he is because they weren't around when Pantera was around but it's nice to know that his legacy will live on for the generations to come in the future.
Rita: Yeah that's what I really hope that gets across to people is the one word that best describes him and the events that we do is Unity and it can be all sorts of music but as long as you come together for the right reasons and that reason was just to have a good time and what better way to honour him. So I hope people get that vibe because you see all those different guys jamming on stage and laughing and not playing a song perfectly right or messing up for having a few too many drinks, that's what makes it so special and unique and that was Darrell's favorite stuff. That he liked, just as it says on volume 1 when he was talking about Mick Jagger and vocals and those little twangs that make you cringe and stuff, that's the beauty of it, the magic.
Andrew: Exactly! I'm quite amazed at the footage that's in there as well, especially the stuff from the 80's when he was much younger and playing Randy Rhoads stuff and things like that. How much footage is out there from when he was younger? Because everything must have been filmed for such a long time.
Rita: Yeah there's quite a few tapes. I guess it started around the early to mid 80's when he really started getting into the whole video camera and documenting everything and always making sure there was one there. That was shot by a long time friend of ours, whoever happened to be around back then, shove that camera in their hand and get on it! So there's still quite a few things, I really love the fact that we got to use the early Pantera stuff off "Power Metal" like "Over and Out" and see that energy that Phillip and him and Rex and Vinnie had on stage in those small clubs. It's pretty awesome, I'm glad we get to share that.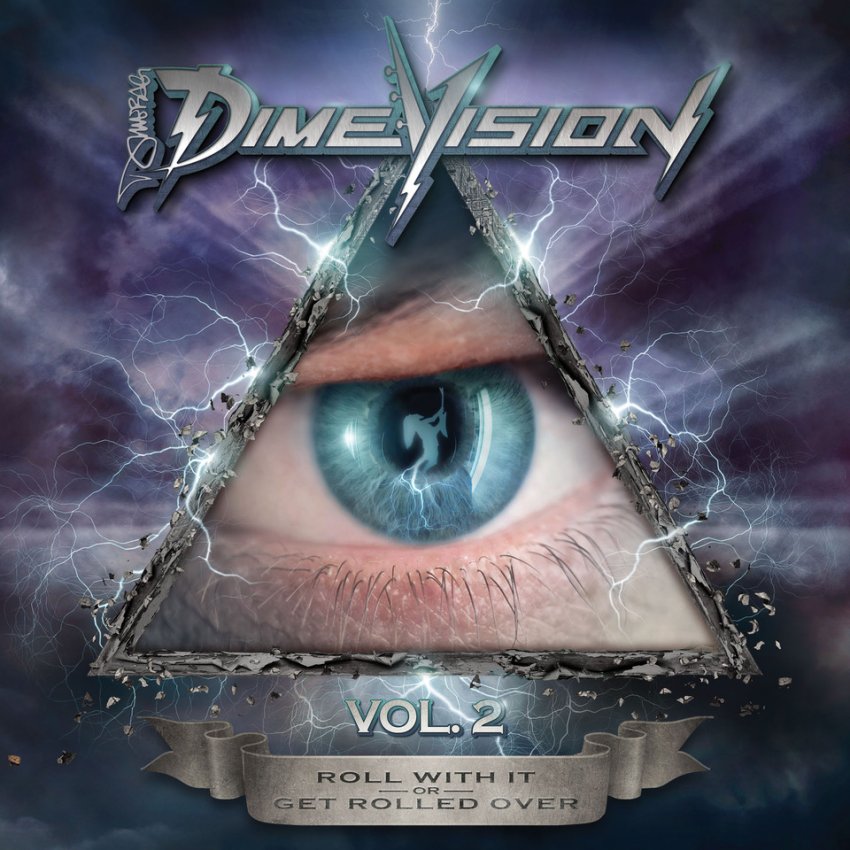 Andrew: Yeah absolutely! So for someone who knew Dimebag in such a personal way, what was your fondest memory of him if you can actually name one? I'm sure there was many but was there any that stood out for you?
Rita: Oh yeah there's a lot! It's a tough one but you know what? This might sound a little morbid but I think one of the coolest things that I was most flattered by that he did was back in 1999 when Dime and Vinnie's Mother got really sick, she got cancer and we had to go and pick out plots and that kind of stuff and it was a really difficult moment in Dime and Vinnie's lives. We were there in the funeral home and it was the weirdest thing because there was a couple of guys from their crew like Sonny Satterfield the lighting guy that had come with Vinnie which that was one good thing about the whole Pantera family was everybody was there to support each other, through good and bad. I remember the funeral director was in there picking out stuff and probably thought we were the most heartless family that he had ever come across because we were making jokes which was the thing, we used humour to get through something that was really hard to get through. So he goes, 'It's really unusual, most people in here are usually crying and stuff and I have to say you guys are really funny', [laughs] But they were taking time to get a plot and they purchased a plot for their Mother and the funeral director had suggested, 'Hey do you want to go ahead and get the plot for the next tomb while they're still available?' Apparently if you buy 5 plots before you pass away you get a discount, you would think it would be the other way around. Anyway so Dime and Vinnie were like, 'Yeah sure let's do that' and Vince says, 'What do we need, 3?' and Darrell goes, 'No dude, 4' Vinnie says, 'I think Dad said he got his stuff with his family', and Darrell says, 'No dude get one for my chick!' and Vinnie was like, 'Oh, oh yeah!' Right at that moment I thought to myself, 'That was just the coolest thing that anybody could ever do or say, because you want me resting next to you'. That was one of my most treasured memories, I know that it sounds really weird but anyway [laughs] I don't know why that came to my mind!
Andrew: No I'm sure it's hard to pick out some of the amazing stories that Dimebag was known for because he had such an impact not just from his music but he was such a character and someone who you became a fan of not just for his music but for the person himself. I think that's why the legacy is such a big deal for so many fans for all these years.
Rita: Exactly and that's how we coined the term "Dimetime". Even if there wasn't anything going on and you were bored or whatever, you still didn't want to be any place else. You wanted that Dimetime.
Andrew: Yeah for sure. I'm sure there has been many tributes that you have seen over the years, even myself I have a tattoo but has there been any tribute at all that you have seen that really caught your attention and was quite unique that you had never seen before?
Rita: I have seen a lot of really killer tattoos as you mentioned, full back pieces and stuff like that so there's several of those. I really like a few good tribute bands that have popped up that are really good, there's an all chick band in San Diego, California and those girls are just awesome! They play a really cool selection of things from the early stuff to the latter and I would say they are pretty impressive when I caught them at the Viper Room in Hollywood and I thought they were brilliant. Great to see chicks up there belting it out so I would say that was a pretty good surprise which I was really impressed with. I would say what really surprises me and blows me away and kind of takes it back to the Dimebashes and the likes of Dime is just how much people come out and represent and just all the love in the room and all the different artists and people that get up there and jam and the combinations that we come up with are really unique. I think that still ever year surprises me so much, that the guys who want to jam and participate.
Andrew: That's cool and it's worldwide. Even all the way here in Perth, Australia which is basically the middle of nowhere, every year we have a tribute to Dimebag himself at a club where everyone gets into it and plays various songs from Pantera and Damageplan and stuff like that. It's one of those things that transcends all over the world and no matter where you are, there's a fan somewhere.
Rita: Absolutely, I love that! I was talking to someone earlier in the week and they were talking about trying to bring a Dimebash down under which would be so killer to see that response, just have the jams and see it and be part of it so who knows, maybe that might happen.
Andrew: Oh we would love to see that! Well it's been a privilege and an honour to be speaking to you today, I love to speak to anyone that loves to talk about Dimebag because like I said, I've been a fan since I was a kid so it's great to talk about someone who was so unique and such a character and such a gifted person who created some of the best music in the world. So thanks for your time, really appreciated!
Rita: Oh no thank you! I'm a fan like you and I enjoy talking about Dime all day and all night so thank you for supporting and reaching out to us and like I said, I can't thank you guys enough for loving him like I do. It's pretty amazing.
READ OUR REVIEW OF "Dimevision Vol 2: Roll With It Or Get Rolled Over"
Released November 24th 2017
Pre-orders are available via Metal Blade at:
www.metalblade.com/dimevision
A PledgeMusic campaign has also been launched to support the release of the set. In addition to acting as a pre-order for the set, the PledgeMusic campaign includes an assortment of rare items to buy, including props and costumes that belonged to Dimebag and that you can see in his home videos/Dimevision volumes, rare stage clothing, and other merchandise.
Visit the PledgeMusic page here:
www.pledgemusic.com/projects/dimevision2