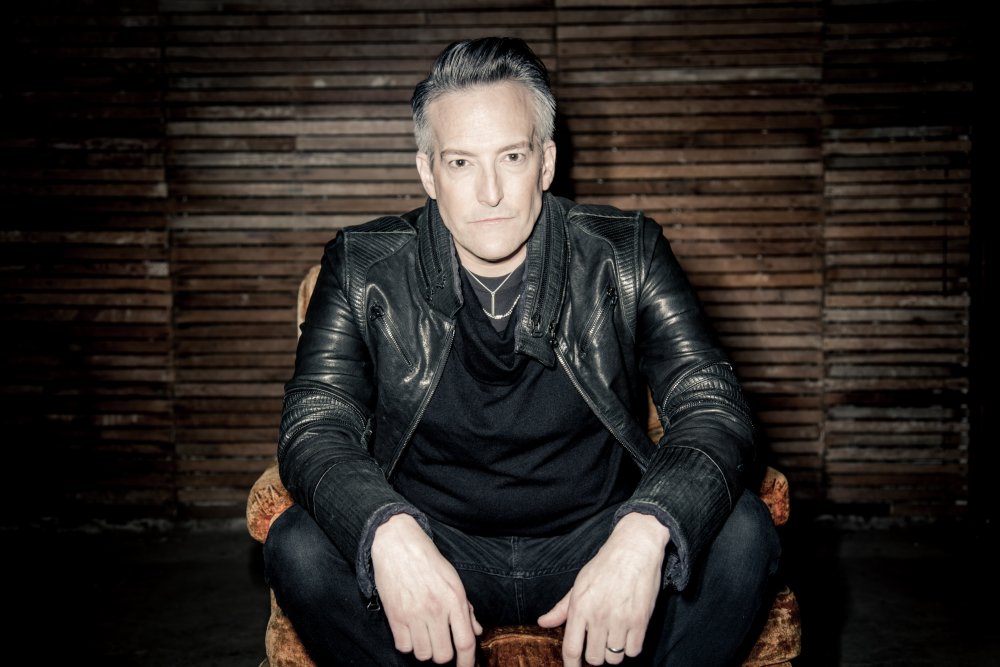 It's a great combination for a tour, Ministry and Filter. Two juggernauts of the industrial metal revolution joining together for a trek across Australia – or at least on the east coast anyway with only Ministry making their way to the west. Regardless though, many Aussies will be experiencing the duo together and it's surely going to be one of the top tours of the year.
After a brief chat about the fact that Perth misses out on Filter on this tour which Richard was disappointed to say the least, we kick things off with the frontman expressing his enthusiasm for Australia and what the fans can expect.
Steve: So how does it feel to finally be heading back this way to Australia?
Richard: I love Australia! I think it's great and we're just going to bomb rush you guys, I'm going to turn into an American refugee and just be like, 'I'll sing on the corner!'.
Steve: [laughs] Well you are always welcome here!
Richard: Well we love Australia, it is amazing, gorgeous and we can't wait to be there.
Steve: So I guess one of the questions I want to ask after all these years, and from my research you guys started in 1995 if I'm not mistaken?
Richard: Well we started before that as that was when the first record came out. But there was a lot of work and energy and love going into it before then but yeah, that's before we broke.
Steve: So what keeps Richard Patrick going after all these years besides energy and love and all those good things? What do you think has kept the band going for so long?
Richard: I'm just tenacious, I just don't want to ever stop singing and it's so weird because unlike, 'Hey can I still sing?' and they're like, 'Yeah come down here and sing!' And I'm like, 'OK I'll come down with the band!'. 'Great! Better! Bring the band, it will be even better' and I'm like, 'OK!'. People keep paying for it, people keep loving it, I'm blessed! It's like one of those things, supply and demand and everyone is always so sweet and they always want to see us so we just want to do it man. There's always this wonderful crowd that wants to hear "Hey man Nice Shot" and "Take A Picture" and "You Walk Away" and "Nothing In My Hands" and all the songs, they want to buy the new record and they want to hear all the songs we've done. It's just amazing!
Steve: By the way last years album "Crazy Eyes" was in my top 10 and the opening track "Mother E" was just off it's head!
Richard: Haha! Thank you, I appreciate that. I gotta be honest with you, we were writing really dark stuff and the Mother Emanuel shooting happened and we were like, 'What is the sound of insanity?' It's just the same thing as "Hey Man Nice Shot", what is that and who writes that song? Who writes songs for the victims of a mass shooting? And what is dying like? Because we all know what love sounds like, the Beatles have done a great job and we've done "Take A Picture" and "Surprise" is about love and happiness. What does terror sound like for real? What does real hateful terror sound like and it's just because it's there, it's a phenomenon and it happened and we've got to address it and I'm not condoning it, condemning and this is what it reminds me of musically.
Steve: And I guess we're also living in a world where it's completely and utterly different to the Beatles and furthermore, we don't have to look too far. We only have to look to our TV's and computers to see what's going on around us.
Richard: Yeah it's a sad place. I mean the liberal media as it were was bringing the Vietnam war right into people's houses in the 60's and now computer's are doing that. The weird thing after 9/11 American music got super sweet, noone wanted to be the reminder that things still suck. The 60's were about, 'Let's talk about it!' and the Millenials and stuff are like, 'OK guys do you want to talk about going to the club forever? Are we just going to talk about love and shit forever or are we going to talk about "some shit"?' My little one job is like, 'Hey can we not all be frat kids and Justin Bieber'. That's my job, that's what Al Jourgensen's been doing which he taught me for the past 30 years like, 'Hey say something for real, be honest'.
Steve: Yeah be straight up with your fans and I guess that's what carries through.
Richard: Yeah I think so. Guys, I'm ADHD. You're going to get "Take A Picture", you're going to get surprises, you're going to get "It's My Time" and of course you're going to get "Mother E". You're going to get all that, you have to, it has to happen.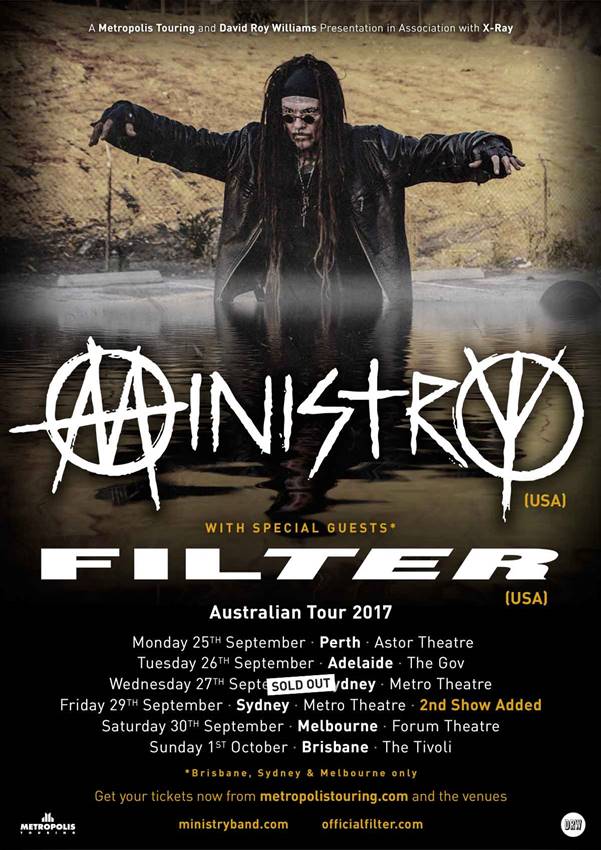 Steve: Given that sometimes you have down time from Filter, are you always writing? Is that a constant for you or do you like to take breaks yourself?
Richard: I don't feel comfortable unless I'm working on something and I have to watch that because I get depressed. So I have to continuously work all the time, that's my jam, that's what I do. But at the same time there's a lot of stuff that I'm kinda waiting on like the live DVD which we shot it, the band was amazing and we were great. We're going to go back and fix a few things but I'm kinda excited about releasing it but it's one of those things, I can't really do much. I mean I can't throw the whole thing in final cut, edit and direct it. I've gotta let other people do it so you sit back and you wait and you wait for these guys to get the stuff together but there's just certain things you can't do. I'm done in between movies right now which is one of the things that has a score. As a composer I really want to get in there and make more movies but I released a record last year and I had a movie and then I did another movie, 2 movies in a year and now I'm just kinda sitting around going, 'Damn it!' So I've been screwing around with the computer for the past month or so creating new stuff but I do want to start work on a new Filter record as soon as possible. There is a new video out May 31st for 'Mother E', it's dark as hell and crazy. It's like World War 2 era, Russian soldiers stumble upon this family in Poland and the beast takes over.
Steve: As a listener and as a fan, for me Filter has it's dark moments and that's what makes it Filter. That's how I've always viewed your music.
Richard: It's heavy.
Steve: Yeah it's heavy and it's varied as well which is a great thing.
Richard: Well we're now to the point where if you wanted to take all the mellow stuff, you could make a playlist that's like an hour and a half of just mellow Filter stuff and then you could make just heavy stuff. The weird thing is I don't listen to my music, I'm always onto like, 'Let's make another one!' I'm the guy that's always wanting to make another new one and say, 'Let's do another one!' So I'm always about that.
Steve: As an artist, do you take inspiration from other artists or are you the kind of artist that locks themselves away and just writes non-stop?
Richard: I'm not afraid of having influences but I do see the importance of focusing on being completely original. The reason I like U2 so much was because they were completely, utterly and totally unique in 1984. 1984 they were the most original sounding thing ever and then they went country but it was still good if you know what I mean, it was still cool but you could tell that Bono and The Edge had this thing of let's bring originality and sincerity into the whole thing. Same with Al, he was doing almost synth-pop and then he went 'Fuck this' [laughs] and got angry as shit and I like that. Have you heard "The Land Of Rape And Honey"?
Steve: No I haven't.
Richard: That record was so god damn good when I heard it when I was 17, it changed my life because I had been turned down by record companies because they sounded too much like U2. I was so into U2 I sounded like U2 and after I got turned down I was like 'I hate the world' and like a scorned little kid I tore all my U2 posters off the wall and 'I gotta change my life' and being very dramatic. And then my friend walked in with "The Land Of Rape And Honey" and said, 'Check this out' and I was like, 'Oh my god!' It was angry but it's not metal so it's not hair band but it's angry and it's loud and it's abrasive, the dude was literally distorting the vocals. That was insane to me like, 'What? You are distorting the vocals on purpose?'
Steve: Can you see yourself doing a collaboration with Al?
Richard: I would love to!
Steve: Hit him up on the tour!
Richard: I'm gonna say, 'Dude let's just get together and make one of Al's amazing records where it's you sing and we'll write and do whatever and go ballistic'.
Steve: It would be awesome.
Richard: Wish me luck!
Steve: I will, Good luck! It would be something to behold to have you guys both in the studio recording, all that energy bouncing. I can just picture it now.
Richard: Hell yeah!
Steve: Well Richard it's been awesome speaking with you this morning, really appreciate your time so thank you so much.
Richard: Yeah thank you, I can't wait to be out there man. It's going to be awesome!
MINISTRY + FILTER: 2017 Tour Dates
Monday 25th September – Perth – Astor Theatre
Tuesday 26th September – Adelaide – The Gov
Wednesday 27th September– Sydney – Metro Theatre * SOLD OUT
Friday 29th September– Sydney – Metro Theatre * 2nd Show
Saturday 30th September – Melbourne – Forum Theatre *
Sunday 1st October – Brisbane – The Tivoli *
* Filter for East Coast dates only
Tickets for all show on sale now: