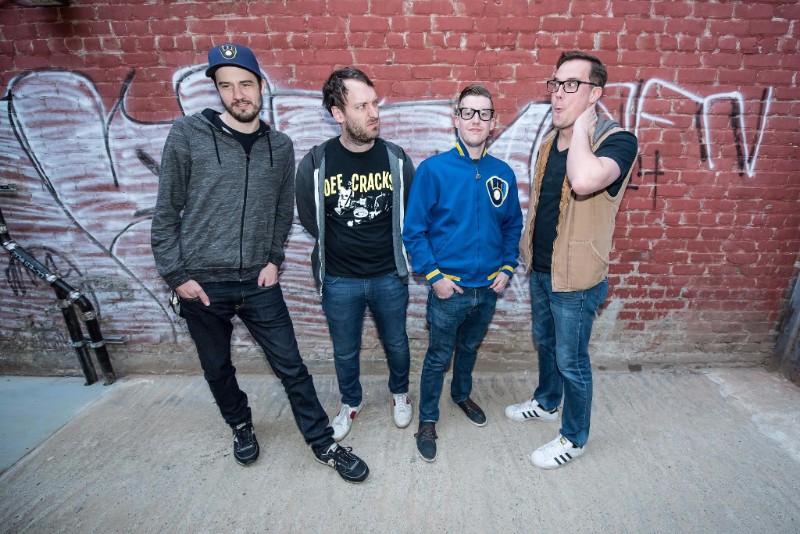 Milwaukee punk quartet Direct Hit! are headed to Australia for the first time ever starting this Thursday, we get a few choice words from vocalist/guitarist Nick Woods ahead of the shows to discuss the tour and more.

The Rockpit: You are about to embark on your first tour to Australia, what can the fans expect?
Nick: Jet lag-driven weirdness. Lots of sweat. Lots of noise. Terrible stage banter. Requests for water. A little taste of what people here in the States have to put up with from us all the time.
The Rockpit: You have a couple of days off during some of the dates so will you be
trying to do some sight seeing while you are here?
Nick: I hope so! I have a long list of weird food I wanna try. But I'm scared shitless of snakes, so avoiding those. We're basically leaving it up to Brock and The Decline to show us what's cool that won't give us nightmares.
The Rockpit: What are the kinds of things the band likes to during downtime between
shows?
Nick: We sit and smoke and stare at our phones and eat and walk around. People always ask what all these different cities are like that we've been to, and we never know because we're always anchored to the venues we play. It's gonna be awesome having some time to actually get out and see a new part of the world we haven't been to for once.
The Rockpit: Any crazy tour stories you would like to share?
Nick: One time at VLHS in California, we got tricked into thinking the outer wall was collapsing on the whole show but it turned out the garage door was just opening. I was stoned.
The Rockpit: Milwaukee is a very different place to Australia but do you ever miss
home when you are on the road?
Nick: Hell yeah dude, I have a wife and a kid and mortgage to cover. Devon and Steve and Danny all have partners they've been with forever. It gets more stressful by the year to go out on tour, but it's worth it to see new places in a way wouldn't get to if we weren't in a band.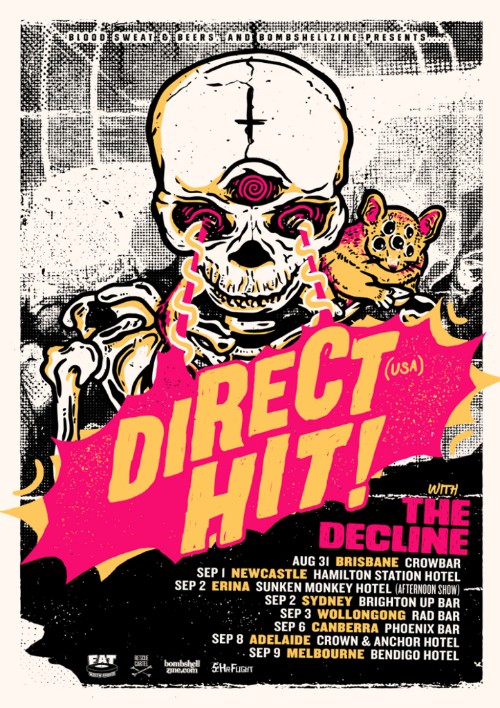 The Rockpit: Wasted Mind came out last year, what's the feed back been like from the
fans and critics so far?
Nick: Lots of people asking us about all the drugs we do. Which is funny, because we really don't get high all that often. Pot makes me super paranoid, and it's a rare occasion for Steve to even drink enough to slur. None of us fuck with opiates. So it's funny having all this weird shit handed to us now that we've written a bunch of songs about psychedelics.
The Rockpit: It's been said the album takes inspiration from William S. Burroughs'
Naked Lunch and Hunter S. Thompson's Fear and Loathing in Las Vegas, how
do you use that inspiration to create music?
Nick: I've always written music to pair with visions in my head, if you wanna call it that. Comics, movies, weird experiences… All of that has a lot more influence on the music I write than other bands. We write really simple pop songs, mostly. And nothing I do day-to-day is exciting enough to write about, personally.
The Rockpit: How did you get into music in the first place? Who do you consider to
be a major influence on Direct Hit?
Nick: I got back into pop punk when Red Scare started to take off… The Copyrights and Teenage Bottlerocket in particular. I could see the connection there between them and The Thermals who I saw as this cool indie band, but had never really put it together that they sounded a lot like The Ramones. Right around the same time, a friend played me Situationist Comedy by Dillinger Four, who I'd never really listened to in-depth, except on comps when I was in high school. All together, those bands got me back into pop punk. And around that time I admitted to myself that "I Get Wet" was, still is, my favorite album. That's DH's original group of influences, in a nutshell, I think.
The Rockpit: If you could be a fly on the wall for the recording of any classic
album in history, what would it be?
Nick: "I Get Wet." No doubt.
The Rockpit: What is the meaning of life?
Nick: Experience as much of it as you can before you die like everyone else.
BLOOD, SWEAT AND BEERS + BOMBSHELLZINE + 5HRFLIGHT PRESENT…
DIRECT HIT! AUSTRALIAN TOUR
WITH GUESTS THE DECLINE
August 31- CROWBAR, BRISBANE
w/ Flangipanis & Brief Habits
sEPTEMBER 1- HAMILTON STATION HOTEL, NEWCASTLE
w/ ebolagoldfish & Hack The Mainframe
SEPTEMBER 2- SUNKEN MONKEY HOTEL – ERINA (ARVO)
w/ New Trends, Hack The Mainframe, Billy Putton
SEPTEMBER 2– BRIGHTON UP BAR, SYDNEY
w/ Nerdlinger & The Great Awake
SEPTEMBER 3- RAD BAR, WOLLONGONG
w/ THE Unhinged & Wasters
SEPTEMBER 6– PHOENIX BAR, CANBERRA
w/ Raised As Wolves & Sketch Method
SEPTEMBER 8- CROWN & ANCHOR HOTEL, ADELAIDE
w/ Thrasboard & Burnout
SEPTEMBER 9– BENDIGO HOTEL, MELBOURNE
w/ Foley, Yard Duty