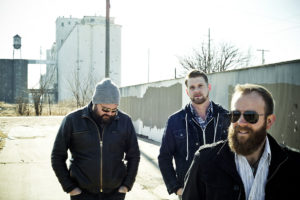 Guitarist Aaron Moreland—co-founder of the groundbreaking Kansas-based trio Moreland & Arbuckle—describes their music as "gritty blues and roots rock from the heartland." Moreland, along with harmonicist/vocalist Dustin Arbuckle and drummer Kendall Newby, electrify raw Delta and Mississippi Hill Country blues, folk, and traditional country with unrelenting punk rock energy washed in hard-hitting Southern soul. The band hit Australia for the very first time so we grab a few words from Aaron Moreland to discuss the tour and more.

Andrew: So this is your first time touring Australia, are you excited? What can the Aussie's expect?
Aaron: We are very excited. Nothing but beautiful things have been relayed to us about Australia. Our friends there can expect high energy shows. We invest all our resources into each performance.
Andrew: There's a lot of energy in your music, how does it translate to the live show? Do you consider yourselves more of a live band?
Aaron: Its impossible to compare the live setting to the art of recording music. They are a completely different art form. I consider us both. We do both with all our heart and passion.
Andrew: You are touring in promotion for your latest album 'Promised Land Or Bust', how has the reception been from the fans on the new music?
Aaron: I believe it was critically our greatest acclaimed album. Its been met with good reception, and we are very grateful for that.
Andrew: The album was also nominated for Best Blues Rock Album in The Blues Foundation's 2017 Blues Music awards, how does it feel to get recognition like that?
Aaron: Oh it's a tremendous honor. It's such a wonderful feeling to get recognized and appreciated in a critical acclaim way. So different than the recognition fans give, both make us super happy and appreciative.
Andrew: Australia has many blues and root's type festivals and shows, have you heard of any Australian music by any chance?
Aaron: We can't wait to play the Holler Blues Festival. It's in its first year, but looks like it will be a fantastic one!! I've heard about other great ones like Mullumbimby, Queenscliff, Woodford, and of course Byron Bay. Seems there is quite a vibrant scene there!

Andrew: Who are some of your own influences in your music?
Aaron: Little Walter, Black Sabbath, Johnny Cash, The Ramones,.. this is a list that is long.
Andrew: How did you get into music in the first place? Why become a musician?
Aaron: It's in my DNA, the man who impregnated my mother was a musician. As were many of his family members. Music is the one thing that I have always a memory of it being totally central in my life.
Andrew: Since being in a band, what has been the most important thing you have learned and why?
Aaron: That playing music can be the highest of highs and the lowest of lows. Clearly the highs prevail.
Andrew: What has been the best advice given to you as a musician?
Aaron: If you are going to try to make a go of music as a living, you have to have it in you… I mean it has to be like going into the seminary. It has to be a calling. Its a tough way job. Don't get my wrong, it is awesome. But its still a job, and all jobs are hard at some times.
I would also suggest to learn to take the good with the bad.
Andrew: If you could be a fly on the wall for the recording of any classic album in history, what would it be?
Aaron: Abbey Road
Andrew: What is the meaning of life?
Aaron: A life exists that is understated
most of the time we know its a fragile thing
but there are those who run it as a bullet running to the sky
be conscious of all those moments, and keep a thankful mind on your very shot at life
Andrew: Any last words or messages for the Australian fans?
Aaron: We are super excited to be coming down there!
MORELAND AND ARBUCKLE AUSTRLAIA TOUR DATES
Saturday 18th February
Holler Roots Music Festival
http://hollerrootsfest.com.au/
Caravan Music Club, Oakleigh VIC
Sunday 19th February
Spotted Mallard
With The New Savages
314 Sydney Rd Brunswick VIC
Monday 20th February
Prince Bandroom
With Werewolves of Melbourne
29 Fitzroy St, St Kilda VIC
Wednesday 22nd February
Stag & Hunter
With Kristen Lee Morris (Eagle & The Wolf)
187 Maitland Rd, Mayfield NSW
Thursday 23rd February
Black Bear Lodge
With Claude Hay
322 Brunswick St Fortitude Valley QLD
Friday 24th February
Soundlounge
With Claude Hay(duo)
165 Duringan St Currumbin QLD
Saturday 25th February
The Basement
With Claude Hay (duo)
7 Macquarie Place, Sydney NSW
Sunday 26th February
The Brass Monkey
With Kristen Lee Morris (Eagle & The Wolf)
115A Cronulla St, Cronulla NSW