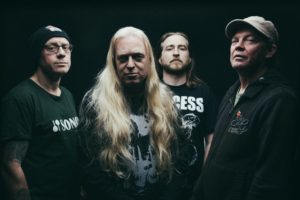 When Bolt Thrower drummer Martin "Kiddie" Kearns passed in his sleep on September 14th, 2015, the members of Britain's longest standing death metal band were absolutely bereft. Three weeks after, bassist Frank Healy, of UK death metal legends Benediction, lost his father. All that sorrow left a massive hole in the hearts and minds of the Midlanders. The untimely demise of Kearns forced Bolt Thrower to go on an indefinite hiatus, while Healy was seven years removed from Benediction's last full-length, 'Killing Music'. Key members of both bands needed an out. A way to cope with the emotional hardship. So, vocalist Karl Willetts and Healy teamed up with ex-Bolt Thrower drummer Andy Whale and riff-master Scott Fairfax to form Memoriam. Steve talks to Karl Willetts one fine early morning to discuss the debut album 'For The Fallen' which serves as a tribute to their friend Martin as well as all who we have lost along the way in recent times.
Steve: So you guys must be excited to get this album out.
Karl: Absolutely! I mean this must be quite difficult to ask these questions when your still half asleep!
Steve: That's OK, I've had my morning coffee!
Karl: Good man, that's what you need. I'm having a late night with Steve [laughs].
Steve: Fair enough!
Karl: So yeah the new album is due out through Nuclear Blast records on March 24th, so yeah it's a very exciting time for us in our career. It's amazing to be in this position really, for me at our age as well. It's a great achievement, it almost feels like it's the third time lucky for me because in my career 30 odd years within the death metal genre and making music with, formerly Bolt Thrower. When I joined Bolt Thrower in 1987-1988 around that time in our initial stint and then I left in 1994, that was my first crack at it and then I got to do it all over again when I rejoined the band in 2004 which was 10 years later. Carried on doing that until 2015, another 10 years so this year is almost a third roll of the dice and to be able to do so many wants in your life like that is fantastic. Twice is amazing and three times is just phenomenal, I feel quite honoured and privileged to be in this position to be able to carry on doing what we're doing. It's purely down to the support that we receive off people, without the followers of what we're doing and the support that we receive we wouldn't be able to do this and we're really aware of that and we appreciate that. I think 'cause we're a band that is quite accessible, I don't like the word 'fan', I like the word 'friend', 'family' and I think because of that people appreciate what we're doing and they understand. A lot of people have kind of grown up with us listening to what we do and feel part of the family really because they get deep meaning from what we do and that attributes success to what we're doing with Memoriam to the heritage that we have with Bolt Thrower and Benediction and all the bands we've done. So yeah it's a very exciting time for us, a lot has happened in the past year so long may it continue.
Steve: Yeah I couldn't agree more. So after all the heartache that you guys went through, did you guys see yourself continuing with music? Did you ever come to a point where you were like, 'I really just can't do this anymore, I've had enough'?
Karl: Good question. No [laughs]. After Martin passed on in September 2015, it does really pull you down to a base level and you kind of question everything that's important in your life. I can say it was a pretty dark place to be in, it's staring into the abyss of pity and misery and despair and didn't really know what the future held. I was really caught in position where I could sit around and wait for something to happen respectively of whether Bolt Thrower may or may not continue and I feel I sat and waited for something to happen, it may not have happened. But my state of mind at that point was, 'Well I can't carry on like this, I can't feel like this forever'. My whole identity in life has really been through making music and I have 10 years of not doing it when I left Bolt Thrower in 1994, I had 10 years of not making any music. I experienced it at that time and I call that the rudeness years and I wasn't prepared to go back into that state. I wasn't prepared to re-enter into that phase, I felt that I still enjoyed being in the band and making music, performing live so I had a choice of either I wait for something to happen or I get off my backside and actually do something about it and the way to actually do something about it was by making it happen yourself. You can't wait around for other people to offer you things on a plate, that just doesn't happen in life, you have to get up there, get out there and grab the opportunities when you can.
So I took stock of what I wanted to do and one of the main things that was really important was to try and re-establish some friendships and some bonds that kind of maybe faded a little bit in the past, what I mean by that is by reconnecting with Andy. I always wanted to be in a band with Andy because when we both left Bolt Thrower at the same time in 1994 and we tried to do a couple of bands outside the genre but it never really worked, we didn't have the fire to do it and it never really got anywhere. And then I got the recall in 2004 and I always had a niggling feeling of guilt or something in my head that I had rejoined the Bolt Thrower on my own and he wasn't involved so I felt a bit bad about that. I'm pretty sure he wasn't bothered [laughs] but I owed it to him to kind of do something. I wanted to work with Whale again so when I approached him at the end of December in 2015 I asked him if he would be interested in doing something musically but no, he hadn't really picked up the sticks or sat on the drumstool or played for about 14-15 years so we weren't sure whether he would have the ability to do it. But we pretty much sat down and decided that we wanted to do something so we tried to just get him into the studio – no pressure, just have a laugh and try and recreate some of the feelings that we had when we were in the band in our early 20's when we first started out and try and get some of that spirit back that we had lost to a certain extent. Try and have a bit of fun and that's really the driving force of what we're all about, is just having some fun with your mate and that's really the only thing that really matters to us. Everything else that happens on top of that is really a bonus.
So me and Whale decided to do that, blast out some old classic songs that have influenced us to do what we do in the first place – songs like Discharge and Sacrilege and all the old punk stuff that we were into. We brought Frank Healy into the equation, he was always going to be the bass player that I approached because if I hadn't he probably would of killed me [laughs]. It's from a conversation from me and Frank that goes back from probably 30 years when we used to hang out in the pubs together, that we would always go on tour together. We gotta do a band, that would be great which we never got around to doing because our paths were different and it seemed at this point in our lives at the end of 2015 that Frank and myself pretty much got down to a dark patch as far as our friend had passed away and a lot was happening with Benediction positively so. So he was really keen to get involved as well so we had the core of us 3 old geezers lined up in the village and that's when we got Scott Fairfax involved as our guitarist, he had worked with Frank playing guitar live for Benediction so we kind of knew they got along, there was a bit of chemistry and a bond there. But I didn't really know Scott at that point at all so we had a meeting, decided to do it in the rehearsal studio but before we got into the rehearsal studio, Scott threw an idea at us and said, 'I got a couple of riffs here that you might like, have a listen and see what you think and maybe we can write some songs'. So he fired over a couple of tracks to us over the Christmas period and we were totally blown away with his writing style, I was totally unaware he had that ability. Those 2 songs he fired over became the first 2 songs we wrote which was "War Rages On" and "Resistance" and they were pretty much in the bag even before we went in for our first rehearsal.
So we started to rehearse the band by playing these 2 songs and it became evident at that point that Scott had an absolute gold mine of riffs on his PC at home which he's written over the years and never used and he kept on firing us or steadily drip feeding us these riffs and from that we built a repertoire of 4 or 5 songs. And the whole concept of just being a covers band or just doing some classic older songs kind of went out the window completely and focused on doing these new songs and that was a fantastic process. It came together really quickly and the product of that was the whole 5 demos which we went in to record just over 3 days around March time and we released a 7 inch off the back of that and that was out within a matter of weeks. That sold out completely and that's when Nuclear Blast stepped into the equation, we knew Markus from Nuclear Blast from when he used to run it in his bedroom back in the day 30 years ago and we seen how through his sheer hard work and love for the music and his commitment to doing Nuclear Blast, that label grew so fast and so well through out the past 20-30 years. He made us an offer we couldn't refuse and from that the whole thing spiralled massively and we spent the rest of that year doing festival shows and get a taste of playing live which was fantastic. And then we recorded the album in October 2016 and spent about 2 weeks recording it and 4 weeks mixing it getting the final mix that we were happy with and then here we are right now just about to release it and 2017 is upon us. We have a full schedule of live shows lined up for the rest of the year and we haven't really pushed for anything, everything has landed in our laps. It almost feels like payback in away, the 30 years of hard work we put into this doing what we're doing feels like everything is calmer and it feels good.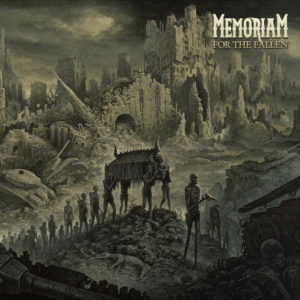 Steve: So do you see yourselves coming to Australia at some point with Memoriam?
Karl: Yeah we would love to! Australia first and personally a place on the bucket list of things to do, I feel in a way when we didn't make it with Bolt Thrower because of the passing of Kiddie (Martin Kearns). It feels like a battle that we lost but it's definitely gotta happen.
Steve: From the little blurb that I got, would you say that Memoriam in a way was carthartic for you guys given the track titles and things like that? For example "Surrounded (By Death)".
Karl: Absolutely yeah. The whole process of writing the album was a cathartic experience, it was a way of getting my feelings and emotions of how I was feeling at that point following the death of Kiddie out through the best and only way I know how to through the form of the music and the lyrics that I write. The whole album from the four of us in itself is a direct tribute to Martin and many of the songs on there draw references to his passing, the song you mentioned "Surround (By Death)" in particular was written at a time where there was a lot of media coverage for celebrities passing on like Lemmy and things like that. It seemed that the media was awash with news of death that was surrounding us but ironically we are always surrounded by death but we very rarely ever talk about it until it happens to us directly with someone we know close. So yeah the whole process of the album is a direct tribute to various that have fallen and in particular Martin and a lot of the songs concerned entail references to that and definitely directly a cathartic experience.
Steve: What would be your favorite stand out track?
Karl: Yeah absolutely my favorite on the album is "Last Words", I think that is a stand out track. People will be surprised when they hear that one, there's a lot of different tones and textures on the album. There's more straight ahead old school death metal songs, some slower doomier songs, then there's faster kind of hardcore punk ones. "Corrupted System" is another one of my favorite ones. The one that stands out for me in particular is "Last Words", the final track on the album purely on the basis of the lyrical themes within it written in the form of a letter to a loved one back home. And why I specifically like that is because of the vocal track at the end of it which features my all time heroine of the world which is Tam (Lynda Simpson) from Sacrilege who was the main inspiration for me to want to be in a band back in the day in the first place. To get her involved in it was just the crown moment of my career and it's a song I'm particularly proud of and it's a beautiful song, I'm really proud. I would consider to  possibly be the best song I have ever contributed to recording of all time.
Steve: Wow that's a massive call!
Karl: Absolutely, so far! And there's more to come [laughs].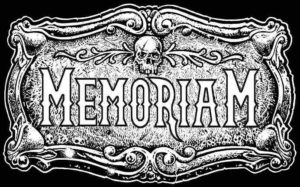 Steve: So how did the writing process come about? Obviously with everything that happened, did you have a certain way of doing it yourself?
Karl: Things have changed considerably through out my career of writing songs. Back when we first started it was a question of going to the rehearsal room on a weekly basis and maybe taking a cassette player and recording it. These days with the windows of modern technology, Scott (Fairfax) our guitarist has a hard drive full of fantastic riffs which he puts together and forms the basis for songs with a generic drum pattern put to it. He then fires that over to Frank (Healy) and Frank is a really good songwriter so he's good at structuring songs, filling it with say the middle 8, the bridges to link the riffs together and the starts and finishes of the songs. So he then kind of writes faster songs and put together and then we have an mp3 of that riff idea of a song which we fire to each other even before we go to the rehearsal room to actually rehearse it. So we got a good idea of where the songs going to go before we even start. So then we go to rehearsal room, (Andy) Whale puts his signature drum pattern to it which changes it all around, we record it on video and then at that point I have a structure to how the songs are going to be and that's when I take it away, come up with a song title which is always the first point and then from that we roll with lyrics.
Steve: And put your magic on it!
Karl: Absolutely, my signature vocal style which I'm quite well known for. Trying to keep it clear so that you hear the words rather than just being a growl and a grunt. So yeah I spend some time working on the lyrics, I'm proud of them so I want people to be able to understand them and hear them. So I do work hard on trying to make them as clear as possible. There are a lot of references to old lyrics, it's almost like a party game going on there for people so spot the old Bolt Thrower lyric within the new songs! It's going to happen because that's the way I write songs, I use a lot of the same lyrical themes. A lot of content about war which is a theme that I've always written about, it works on a variety of levels and of course once I've written it, it goes out to people and in turn interpret it their ow way which is a part of the music. The creativity of what we do is really good, it's something that I've missed for a long, long time. I haven't recorded anything since 2004 so to be able to do this without the set prescription and formula that we used to work to is a great thing, we've almost got like a blank canvass. We haven't got any set formulas yet but we try lots of different things, you notice on the album there's lots of samples on there as well which fills the sound out, did a bunch of different vocal delivery and attack on different songs, the tones and textures. Being a four piece as well adds a totally different dynamic to the band as well so there's a lot of similarities to what we have done in the past and we draw reference to those and we're proud of our heritage but of course I think we're not just a Bolt Thrower part 2 or a Benediction part 2, we're our own band and we've created our own identity for this debut album. And we are currently in the process of writing new material for the next album as well so there you have it.
Steve: Awesome! That's what the fans will he jumping up and down about [laughs].
Karl: Yeah we definitely have that creative spark back, it's almost like wildfire. We're really enjoying what we are doing, as I said before we are just four people who enjoy what we are doing and having a great laugh and anything else on top of it is just a massive bonus.
Steve: Yeah absolutely! Well it's been really awesome to speak with you this morning, thanks so much for your time and patience.
Karl Absolute pleasure!