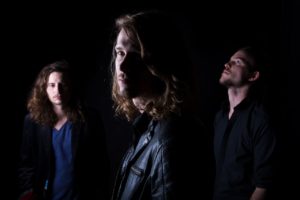 Austrian psychedelic, progressive trio Mother's Cake have been producing their explosive blend of psych, indie, blues and space rock since their formation in 2008 and have developed into a phenomenal live act. They will be returning to Australia very shortly in support of their latest release No Rhyme No Reason, we grab a few words from drummer Jan Haussels ahead of the tour and to find out more about the band and what to expect at their shows.
The Rockpit: It's good to see you returning to Australia again, what can the fans expect this time around?

Jan: It's the first time we got to rehearse the new record and we're pumped to finally present it live, Australia gets to see it first and freshest – pretty cool ain't it?

The Rockpit: How was your experience in Australia last time?

Jan: Started out pretty hot and sweaty. Experienced a lot of bottle shops and couches of lovely people who would just take us in.. I shouldn't forget to mention dangerous beaches and sunburns.

The Rockpit: How do you find the Australian audiences are like compared to other countries?

Jan: Any time we play as headliner people are great, doesn't really matter what country. To give you that answer we would have to support a real big band down under to see how  the crowd would react!
The Rockpit: Your latest album No Rhyme No Reason was just released, how are you feeling about the new songs compared to previous albums?

Jan: Right now is honey moon phase – a new love! I think NRNR is a nice "testament" of what molded the band over the years.

The Rockpit: Will a lot of the new material be in the setlists on this tour?

Jan: Oh I guess I spoiled that one – yes there is!

The Rockpit: Now with a new album added to your catalogue, has that made picking a setlist a little more difficult now? What is the process of finding which songs you want to play live?
Jan: Doing it today. But no! We really needed to make a new set list. Touring that much often forces you to play the same set again and again. Really important to get rid of the routine to keep the energy going.

The Rockpit: Mother's Cake has performed with a wide range of bands from AC/DC to Omar Rodriguez Lopez Group, does that make it much more interesting for you when on tour?
Jan: I think we have to row back on AC/DC there although I would be hugely proud about it. We played the same festival, but didn't support them directly. It is very interesting to be part of a big production, you get to see how the wheels turn. Behind and on stage. Definitely something not anyone gets to see and something you can learn from.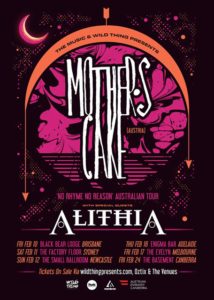 The Rockpit: Which band was the most fun to tour or open for?
Jan: I have to say Wolfmother!

The Rockpit: How did Mother's Cake begin as a band?

Jan: Small – in a tiny cellar room – with an even worse name – without any perspective: Pretty standard I would say.

The Rockpit: Where does the name Mother's Cake come from?

Jan: No Rhyme or Reason….there is no reasonable explanation.

The Rockpit: Who do you consider to be your biggest influences?

Jan: When the band started out: Mars Volta!! Later anything we stumbled upon

The Rockpit: If you could witness the recording of any classic album in history, what would it be?

Jan: Pink Floyd: The Dark Side of the Moon

The Rockpit: What is the meaning of life?

Jan: Survive with fun.

The Rockpit: Final words for the Australian fans?

Jan: D'ya know where the Dolphin Fin barbie is, mate?
TOUR DATES
Friday, February 10: Black Bear Lodge, Brisbane
Saturday, February 11: The Factory Floor, Sydney
Sunday, February 12: The Small Ballroom, Newcastle
Thursday, February 16: Enigma Bar, Adelaide
Friday, February 17: The Evelyn, Melbourne
Friday, February 24: The Basement, Canberra
Tickets onsale now via
wildthingpresents.com Oztix & The Venues