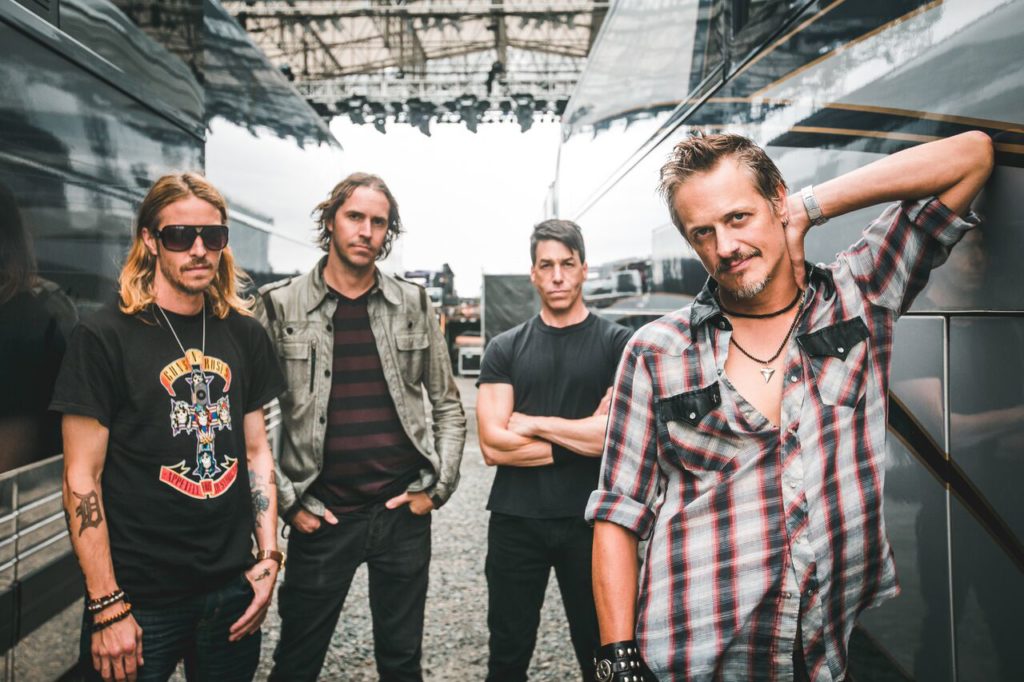 American alternative rockers Fuel finally return to Australia this December as part of the "The Sunburn 20th Celebration Tour". Two decades since the debut album "Sunburn" was released which contains such hit songs as "Shimmer", "Sunburn", "Jesus Or A Gun" and "Bittersweet". We talk to vocalist Brett Scallions about the upcoming tour, how it feels to celebrate 20 years of "Sunburn" plus much more.

Andrew: It's exciting to see you coming back to Australia, it's been a super long time since you were last here so I guess things are a little exciting in your camp at the moment?
Brett: Oh man it's been way too long since we've been down there so yeah we're super psyched. We've been trying to sort this out for what seems like years trying to figure out how to get down there to see you guys again and I'm so excited that it's actually happening now, so it's going to be a good time.
Andrew: This might be a silly question I guess but do you even remember how it was the last time you were down here?
Brett: Well it's always been so much fun whenever we go down there to Australia. The people are incredibly nice and the food is amazing and the beer is great and the beaches are amazing so what more do you need! You have a beautiful home there for sure.
Andrew: We're excited to see you down here again and on top of that you are coming down to celebrate the first album "Sunburn" which was out almost 20 years. How does it feel to have that much time go by with your first album like that?
Brett: I know, it's pretty crazy to think that 20 years ago we made the "Sunburn" album [laughs] but you can't stop the clock right! It's a rare thing when artists get to celebrate such a thing so I'm happy and humbled by the fact that I get to be one of the artists that gets to celebrate 20 years of a successful album. We're actually going to break the whole thing in down in Australia with the celebration of the "Sunburn" album and playing the record in it's entirety and we'll play a few other songs as well off of other albums, but the main focus is the "Sunburn" album.
Andrew: Yeah that album came out back in the late 90's and was such a big success for you guys with great hits off that album, going back to that time when it was first recorded and released what were some of the things that you remember from then that you really felt were doing something pretty special with that album?
Brett: To be honest with you at the time the feeling of being caught in a tornado is the best I can describe it really, when it's happening it's happening fast. We were lucky that we had some strong songs behind us and we had a good record label that was willing to really support us in every single thing and the whole tornado kind of started and you kind of hold on to what you can and enjoy the ride and the next thing you know we had hit songs and playing to beautiful fans everywhere so good stuff!
Andrew: That must have been not only a little surprising but also because it was the first album for the band that it must have kind of hit you like a truck so to speak which must have been a very exhilarating feeling I guess.
Brett: You never know what to expect when you go into an environment like that, so we were just enjoying the ride. Every time we go to Australia it just beats you up a little bit because you are just so busy down there but you only have a small window of time to be able to do things and you go down there and are waking up at 6am and you're in radio and press and everything through out the day and the you got a show that night and it's just non-stop. So you don't really have time to stop and think about these things and where things are going and what's happening, you're just kind of rolling with it.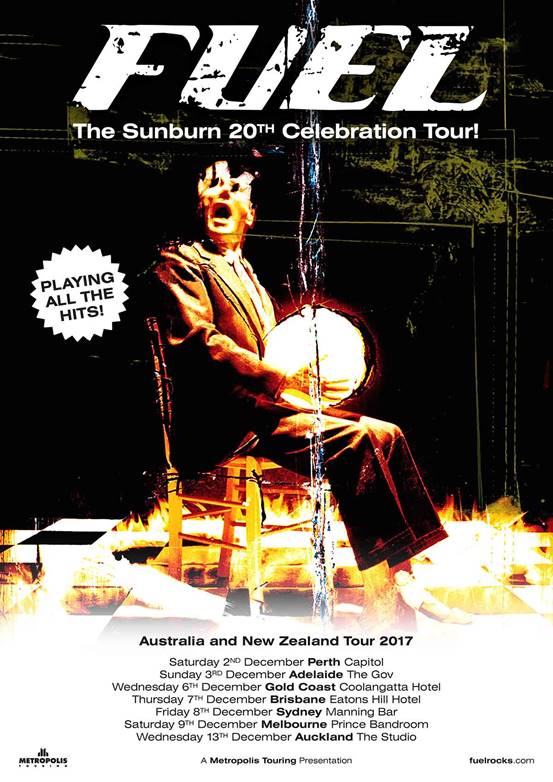 Andrew: Well over the years you have had even more success on top of what that album did for you guys, have you had any time now that 20 years have gone for that album to reflect and look at the highlights of your career so far?
Brett: I was just hanging out with my friend Jonathan Mover the other day and he did all the drum tracks for the "Sunburn" album and we had a great time just talking and thinking about the moments of the inception so to speak and working on the record and recording the record and the moments of the good times and bad times and the stressful moments of trying to get it right and laboring over the process. I guess that's the time that it was probably, in our minds that we just wanted to get through it but at the same time it's a love and pain is what I guess you could call it! It's a tough thing to do but man we were having a blast doing it no doubt.
Andrew: What do you think is the biggest change in the band over the years that you felt has been nothing but a positive thing for you guys?
Brett: Honestly with me right now, I'm having a great time. The other members of the band have moved on to other things and doing other things with their lives which is great and I've chosen to continue on with Fuel and I've got some great guys that are with me performing the songs. We have a great time together and there's a love and appreciation for a collective goal which is to go out and celebrate music and celebrate life and celebrate doing great shows for the fans. Just having a great time, that's what it's all about. Playing music and enjoying life.
Andrew: I hear that you guys may possibly be working on a new album, any truth to that at all?
Brett: Yeah for next year the primary focus is to celebrate the 20th anniversary of the "Sunburn" album but I'm also working on some new material and we're looking to release a few new babies so to speak out into the world next year to have some fun with too. So hopefully it will be embraced as well.
Andrew: OK great! So taking us back to the beginning of your career, what sparked the idea to want to play music in your life? Was there a particular musician or band growing up that inspired you to pick up the guitar and take it on full time?
Brett: I grew up outside of Memphis and the impression that Elvis Presley left on everyone was such a huge mark and as a child growing up, I was always into Elvis and as things progressed I learned more about things like Led Zeppelin and the Beatles and Creedance Clearwater Revival and then there was The Cult and Van Halen and things like that. So I was always just accumulating a love for various types of music, even in country music with Hank Williams Jr. and guys like that, I just love it and it was always around me and I couldn't help but tune out any conversation that may be happening at the time because there was a great song on, I wanted to listen to the song! So it was always just a passion for me and as I grew up I was always singing at church and singing at school and learning instruments as I got older. The music was always there for me and it was a comfortable blanket so it just felt right for me to pursue it as something real that I could do for a living.
Andrew: And how does it feel to be at that other end of the spectrum and inspire other people to get into music as well?
Brett: It's pretty amazing when I have so many fans over the years who have come up to me and are literally crying on my shoulders saying thank you for what you've done because your music got me through hard times or through a divorce or got me through my grandmother dying or got me through cancer or got me through anything. That's the beauty of music, you can incorporate it in your life and it's there as a tool to help you get through the hard times and help celebrate the good times. So I feel honoured to be able to contribute to people's lives in that way where they hear my voice in a song and it helps them to relax in a trying time.
Andrew: Yeah it is pretty amazing that no matter where you are in the world that music transcends all differences that seperate us human beings on this planet.
Brett: Yeah it brings us all together and I fear for the music industry these days because we're in such a whirlwind of nobody knows what's happening. I think that even though things can be kind of chaotic and strange right now that we're going to see an opening and there's going to be really good surges of some amazing music coming out soon.
Andrew: So before you come down here in December, do you have any messages for the Aussie fans at all?
Brett: God bless each and every one of you. I love you and can't wait to see you! We're going to have such a fun time, we're only there for a couple of weeks and I know it's going to roll by like a couple of days because we're going to be having so much fun and it's such a beautiful place to be, I'm just ready to get there.
Fuel Australian Tour Dates 2017
Saturday 2nd December – Perth – Capitol
Sunday 3rd December – Adelaide – The Gov
Wednesday 6th December – Gold Coast – Coolangatta Hotel
Thursday 7th December – Brisbane – Eatons Hill Hotel
Friday 8th December – Sydney – Manning Bar
Saturday 9th December – Melbourne – Prince Bandroom
Wednesday 13th December – Auckland – The Studio
Tickets via: https://metropolistouring.com/fuel