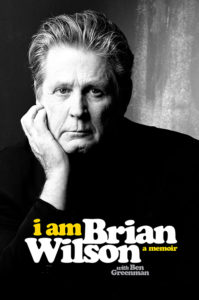 The first things that strike you about Brain Wilson's aided autobiography are the subtitle 'The genius behind the Beach Boys' and the 'voice' that greets you from almost page one. It's a voice that has its own foibles, own language and idiosyncrasies as it persists and returns to tell you something it only mentioned a short while before. It's a nice narrative device which gives you a sense of both Wilson's hang-ups and his miniature obsessions (he seems to remember the name of every restaurant whilst 'not remembering' or 'avoiding' far more pertinent information. However you see it, it is distinctive. As for self-proclamations of genius? I'll leave that up to you…
The Beach Boys of course were musical high watermarks in the 60's, set up as the US answer to The Beatles they never quite made those lofty heights though you might argue that at their loftiest they equalled The Beatles at their best. Brian's metal state, you could also argue, might have been a significant contributing factor in that and you get it all here – his lowdown on the infamous Dr. Landy and all the lows along the way.
Tragedy was never far away of course, and despite the voices in his head telling him they were going to kill him, and the world at large imagining that Brian would be first of the Wilson brothers to go, he outlived both his siblings. There is hope though, as the book progresses, more restaurants get name-checked and some of Wilson's rather off-beat humour shines through you get the feeling that he's probably more at peace with his spot in the world than ever before.
There are also moments of real reverie though amidst the sadness; like bumping into songwriters Barry Mann and (his wife) Cynthia Weil (Who wrote 'You've lost that Lovin' Feeling' and 'We Gotta get out of this Place' and so many more) who are out dining with Carole King by chance in New York: Wilson it seems has his heroes too.
Wilson's is of course a rather tragic tale of lost opportunity, mental illness and loss but you always feel that he's a survivor, dogged, determined and indisputably talented he can now look bac on a career and rather than think what might have been, rather wonder what is still to come.