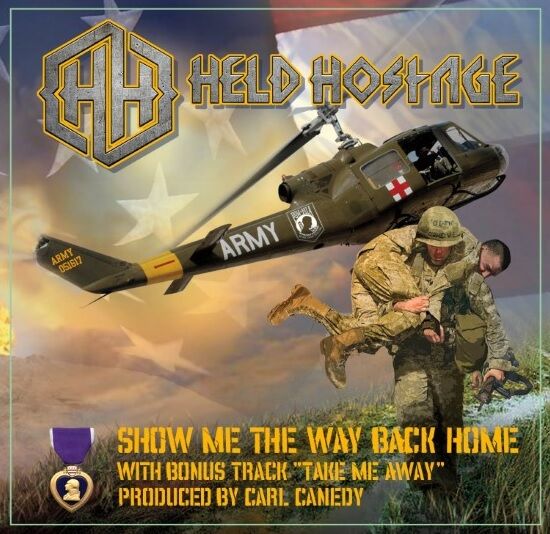 HELD HOSTAGE, the North Victory, New York classic hard rock band is joining forces with Southern Rock Legends MOLLY HATCHET in a one-off New York state show to raise money for the Victory for Vets non-profit organization.
Held Hostage founding guitarist Tom Collier has checked in with the following comment:
Coming back to the live music stage and helping veterans is a very rewarding experience for the whole band. Joining forces with southern rock legends Molly Hatchet to accomplish this is not only surreal but it feels just right. It is something we all in the band have dreamed of doing and now it is a full blown reality. On Saturday August 5, 2017, the two bands will share the stage at Sharkey's in Liverpool, New York, in what will be one of the concerts of the year.
Held Hostage recently released their highly acclaimed single "Show Me The Way Back Home" along with the bonus track "Take me Away" which has been receiving radio airplay all over the world. Held Hostage is donating 50% of the net proceeds from the sale of the single to several veterans groups.
"Show Me The Way Back Home" single purchase link
For the latest band news and show dates, visit the official Held Hostage Facebook page:
Official Held Hostage Facebook page
Held Hostage was one of the premier rock bands of the 80's and 90's in the North Eastern United States and a staple in Central New York's music scene. While on the road they earned their reputation as a hard working band with a genuine compassion for those in need raising hundreds of thousands of dollars in Charity events across the state. Their compassion may be rooted in the many adversities and tragedies the band has endured for the past thirty years.
Since it's inception in 1984, Held Hostage had six members pass away. (Don Averill, Mike Tondeur, Doug Bennett, Andy Phillips, Ray McDermott, Scott Columbus – former MANOWAR drummer). The losses had profound effects on the remaining members that brought forth soul searching as well as fortitude. Forging ahead, Held Hostage has made the decision to no longer mourn but to celebrate and honor those friends who have passed on with a new (5/20/2016) CD titled "Fallen Brothers". The title song "Fallen Brothers" is a rock ballad written by original founding member Tom Collier and is not only a tribute to past members but a heartfelt work that many will relate to.
Now they are back helping veterans, as they get ready to release their new song "Show Me The Way Back Home". 50% of the sale proceeds will be donated to Vietnam Veterans. Victory for Vets, Wounded Warrior project (pending approval), They have been contacted by several other Veteran organizations. The Vietnam Veterans will be using this song as a fund raiser and are very excited, as are the Victory for Vets. Held Hostage recently (02/25/2017) played a free concert and raised monies for Victory for Vets. Held Hostage plans a 5/25/2017 release for Show Me the way back home.
To date the band Held Hostage includes original member, Tom Collier on lead guitarist / lead vocals. Newcomers Frank (The Tank) Smith on bass guitar / backing vocals, Chuck Robbins "The Animal" on drums and Scott Gregg "The Hammer" on rhythm guitar round out a solid line up. The bands unique blend of screaming guitars, thundering kick ass drums, raging bass and uninhibited vocals were found to be true to form on their last released cd. Songs such "Fallen Brothers", "Love Me – Love Me", as well as the classic hit "Hot Night In The City" and their chart ripping song "Rockin' The Night Away" were included. Held Hostage is ready and able to re-take their place in Rock and Roll history.