A roundup of the latest news in the world of extreme metal including updates on Igorr, Entrails, Impureza and Impure Wilhelmina.
This Friday, Igorrr – the brainchild of French musician and eclectic composer Gautier Serre – will release their new album, Savage Sinusoid, via Metal Blade Records.
On this record, electronic manipulations, accordion, saxophone, sitar, harpsichord, mandolin and strings sit comfortably alongside ruthless blastbeats, chunky riffs, death grunts and soaring operatic vocals – and as chaotic as this might sometimes seem, there is no lack of heart behind everything thundering from the speakers.
For a preview of Savage Sinusoid, a video for the new single, "Cheval" (featuring guest vocals by Cattle Decapitation's Travis Ryan!), can be viewed here:
Watch the behind-the-scenes video series of the making of Savage Sinusoid below
Part 1: https://youtu.be/Yq7_Kax-DwI
Part 2: https://youtu.be/emJ1l8853pU
Part 3: https://youtu.be/nLGLPWrfkI4
Savage Sinusoid track-listing:
Viande
ieuD
Houmous
Opus Brain
Problème d'émotion
Spaghetti Forever
Cheval
Apopathodiaphulatophobie
Va te foutre
Robert
Au Revoir
Order now
www.nervegas.com.au/igorrr-savage-sinusoid-cd
www.nervegas.com.au/igorrr-savage-sinusoid-pale-skin-clear-vinyl-lp
————————————–
On June 16th, Swedish death metallers Entrails will release their new album, World Inferno, worldwide via Metal Blade Records!
Guitarist Jimmy Lundqvist comments: "It feels just insane to be finally unleashing the third single from our upcoming album.
And with this album title song we speed it up once again and make it all into a big Inferno of Swedeath in our way. With this said – turn up the volume to 11 and be fed with 'World Inferno'!"
The recordings for World Inferno started in December 2016 in Lundqvist's Bloodshed Studio. Dan Swano once again handled the mixing and mastering for the album. Dan Swano comments: "I don't know if I had said this before, but I say it again. Every time I start thinking about putting together some new SweDeath project, Entrails show up at my doorstep with a new album to mix, and every time I think 'Fuck!! – What's the point in making my own project when this is so fucking good, and exactly what I wanted to do…' And if I felt there were some details to improve upon from our previous work together, they fix that and then some, and return with an album even stronger than the previous one. What the fuck is going on in Linneryd!? Is Jimmy cloning death metal warriors in some barn over there or what!? To sum it up. Yet another amazing slab of SweDeath coming your way from Entrails! Beyond. Blown. Away!"
World Inferno track-listing:
World Inferno
Condemned to the Grave
Serial Murder (Death Squad)
The Soul Collector
Dead and Buried
Insane Slaughter
Into Eternal Fire
Suffer
The Hour of the Casket
The Blood Breed
Order Now
www.nervegas.com.au/entrails-world-inferno-cd
www.nervegas.com.au/entrails-world-inferno-vinyl-lp
————————————–
IMPURE WILHELMINA are now premiering the third new song taken from their forthcoming album, 'Radiation', which will hit the streets on July 7th.
The eclectic Swiss are streaming "Meaningless Memories" here
Season of Mist are proud to announce the signing of IMPUREZA. the Spanish flamenco death metal extremists will release their sophomore album via Season of Mist.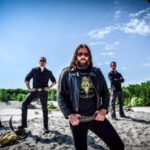 Regarding their signing, IMPUREZA comment: "We are extremely proud to announce that we have inked a deal with Season of Mist, one of the most influential metal labels ever. This is a great chance to become part of the Season of Mist family and their prestigious roster including such favourite of ours as MAYHEM, ABBATH, ROTTING CHRIST, BENIGHTED, INQUISITION, SHINING to name but a few. We greatly thank them for the trust that they are giving our project. This is a huge opportunity for us to introduce our cultural roots and musical concept in the beautiful language of 'Don Quixote' author Cervantes to the world!"
Founded in 2004, IMPUREZA play Hispanic Extreme Metal. For more than ten years, the French-Spanish band has been pioneering their unique style, which combines Iberian soundscapes with a solid base of death metal.
The traditional part of their musical heritage is expressed through means such as the use of acoustic folk guitars, flamenco rhythm patterns, and exclusively Spanish lyrics. This concept derives from the interest of founding member Lionel Cano Muñoz and his "compañero" Esteban Martín, who are both of Spanish origin and draw inspiration from their identity.
Esteban Martín adds his multiple vocal facets that range from death metal growling to clean singing inspired by the sadly late gitano-legend CAMARÓN DE LA ISLA among others. In a similar way, Lionel Cano Muñoz shifts between the aggression and power of his 7-string electric guitar and the intricacy of the Spanish flamenco guitar. This is backed up by Florian Saillard, who complements the electric string section with his 6-string bass and the flamenco parts with an acoustic bass guitar. Even more string power is added live by rhythm guitarist Olivier Hanoulle. Last but not least, drummer Guilhem Auge is perfectly complementing the band with his unique rhythm patterns and Hispanic groove.
IMPUREZA have been amused to find the nickname "French Nile" being attached to them at times for combining the ferocity of death metal with "exotic" sounds.
The band's influences range from BEHEMOTH and MORBID ANGEL to PACO DE LUCÍA.
The Spanish-French outfit quickly gained a reputation of an excellent live act, which was well earned by capturing audiences across Europe alongside acts such as GOJIRA, SUFFOCATION, CATTLE DECAPITATION, and BENIGHTED as well as performing at prestigious festivals such as Hellfest, Motocultor, and Wacken Open Air – the latter as winners of the W.O.A Metal Battle France.
IMPUREZA first created a buzz within the underground metal scene by the release of three demos 'Y Correra Tu Sangre' (2005), 'Ruina De La Penitencia'  (2006), and 'En El Desierto De La Creencia' (2007) – all of which were compiled under the heading 'Inquisition Demos' in 2007 – as well as two split-contributions on the 'Tworzenia, Resurrezione, Démence' (2006) and 'Reincremation' (2007) samplers. These prepared the ground for the band's acclaimed debut full-length 'La Iglesia Del Odio' (2010), which considerably widened their international following – a trend that continued with the following 2013 EP 'El Nuevo Reino De Los Ahorcados / Leyenda Negra'.
Taking their time to refine their self-developed, unique style and to come to terms with several changes in the line-up, IMPUREZA are now preparing to spearhead Hispanic Extreme Metal worldwide. The Spanish metal conquistadors will release their sophomore album via Season of Mist. Watch this space for more news soon.
www.facebook.com/Impurezaconquista