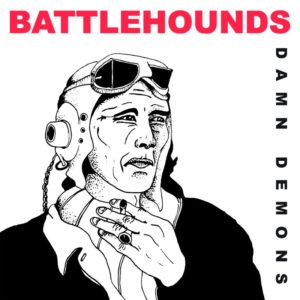 Adelaide garage three-piece Battlehounds have released a solid and sharp EP in "Damn Demons" that is loose and swaggery combining the likes of stoner and alternative rock but with a raw sound that is both organic and lively. The 5 tracks offer a glimpse into how Battlehounds are likely to sound live and that will be what will draw people to see the band live.
Fuzzy guitar tones mixed with a real garage rock sound is prominent through out and none better than opening track "Knife Fight" to really showcase that element. The clean but almost gritty rock n roll vocal style matches perfectly with a subtle classicness to the overall vibe and sound of the band as the song hooks you along on a mid-temo beat.
Occasionally the band step up the tempo such as in the following track "Good Man" that features a consistently driving main riff that again shows a very laid back kind of sound and for a more alternative rock sound, the band throw down in "Night Crawl" which has a very rhythmic beat but "New God" has it all beat for juicy guitar work that's loose and flails about as it travels it's way through another hooky melody.
The interestingly titled "Mr Darryl" closes things out with a more uptempo rock n roll sound, it's catchiness has you tapping toes and air drumming along in it's simplicity which always makes for an enjoyable listen. Overall Battlehounds new EP is a solid release and makes for great driving music, combining both old school and modern elements to create a great rock release. There's definitely something brewing in Adelaide at the moment as we see more and more rock acts coming out of the southern state of Australia.
TRACKLIST
Knife Fight
Good Man
Night Crawl
New God
Mr Darryl