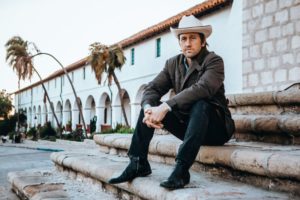 Chris Shiflett has just released the official video for 'Sticks And Stones' the second single taken from Shiflett's upcoming solo album, out April 14 on SideOneDummy Records/Cooking Vinyl Australia.
Premiered by Zan Lowe on Beats 1 last week, the single is accompanied with a live performance clip, featuring Mitch Marine, Brian Whelan, Muddy Stardust & Rich Hinm, all jammin' with Chris at Studio 606, Northridge, California.
Of the new single, Rolling Stone asserts, "Shiflett is upholding a long tradition of bringing a little punk to country on the jangly garage-rocker."
Working with Grammy Award-winning producer Dave Cobb and Grammy Award-winning engineer/mixer Matt Ross-Spang, the 10-track album was recorded at Nashville's historic RCA Studio A during the summer of 2016. In addition to Shiflett on electric guitar and Cobb on acoustic guitar and percussion, the album features an all-star collection of studio musicians, including Robby Turner (Waylon Jennings, Chris Stapleton) on pedal steel, Chris Powell (Brent Cobb, Jamey Johnson) on drums and percussion, Adam Gardner (Southern Family) on bass and Michael Webb (Southern Family) on keyboards. West Coast Town is Shiflett's third solo album and follow's 2013's All Hat and No Cattle.
Born in Santa Barbara and now based in Los Angeles, Shiflett is widely known as the guitarist for Foo Fighters as well as for his previous work with Dead Peasants and Me First and the Gimme Gimmes. In addition to music, Shiflett is the creator and host of the weekly podcast, "Walking the Floor with Chris Shiflett," which features one-on-one interviews with a wide range of musical guests, writers, athletes, and artists. Past guests include Merle Haggard, Dwight Yoakam, Mike Ness, Steve Earle, John Doe, Sturgill Simpson, Mickey Raphael and more.
West Coast Town is now available for digital pre-order in Australia.
Pre-order your copy here now and receive singles 'Sticks And Stones' and 'West Coast Town' instantly. 
WEST COAST TOWN TRACK LIST
1. Sticks & Stones (Chris Shiflett)
2. West Coast Town (Chris Shiflett)
3. Goodnight Little Rock (Chris Shiflett)
4. Room 102 (Chris Shiflett, Brian Whelan)
5. The Girl's Already Gone (Chris Shiflett)
6. Blow Out The Candles (Chris Shiflett, Brian Whelan)
7. I'm Still Drunk (Chris Shiflett)
8. Cherry (Chris Shiflett)
9. Tonight's Not Over (Chris Shiflett, Brian Whelan)
10. Still Better Days (Chris Shiflett, Brian Whelan)