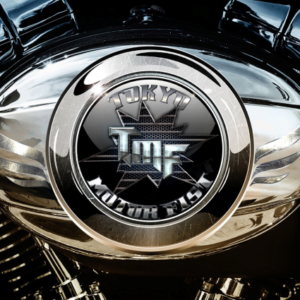 Years ago when I was a kid they used to have these comics called Marvel Team-Up that threw together two of your favourite superheroes and let the games begin. Well Frontiers records seems to have taken that idea and run with it pairing together Danger Danger singer Ted Poley and guitarist Steve Brown of Trixter. Now as far as Melodic Rock goes it's a team up on a par with the time The Thing met Spiderman…
As you might expect the results are rather good: opening with the sure-footed rocker PICKIN' UP THE PIECES we're straight into what makes this album so col – it's catchy and uplifting melodic hard rock, big hooks, great riffs and musicianship so tight even your Dad couldn't loosen the lid. Then just when you think your comfortable they drop the big one LOVE ME INSANE is insanely good, real feel good melodic rock that is made to dance to. It's like Danger Danger on growth hormone and absolutely unmissable.
The rest of the adventure is just as cool: SHAMELESS rides a chunky riff to Melodic Town and a sports simply huge hook, a cool breakdown and some wonderful guitar; LOVE the first ballad is actually quite subtle and understated before BLACK AND BLUE kicks the revs back up again bursting out of the speakers on a wave of cascading guitar.
YOU'RE MY REVOLUTION is another melodic highlight for me: it rushes like a rocket out of the speakers with a huge drive, poppy thrust and searing guitar solo that sees Brown perfectly compliment the song. DON'T LET ME GO, the second ballad is perhaps even better than the first, there's some great strings and a soul-searching vocal to go with the great refrain. Top class!
The quality though just continues relentlessly: PUT ME TO SHAME is like the lost child of Danger Danger and early Def Leppard with a Steve Clark style riff and nice vocal thrust, and DONE TO ME has a similarly big and chugging riff and a similar sound with a nice melodic hook and for some it could well be the song of the album. We close with the silk and the steel: GET YOU OFF MY MIND is the third ballad on the album and just as sweetly executed as the others, its a weepie, a lighter-waver and ticks all the AOR Power Ballad boxes nicely; whilst closer FALLIN' APART is a sweeping fast paced melodic missile to the sky that can't fail.
As Melodic Rock team ups go this one is the soundtrack you'll be playing when you've shelved all the rest.
TOKYO MOTOR FIST
Ted Poley – Vocals
Steve Brown – Guitars, vocals
Greg Smith – Bass guitar
Chuck Burgi – drums