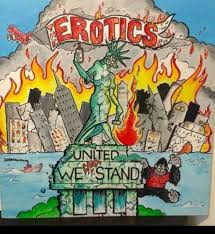 It's no secret that I've long been an admirer of The Erotics and Mike Trash's ability to write the prefect 'fits in the air' punk-fuelled sleazy barroom rocker and so whenever a new release rears its head I know its gonna have been worth the wait  (I'm still waiting for a copy of their recent collection '20 Years Of Nothing To Show For It' though).
'United We Don't Stand' is 8 songs of The Erotics at their finest – a glorious collection of hard driving rock 'n' roll mayhem that fuses punk and sleaze effortlessly whilst delivering typically well observed lyrics rife with sarcasm and with a thankful total disregard for political correctness.
There's an almost traditional hard rock template to opening track 'Steroids and Cocaine' that reminds you of bands like The Almighty in their pomp, it's almost like Thin Lizzy's down and out cousin turning to punk and the bottle. There's still that gravel of the Dogs D'Amour in the background but this is louder, more classically melodic and with a solo that screams 80s hard rock. It's a great start that quickly shuffles into 'Ain't Talkin' To You' which again rides a more traditional rock groove but again with a punky undertone.
And the bright start really never fades: 'Big Beautiful Wheels' is the sleazy stutter gang-vocalled rocker again replete with great solo and punky bass-line driving it along. And man! The title track is all that I love about The Erotics when they get back to the "it's only rock 'n' roll" basics in the Ramones meets Hanoi meets Punk meets Sleaze cauldron. It also comes out dripping, sporting a  helluva chorus; a little more understated than some maybe, but again there's a really well tailored solo and a little lighter tone than the rockers that have preceded – its a pop infused punk ditty that sticks like glue.
'Crawlin' on Broken Glass' that follows is traditional barroom Erotics rock 'n' roll, sleazy, dirty and dripping with melody: its good time rock 'n' roll you can dance to, dink to, sing to or pretty much anything except operate heavy machinery to.'Only When I Bleed' is another sure fire winner and you know that right from the opening riff. It's sing along 'swinging the bottle' party rock with sleazy edge and shout along sing along 'nah-nah-nah' refrain – brilliant!
We close with two other fine specimens: 'Pretty Little Bomb' finds its groove from the off too but sounds more New York Dolls/ Hanoi Rocks as it staggers around with drink in hand and ingratiates itself with you by buying you a drink and exchanging gang vocal shouts and another nice lick of a solo. On the other arm 'Whoreified' that ends this album rides a heavier riff with more Cooperesque vocals and a darker aspect as it crawls out of the speakers spitting and spluttering and again I love the solo. It's a great way to close another fiery chapter. How these guys keep up this quality I'm not sure but with music the way it has been for the last 20 years they're one of the bands that's made it a little more exciting for my ears and long may they continue to do so!