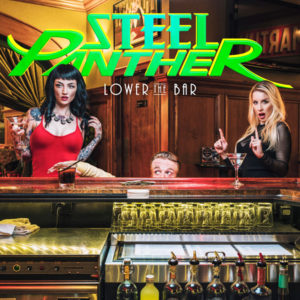 Screaming Metal guitar, a high pitched scream and an immediate segue into a melodic refrain heralds the subtly titled 'Goin' in the Backdoor' – the opener to Steel Panthers latest Hair Metal 'smut-athon'. Ending with a subtle "Would you mind if I dipped my nuts in your chocolate"  pretty much sums up Steel Panther's fifth album since 2003's debut 'Hole Patrol'.
You might argue a million things are wrong with Steel Panther – the politically correct I imagine steam at the very thought of such a band, the easily offended would I'm sure be pretty quickly offended, but the interesting  group are those fans that actually love this type of late eighties Sleaze Rock. Panther may well parody the genre but it is well done, the riffs like on 'Anything Goes' and the lighter flavoured 'Poontang Boomerang' are the sort of riffs that hit the mark in the eighties and the groove is pretty much spot on. The irony of course is that this 'joke' band now pull in audiences far in excess of many of their 'serious' eighties rock peers.
Musically I'll stick a neck out and say that 'Lower the Bar' is by far Steel Panther's musical highpoint. Close your ears to the lyrics and imagine that English is a foreign language and this album rocks. It's well-written, beautifully played and Ballad 'That's When you Came in' (and blew me) might be designed to offend with  its opening foray of questionable words but hum it you fuckers! Can't stop can you? It's a song that a band like Warrant or any of their peers would have loved to squirt across the stage (with only the odd word changed perhaps) and that my friends is the great dilemma of Steel Panther – try and do this with a straight face and you'd be laughed out of the room, but do it laden with expletives and bad jokes and you are playing to packed rooms! Go figure!
'Wrong Side of the Tracks (Out in Beverly Hills)' is similarly spirited and similarly smutty and of course similarly consummately executed. Jeez these guys know how to rock  and rock they do on 'Now the Fun Starts' a moody low key paean to the party that has some great guitar and a great vibe (yes fuck I can talk about the music in semi seriousness). 'Pussy Ain't Free' strikes a slightly sleazy pose as a future live anthem in the making, and yes it's not a song about the excess load of cats in rescue centre's around the country (which of course may well be free to good homes), rather its a mid tempo contemplation on.. well you guess. Second ballad 'Wasted too much time' (fucking you) is a subtle contemplation on  relationships that should strike a chord with some; whilst  'I Got What You Want' takes it back up a notch with a real Sunset Strip scorcher but musically is probably a low point saturated as it is in keys and cod-Van Halenisms. The album closes with two sure-fire winners the swagger and blues of 'Walk of Shame' and a cover of Cheap Trick's 'She's Tight'  which is nice.
Musically this might just be Steel Panther's best, but it's not their dirtiest and if that matters for you more than the music I guess I'll see you at the show, I'll be listening and you'll be wearing the wig and stumbling towards the stage.
TRACKLIST
Goin' in the Back Door
Anything Goes
Poontang Boomerang
That's When You Came In
Wrong Side Of The Tracks (Out In Beverly Hills)
Now The Fun Starts
Pussy Ain't Free
Wasted Too Much Time
I Got What You Want
Walk Of Shame
She's Tight