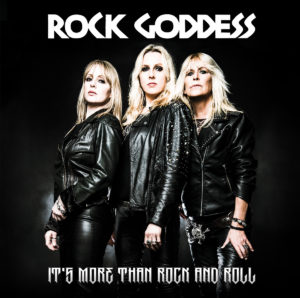 Back in the day Rock Goddess of course couldn't help the Girlschool comparisons, now before you write that off as 'just because they were a girl band too', (a rather lazy sentiment that would have you lumping all 'all-male' rock bands in the same heap) they did actually have that same proto-rock  outlook, that NWOBHM grunt and a similar attitude.
Now a mere 30 years after their last release – 'Young and Free' their third album (and one I must admit I can't recall hearing despite owning the first two on vinyl) they are back with a new three track EP. Now please don't take this as being cynical but with a bio stating "Back in the 80's Rock Goddess made a reputation for delivering songs with full frontal riffs, snapping rhythms and snappy melodies. That hasn't altered. Since the three reunited in 2013, they've proven to be an energised, committed live band not reliant on past glories, but hell bent on the pursuit of an even more electrifying future."  and then delivering three songs after re-forming 4 years ago (almost a song a year after a 30 year absence) it's not exactly cranking it out towards that 'electrifying future'.
The only real test is of course in the listening. The title track itself is a fine driving mid-paced rocker, a real 'call to Rock', and a song to hang a revival on. There's more Metal and grit to second track 'Back Off' and third and final track 'We're All Metal' cranks it even louder. It's heady stuff and does recall the glory days of old, while yes, I agree pointing to great things to come.
The Interesting thing about this reunion is that it features the original line-up -sister's Julie and Jody Turner and bassist Tracey Lamb. Rock goddess made two great albums back in the day easily on par with their more celebrated rivals and on the basis of this short EP there's probably, actually make that more than likely, another great album in them. The only question is will it see the light of day?