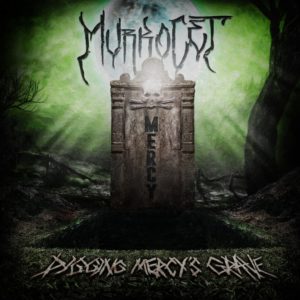 Murkocet, a cutthroat American heavy metal band from the desert of Phoenix Arizona started in 2013. The  band's name was vocalist Richie Jano's Xbox Live gamer tag that was suggested as a joke. However, it caught  the ears of the other members and they became what is now known as Murkocet. A substance directly attributed  to the aggressive and often times violent actions of it's user; which in essence would be their music. Their  debut album "Digging Mercy's Grave" is a tasty slab of metal righ down to the core elements of groove and  meaty riffs.
Upon first listen you immediately hear the groove metal of such styles attributed to bands like Devildriver  and Lamb Of God. Plenty of hooks, with a groove beat that sizles on every note but with more breakdowns than  a 1999 Nu-Metal festival. For that aspect though, there's more of a hardcore beat than say a Drowning Pool  style throwdown but whichever way you look at it, there's some seriously headbanging moments going on here.  "Strip Club Massacre" is the first real track here after a short intro piece and it's pretty much relentless  until the end. Like mentioned before, Murkocet focus heavily on the groove aspect whether it's mid-tempo  tracks like "Dead World" and "California Smile" to more up tempo stuff like "Repo Man" and the chaotic  "Overdose".
There's a million highlights here which is hard to condense into a review without boring you with specific  details, "Tombstones" is a powerhouse song, riff driven with about a billion breakdowns just to shake it up.  Those moments are fairly common place on this album and some may say it's overkill on the whole breakdown  aspect which is fairly common in modern metal genres like metalcore. But metalcore this ain't, it's got a  lot of swing that harks back to the original new wave of American metal with a vocal style that fits like a  glove. Think Randy Blythe and Dez fafara and you are on the right track.
Speaking of Dez, "Lights Out" has a little Coal Chamber vibe but a little thrash is thrown in for measure  and a gutteral downbeat ending to close the track off just to make it it's own thing. Last track "The  Beginning" is probably the only time here where the band step off the gas pedal a little and bring in a bit  more melody but it's a pretty classy way to finish things off. "Digging Mercy's Grave" is a brilliant album  if you are looking for some heavy hooks and groove despite it having a very strong similarity to the bands  aforementioned. They may wear their influences on their sleeves but good metal is good metal no matter what.  Get into this!
TRACKLIST
The Definition
Strip Club Massacre
Dust Cloud
Tombstones
Dead World
Tranquil
California Smile
Repo Man
Overdose
Lights Out
The Beginning