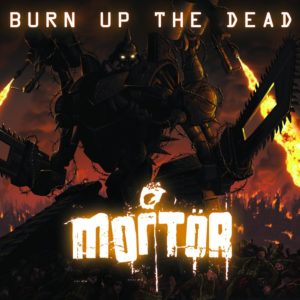 The third album from Canada's Mortor, "Burn Up The Dead" is 12 songs of compressed, manic, old school meets modernistic Death/Thrash and groove metal. Mixed with catchy riffs and a fun rock n' roll sensibility, these guys really know how to pack a punch and leave you hitting that replay button over and over.
Immediate impressions on first track "Pleasure Of Hate" and a bio of the band gave the idea that Mortor were possibly a death metal band. The cover of "Burn Up The Dead" with an industrial monstrous figure overlooking a devastated landcape also pushed that idea along but as you go through each of these tracks which all clock in fairly short, there's a hell of a lot more here than just death metal growls and riffs. A thrashy overtone is there too but this album just grooves and is rhythmically on point, balancing vocal parts with hooky riffs perfectly. "Cross The Line" has such a fun demeanour to it as does many of the songs on offer here, "A Place In Hell" and "Parasite" utilise those mid-tempos great while the title track is uptempo stuff that flows nicely and even contains a nice melodic passage during the guitar solo.
The guitar solos are extremely short in many cases but what's interesting about them is that they don't necessarily have a big metal thrashy sort of style, it's almost more along the lines of hard rock but with a bit more pizazz to it which really makes it stand out more. Short but sweet, like the proverbial icing on an otherwise chunky piece of cake filled with a bag of riffs that spill out all over the place. It simply adds to the whole fun spectacle that you hear on these songs.
For the more twisty turny kind of stuff, "Hail Guns" does the trick as it seamlessly makes those sharp angles at all the right moments. "The Executioner" is groovy stuff again but sludges into a breakdown midway bordering around 2 brief guitar solos. "Fubar" is almost anthemic in it's chrous line, repeating the title numerous times in an almost tribal sort of way, it's a fast and chaotic song which is weirdly unsettling but catchy at the same time. Another highlight is "Sold To Bleed" which kind of has a Devildriver groove to it, very alt groove metal sounding and yet another rock n roll solo thrown in. The Amon Amarth viking inspired "Bloody Mess" is yet another highlight on an album full of mesmerizing moments and bloody mess this ain't! It oozes hooky riffs and a headbanging beat with a rhythm that hooks you right in from the beginning to the very end relentlessly.
Do yourselves a favor and check out Mortor's "Burn Up The Dead" album first chance you get, it is such a fun album to crank and really lose yourself in. If you want your metal as fun and catchy as possible then this will be right up your alley.
TRACKLIST
Pleasure of Hate
Cross the Line
Burn up the Dead
A Place in Hell
Hail Guns
The Executioner
FUBAR
Sold to Bleed
Parasite
Bloody Mess
Count the Days
Beg for Lead