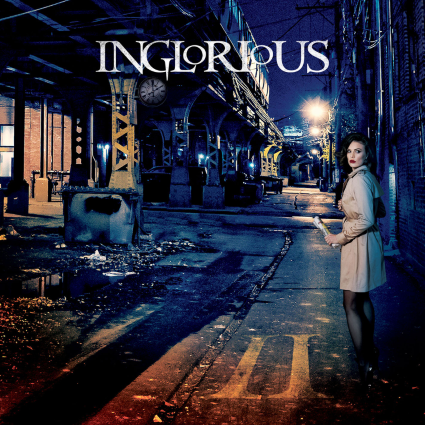 Classic Hard Rock with huge riffs, soulful vocals and songs that run the gamut from Dio-like swagger to Jagged Edge/Skin style cool. Inglorious' debut album may have been very good indeed, but album number two blows that 'difficult second album syndrome' out of the water.
There's a certain fire and power to opening pair 'I Don't Need Your Loving' and 'Taking the Blame' that has a directness you just don't get any more these days – they are both wonderful songs: fast smooth and jam packed with guitar and real crunch, it's a beautiful way to set up what appears to be a real contender for 'album of the year'.
'Tell Me Why' that follows is equally impressive melting a hint of Whitesnake into a sound that really understands the dynamics of  'The Greats' – heck if you've ever held up and album by Deep Purple, Led Zeppelin, Whitesnake, Bad Company, even Aerosmith or the Rolling Stones this is going to impress, though like all the best its new and real not mere pastiche.
What most impresses about Inglorious is the richness and maturity of this release – it doesn't sound like the work of a band formed in 2014, and of course the members haven't just sprung out of nowhere – front man Nathan James made a name for himself with the Trans-Siberian Orchestra and ex-Scorpions guitar hero Uli Jon Roth and he's surrounded himself with a group of musicians who 'get it'. There's a real feel here of a band that want to create great music by utilising the methods of the past – from simple things like playing in the same room in the studio, no click tracks and no overdubs. To play like that you have to be on your game and it shows. It's also of course a big part of what made those 'classic' albums so timeless – they don't sound 'perfect', there are mistakes but that's exactly why we love them.
When you listen to tracks like 'Read All About It' you get it – there's that real 'live' feel and that energy you can't achieve through sampling and auto tune. There's drums like they are meant to sound – half beaten to death with a rock steady had, and a big fat bass that defines the groove perfectly without loosing that earthy feel.
'Change is Coming' is more of a good thing but changes the pace, slower, more languid and bluesy; but its the power of 'Making Me Pay' that really raises the stakes – it's a song that evokes memories of pre-'87 era Whitesnake and nails it. 'Hell or High Water' that follows is  a nice counterpoint – the heaviest track here with a sound that drives a truck down a highway with Maiden on one side and Purple on the other – its a track from a time when Metal was just simply louder Rock and that is really the whole 'raison d'être' of Inglorious – great music played well with a timeless feel and served with a flood of memories.
'I Got a Feeling' might sound like Deep Purple but has a swagger they rarely roused, and 'Black Magic' just captures the essence and sure-footedness of bluesy 70's rock before 'Faraway' places a huge cherry on the top of this formidable cake with a slow-building number that brings chills and pretty much sums up why we love the rock music of the seventies.
Closer 'High Class Woman' takes us back to the sounds and the feel of the start of the album, its upbeat, solid and showcases Inglorious' two great selling points – the vocals and guitars. It's a track that will have you hitting repeat.
Inglorious could just well be one of the very best bands on the scene at the moment and if they carry on in this manner you are going to be able to add them to that list of greats in years to come.
Inglorious II features:
Nathan James – vocals
Andreas Eriksson – lead guitars
Wil Taylor – guitars
Colin Parkinson – bass guitar
Phil Beaver – drums
TOUR DATES
Planet Rock's Winters End 25th February
Hellfest (France) 16th June
Graspop (Belgium) 18th June
Copenhell (Copenhagen) 22nd June
Azkena Rock Festival 24th June
Weyfest 18/20th August
Album Release tour to be announced.