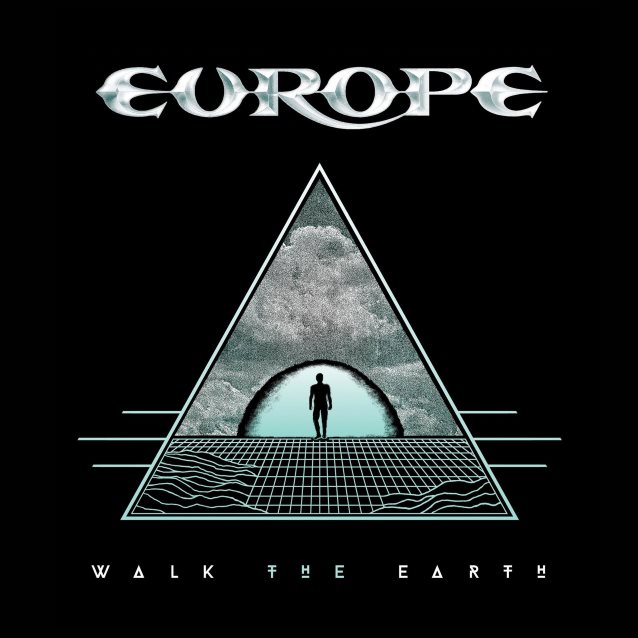 There's a grand architecture to Europe's style of Rock these days that isn't constrained by a push towards building cheap chart success, and it's that bigger vision that gives them a real freedom to do just what they want. As someone who wasn't a particular fan back in the 80's the Europe of today are a band who constantly deliver records of real quality and 'Walk the Earth' is right up there with recent releases 'War of Kings' and 'Bag of Bones.'
Opening with the classy classic rocker and title track 'Walk the Earth' fans will immediately feel at home, this is a song that says everything about present day Europe – its brash, it's confident and it hits the spot right away,it also makes you appreciate the recording machine Europe has become these days – taking just ten songs into the studio at Abbey Road and taking just two weeks to produce them with Dave Cobb at the board.
It's interesting to think that this latest offering could very well have ended up a concept record with Tempest researching the topic of democracy and how the meaning of that word has changed and evolved over time. And there are some songs that take on this theme from 'The Siege' which looks at the French Revolution and the formation of democracy in France, to 'Kingdom United' which looks at the UK and the Magna Carta, and also 'Election Day' which fast forwards to modern day elections in the US and UK, it's interesting to note that Tempest collaborated with Squeeze's Chris Difford on the lyrics to those last two songs.
Musically though we're on solid ground as 'The Siege' and 'Kingdom United' both explore the soundscapes that Europe have become known for in recent years, the former builds on a rolling groove set by Leven's heavy bass, with a mild eastern infusion and relentless build; whilst the latter hits you right in the face and is very Deep Purple in aspect as it pushes forwards driven by keys and Norum's hypnotic riff.
After that initial barrage its 'Pictures' that Tempest had as an idea for years that is one of the most interesting tracks here – lyrically exploring what happened to the people who left the ground in 1986 and headed for Venus in the lyrics to 'The Final Countdown'. It's a ballad that comes across part Bowie and part Pink Floyd and rides on some really wonderful keyboards.
'Election Day' as we said lyrically looks to more recent times and it rides a classic rock beat with swelling keys that drive it to a huge chorus; 'Wolves' too has an interesting lyrical content – telling a tale of whistle-blowers and the concept and consequences of trust and truth in the modern world.
It's great sometimes though just to let it all loose, and the track to do that is 'GTO' a real up-tempo rocker based on a Norum riff and here given a real fiery treatment – a car song, a driving song that well-worn rock and roll tale full of images of the road, speed and freedom. It's one of the sure fire 'live' winners here.
'Haze' is another from a Norum riff, developed with the band in their rehearsal place in Stockholm and taken to another place with producer Cobb at Abbey Road.There's a cool psychedelic feel at play here and it's even injected with a drum solo! Not that that should put you off as it's another great vintage rocker, a little heavier, darker at the edges, but all Europe. The album winds to a close first with 'Whenever You're Ready' which began as one of Tempest's ideas – its a straight-forward rocker to lead us out, before closing track 'Turn to Dust' (which came from Mic Michaeli) warns us not to take our time on earth for granted. It's a great positive sentiment to leave the listener with and musically there area nice few echoes here and there of Europe's past.
'Walk the Earth' is another great release by a band who seem to remain in the form of their lives 30+ years after their commercial peak.
Europe tour with Deep Purple in late 2017. Full dates are below
Fri 17th Nov 2017 – Barclaycard Arena, Birmingham UK
Sat 18th Nov – Manchester Arena, Manchester UK
Mon 20th Nov – Motorpoint Arena, Cardiff UK
Wed 22nd Nov – The SSE Hydro, Glasgow UK
Thurs 23rd Nov – The o2 Arena, London UK
For tickets see http://europetheband.com