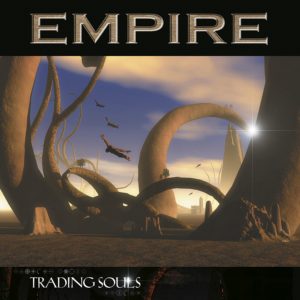 Sometimes I find it really difficult to keep up with all of these side projects and one-off 'super groups' among all the previously unreleased material and reworkings of old demos that seem to flood the market these days. It's not that some of it isn't very good it's just that it's so easy to get real gems lost amongst the deluge.
Ironically to make it even more confusing I think this is the second or third album I've reviewed featuring Neil Murray this year, and the second featuring Tony Martin, but that isn't the whole story of course. The real story is that this album, Empire's second, actually first came out in 2003, then was released again in 2012 (as a limited edition digipack no less). This 2017 release on Pride and Joy music seems to add nothing new and therefore there are plenty f reviews out there on the internet already for your delectation.
I must admit that listening to it in light of that there's nothing really on the album to suggest why it's getting a third lease of life. It's good, and performances are solid as you might expect from a line-up that includes former Black Sabbath vocalist Tony Martin, Deep Purple keyboard player Don Airey, former Whitesnake/Rainbow/Black Sabbath bassist Neil Murray, and drummers Gerald Kloos and Anders Johansson: but it's not exactly a classic.
If you love Whitesnake, Purple, later Rainbow you'll no doubt like this, but we'll stick to reviewing new material or at least material with something extra to offer upon its re-release.
Tracklist: 1. One In A Million 4:05 | 2. Pay Back Time 4:44 | 3. Teenage Deadhead 4:45 | 4. Big World, Little Man 4:09 | 5. You 4:48 | 6. Perfect Singularity 4:40 |7. Wherever You Go 4:23 | 8. Did You Ever Love Me 4:46 | 9. Comin' Home 4:16 | 10. Back In The Light 4:16