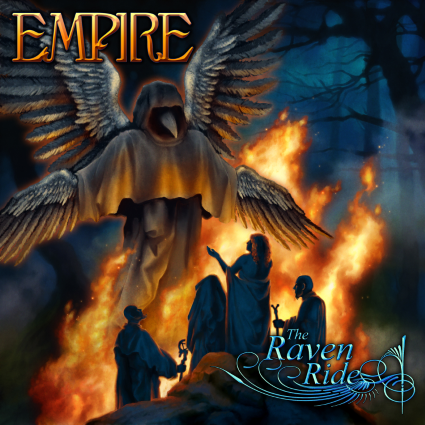 Empire (in this instance the German Hard Rockers with guitarist Rolf Munkes at the helm) released four albums in the years between 2001 and 2007. On each of these releases, Munkes was accompanied by a varying line-up of numerous well-known musicians.
First album 'Hypnotica' featured both Mark Boals (Yngwie Malmsteen) and Lance King (Nightmare) on vocals and included Neil Murray on bass (Whitesnake, Brian May Band, Black Sabbath), and Don Airey on keyboards (Rainbow, Deep Purple). Album number two 'Trading Souls' saw Tony Martin (Black Sabbath) replace King on vocals, and Martin stayed for 2006's 'The Raven Ride'  before giving way to Doogie White (Rainbow) on 2007's 'Chasing Shadows'.
The promo material seems to suggest that this album gathers all four of those releases in a revised version called 'The Raven Ride' which will be released on August 15th, 2017 with one bonus track and featuring Tony Martin on vocals alongside Munkes on guitar, Neil Murray on bass and André Hilgers on drums. The Reality is that this album is simply a re-release of that 11 year old album ad the bonus track is simply a remixed and slightly cut version of 'Carbon Based Lifeform'.
This isn't a bad album, and sure enough it's old school rock, heavy riffs, relatively dark and brooding and a little like early Dio-era Rainbow or maybe the reborn 80's reboot of Deep Purple. The press release also cites Whitesnake, but I get little of that and presumably it's just a name-check for Neil Murray.  Well worth a listen if vintage classic rock a little dark at the edges is your thing…